I hate to break it to you, but if you want to become the best runner (and athlete) you can ever be, then you have to work your butt off, literally and figuratively.
First and foremost, you have to keep exercising on a regular basis. Run, bike, swim, lift weights and all the sort.
Secondly, you have to work your butt off by doing plenty of glute strengthening exercises.
Enter The Glute
The glute is powerhouse muscles that surround the pelvis.
Three main muscles make up the glutes: the Gluteus Maximus, Gluteus Medius, and Gluteus Minimus. These are the building blocks of the fleshy part of your butt.
But, all in all, why do you need to strengthen your glutes?
Well, here a few reasons:
Key For Running Power
The glutes are one of the most important muscles we need for running.
While running, your glute muscles hold your pelvis steady and level and help propel you forward with every step you take.
In fact, I'd go as far as to say that when it comes to running, glutes strength and endurance is of paramount importance.
As a result, if you are struggling to keep consistent running pace or find it hard to power up a hill while running, then you might need a bit strength in your butt.
Dodge Injury
Research has linked weakness in the glutes with a myriad of overuse injuries, including Runners Knee, and IT band syndrome.
In other words, if you have chronic overuse injuries (think Runners Knee and the sort) then glute weakness might be to blame.
The good news is, research has also proven that adding strength and power to your glute is one of the best things you can do to injury-proof your running body against common ailments.
For more on the importance of glue strength, check my post here.
Enter The 30-Day Butt Challenge
That's why today, dear reader, to help you kick your butt into shape, I'm sharing with you this awesome 30-day glute challenge.
This 30-day butt challenge has roughly 4 to 5 exercises which you have to do each workout day.
Up the Ante
Make sure to increase the time you spend doing the exercise by slowly increasing the length day by day to help you build more strength and endurance.
Inside of this challenge, you are going to find movements and exercises that target your glutes in multiple directions.
(You'll find YouTube and form tips description for each exercise below the 30-day plan.)
The 30-day Glute Workout Challenge
Please, perform each exercise for two to three sets of 12 to 16 reps per exercise.
Rest for 30 to 45 seconds between sets.
Week One
Day 1:
Perform three sets of:
15 Basic Squats
15 Basic Squat With Side Leg Lifts
Day 2:
Perform three sets of:
10 Medicine Ball Good Mornings
12 Reverse Lunge
One-minute Wall Sits
Day 3:
Perform three sets of:
15 Sumo Squats
One-minute Glute Bridge
Day 4:
Rest
Day 5:
Perform three sets of:
12 Medicine Ball Lateral Lunges
15 Lunge Jumps
20 Ice Skater Hops
Day 6:
Perform three sets of:
12 Narrow Squats
12 Narrow Squat With Back Kicks
Day 7:
Rest
Week Two
Day 8:
Perform three sets of:
One- minute Single-Leg Hip Bride
12 Donkey Kicks
12 Kettlebell Swing
Day 9:
Perform three sets of:
12 Bulgarian Split Squat
15 Clamshells
15 Sumo Squat
Day 10
Perform three sets of:
12 Thrust Barbell Squat
12 Walking Dumbbell Lunge
20 Squat Jumps
Day 11
Rest
Day 12
Perform three sets of:
12 Single-Leg Front Raises
12 Single-Leg Straight-Leg Deadlift
12 Narrow Stance Squat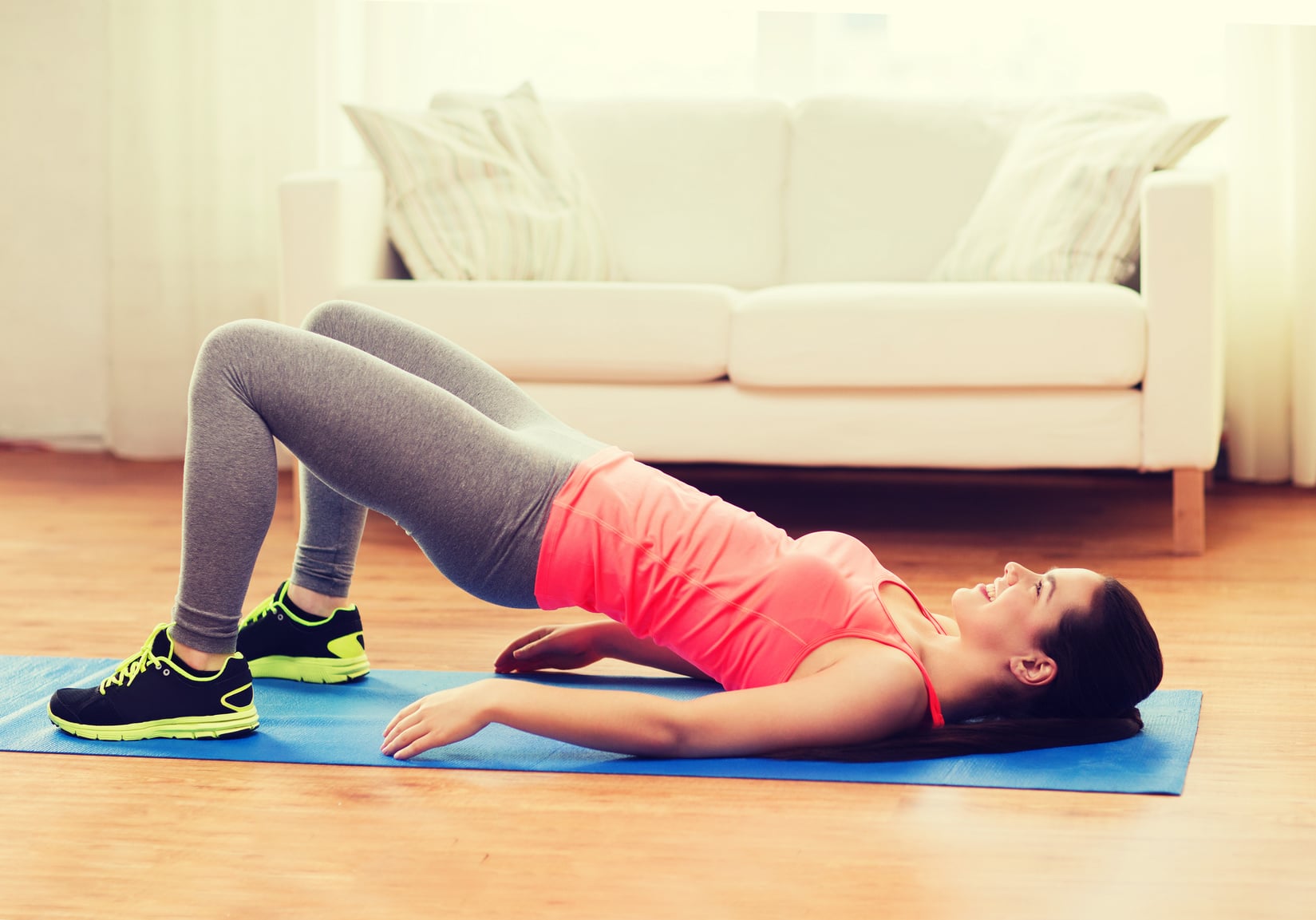 Day 13
Perform three sets of:
12 Goblet Reverse Lunge
One-minute Glute Bridge Hold
12 Glute Kickbacks
Day 14:
Rest
Week Three
Day 15:
Perform four sets of:
15 Basic Squats
15 Squat with Back Leg Lift
One Minute Glute Bridge Hold
15 Basic Squat With Side Leg Lifts
Day 16:
Perform four sets of:
10 Medicine Ball Good Mornings
12 Reverse Lunge
12 Glute Kickbacks
One-minute Wall Sits
One-minute Lunge Holds
Day 17:
Perform four sets of:
15 Sumo Squats
15 Squat with Back Leg Lifts
15 Plie Squats
One-minute Glute Bridge
Day 18:
Rest
Day 19:
Perform four sets of:
12 Medicine Ball Lateral Lunges
15 Squats jumps
15 Lunge Jumps
15 Frog jumps
20 Ice Skater Hops
Day 20:
Perform four sets of:
12 Narrow Squats
12 Step-ups on a box
12 Narrow Squat With Back Kicks
12 Hip Thrusts
Day 21:
Rest
Week Four
Day 22:
Perform three sets of:
One- minute Single-Leg Hip Bride
12 Donkey Kicks
12 Kettlebell Swing
Day 23:
Perform three sets of:
12 Bulgarian Split Squat
15 Clamshells
15 Sumo Squat
Day 24
Perform three sets of:
12 Thrust Barbell Squat
12 Walking Dumbbell Lunge
20 Squat Jumps
Day 25
Rest
Day 26:
Perform four sets of:
12 Single-Leg Front Raises
Lateral Mini-Band Walk
12 Single-Leg Straight-Leg Deadlift
12 Narrow Stance Squat
Two-minute Lunge Holds
Day 27
Perform four sets of:
12 Goblet Reverse Lunge
One-minute Glute Bridge Hold
12 Squat with Side Leg Lifts
12 Glute Kickbacks
12 Medicine Ball Single-Leg RDL
Day 28
Rest
Day 29
Rest
Day 30 – Final Day
Perform five sets of the following exercises:
15 Basic Squats
15 Thrust Barbell Squats
15 Basic Squat With Side Leg Lifts
15 Clamshells
10 Medicine Ball Good Mornings
15 Sumo Squats
One-minute Glute Bridge
15 Frog jumps
12 Narrow Squats
15 Squats jumps