Cookies are delicious, but most likely won't tide you over until the next meal, nor provide your body with any valuable nutrients.
In fact, these baked goods are nothing but empty calories.
As a result, if you're in the habit of snacking on junk foods, then you have to change your ways—especially if you're serious about eating healthier.
That's where these healthy, high protein, snacks come in.
The Importance of Protein
It goes without saying that getting enough protein into your diet is critical to optimum health.
The macronutrient is the main component that makes up our muscles, organs, and tissues.
Protein boosts metabolism, suppresses appetite, and prevent blood sugar from crashing like it would after eating chocolate bars, cookies, crackers, or other sugar-rich treats and junk foods.
(For more on the benefits of protein, check my post here.)
For these reasons, protein is the makings of the ideal snack.
10 Healthy and High-Protein Snack Ideas You Can Eat Anywhere
To meet your daily recommended protein intake, add these nutritious, healthy, snacks to your diet, and you'll never have an excuse to head out with a bag of cookies or chocolate bar again.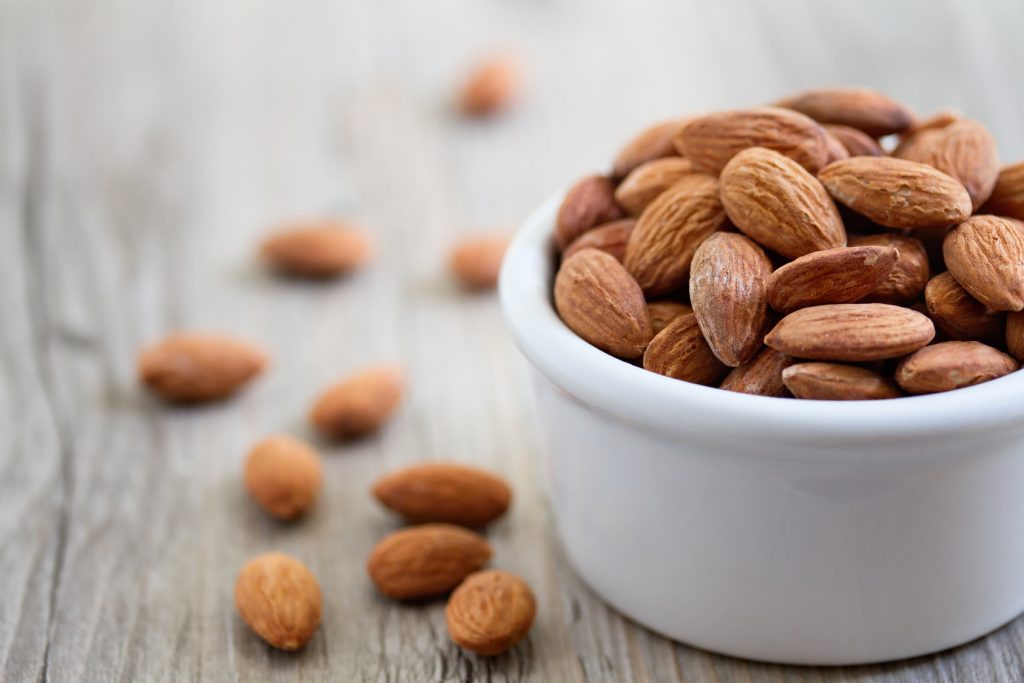 1. Roasted Almonds
Having almonds—or any other type of nut—for a snack is the easiest way to fill up on protein.
An ounce of almonds packs in six grams of protein, in addition to the high amount of healthy fats, vitamins, minerals, and other nutrients.
What's more?
Almonds boast a long shelf life, are sating, and very portable—all of which makes them a health-boosting snack like nothing else.
How to roast?
It's simple. Spray a serving of almonds with a light coating of oil, mix with a tad bit of salt, then roast in the oven for 10 to 15 minute.
Make sure to stir the almonds with a spoon frequently while they roast. Stirring helps keep them from burning.
For extra fiber, throw in some dried fruits, like apricots.
Just be careful. Almonds are high in calories, so it's vital to stick with the recommended serving size.
In general, limit yourself to one half or ¼ cup to avoid going overboard.
2. Egg White Oatmeal
The pairing may seem odd, but when you mix oatmeal with eggs white, you get one of the healthiest and nutritious breakfasts around.
The dietary fiber from the oats and protein from the egg white will keep you sated for long hours.
Also, adding egg whites to just oatmeal makes it softer, fluffy, and way more satisfying. It also makes the oats feel more filling.
What's more?
Egg white oatmeal is so easy to make thanks to the microwave.
Ingredients
Oats
Egg whites
Salted butter
Water
Pure vanilla extract
3. No Bake Quinoa Peanut Butter Crunch Cups
Unlike most plant-based foods, quinoa is a complete source of protein.
In fact, a single serving of quinoa—1/4 cup—packs in about six grams of protein.
The seed is also naturally gluten-free, a rich source of Vitamin B, calcium, magnesium, and other nutrients.
It also provides a protein-rich base for the following sweet recipe.
These no-bake quinoa peanut butter cups are the real thing. They're made with healthy ingredients, contain no added sugar, yet are so surprisingly delicious and satisfying.
That's why the cups make the ideal breakfast or power snack throughout the day.
Ingredients
Puffed quinoa
Peanut butter
Coconut butter
Coconut oil
Vanilla extract
Maple syrup – optional
4. Honey Nut Energy Bites
These energy bites are chewy, soft, and lusciously loaded with protein, fiber, and nutrients. They're also vegan, dairy-free, gluten-free.
As the name suggests, are ideal as pre-workout fuel, a pick me up a snack, or a healthy after dinner dessert.
Plus, these energy bars are also easy to make. All you need is six ingredient and five minutes preparation to whip them tasty up.
Ingredients
Almond meal
Raw cashews
Raw pistachios
Unsweetened protein powder
Honey
Almond butter
Vanilla extract—optional.

5. Roasted Chickpeas
Also known as garbanzo beans, chickpeas are another nutrition powerhouse you should be eating.
For roughly 120 calories per serving, these beans pack in about five grams of protein and fiber.
They're an excellent vegan protein source and have long been renowned for their fiber content.
The legume is also a great source of folate, zinc, and other nutrients.
Research published in the Canadian Medical Association Journal revealed that one daily serving of pulses, like chickpeas, can reduce LDL (the bad type) cholesterol levels.
Even if you don't like the texture of chickpeas (as it's the case for some people), once roasted, these legumes transform into a salty, crunchy, and savory snack. So delicious. So satisfying.
What's more?
Roasted chickpeas stay crunchy for a few days when stored in a resealable bag at room temperature.
To prepare roasted chickpeas,  toss them with olive oil, basic seasonings, and some spices, then let roast in the oven until crispy.
Ingredients
Garbanzo beans drained and rinsed
Olive oil
Garlic powder
Onion powder
6. Greek Yogurt
Greek yogurt is another fantastic high protein snack.
Depending on the brand, Greek yogurt contains 15 to 20 grams of protein per one cup serving.
Since it's thicker and creamier than regular yogurt, Greek yogurt is more filling and satisfying than regular yogurt.
It's also an excellent source of gut-friendly probiotics and bone-building calcium.
Ingredients
Greek yogurt
Berries of your choice
Granola of your choice
Honey
Etc.
7.  Cheese 
Cheese is another great addition to a healthy diet, especially when you're trying to increase your protein intake.
In addition to being rich in protein, cheese is also loaded with calcium, selenium, phosphorus, and many other nutrients.
It's also very helpful for weight loss. In fact, according to research, calorie intake in overweight subjects decreased by about 10 percent after consuming cheese.
But not all cheeses are created equal.
With roughly 10 grams of protein per ounce, parmesan cheese has the highest protein content of all cheeses.
Other protein-rich cheese brands include cheddar, mozzarella, Brie, Gouda, Swiss, and blue cheese.
That said, most cheese is rich in calories, so it's better to consume in moderation. Stick to the recommended portion size, which is about one to two ounces—or 28 to 57 grams.
8. Apple with Peanut Butter
I love peanut butter for many reasons. It tastes delicious and can be eaten alongside so many other foods, especially apples.
So, what makes this snack so special?
For starters, peanut butter contains roughly 7 grams of protein per tablespoon.
Research has also found that peanut butter increases HDL (the "good") cholesterol and reduce LDL (the "bad") cholesterol and triglycerides.
Moreover, apples are an excellent source of dietary fiber and antioxidant, which can help improve gut health and ward off a host of diseases.
This snack is also easy to make.
Simply chop an apple into slices, then top it with a level tablespoon of natural peanut butter. Spread the peanut goodness like you'd on a toast.
Just make sure to go for all-natural peanut butter or a brand that does not contain artificial sugar or hydrogenated oils. The more natural, the better.
For more flavor, sprinkle on some cinnamon.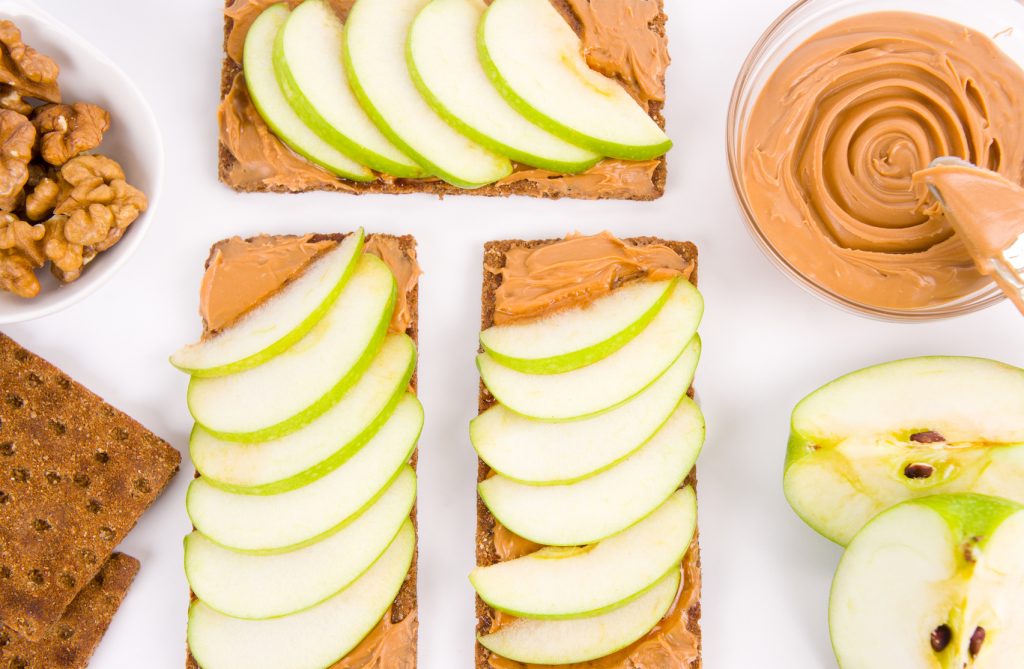 Ingredients
Apple
Peanut butter
Salt and cinnamon—optional
9. Chocolate Peanut Butter Protein Bars
Running low on time?
Then make these fantastically delicious protein bars.
Made with wholesome ingredients, like peanut butter, oats, etc., these no-bake bars are dairy-free, keto friendly, vegan, and oil free.
These bars are also way healthier and cheaper than store-bought.
Ingredients
Old fashioned rolled oats
Chocolate whey protein powder
Quick Oats
Peanut butter
Organic brown rice
Non-dairy chocolate chips
Etc
10. Peanut butter Banana Muffin
If you love bananas and peanut butter together, then these muffins should satisfy your taste buds like nothing else.
The following recipe is also an impressive twist on the classic banana and peanut butter combo.
Peanut butter banana muffins are grain-free and naturally sweetened, which makes them a must-bake healthy treat.
Plus, these are super healthy. No flour. No added sugar. No junk.
These are also a great way to put use up over-ripe bananas.
Ingredients
Natural Peanut Butter
Eggs
Honey
Very ripe bananas
Vanilla
Baking soda
Toppings of your choice—dark chocolate chips, raisins, coconut, etc.
New to Running? Start Here…
If you're serious about running, getting fit, and staying injury free, then make sure to download my Runners Blueprint Guide!
Inside this guide, you'll learn how to start running and lose weight weight the easy and painless way. This is, in fact, your ultimate manifesto to becoming a faster and a stronger runner. And you want that, don't you?
 Click HERE to check out my Runners Blueprint System today!
Don't miss out! My awesome running plan is just one click away.