Here's a no surprise:
Eating more vegetables is the ideal way to improve overall health and well being, according to the World Health Organization (WHO).
Why it's the case?
Vegetables are packed with many vital nutrients, including vitamins, dietary fiber, electrolytes, etc.
These provide your body with the raw materials needed for optimal health.
In fact, studies have linked regular consumption of veggies to:
Lowered risk of cancer and heart diseases,
Better weight management,
Increased productivity,
Enhanced emotional life,
Better immune system,
Etc.
I can go on and on.
But, here is the bad news:
Over 75 percent of people surveyed do not get the recommended two to three cups daily, according to a report by the Center for Disease Control and Prevention.
15 Easy Ways to Eat More Vegetables Everyday
In today's post, I'll share with you 15 easy and simple ways to fill your plates with all kinds of veggies.
Share the post with your friends and family if you like it. Spread the word.
1. Make Veggies Visible
Buying veggies then hiding them away in the back of the fridge defeats the point of getting them in the first place.
This is especially the case if you're not yet used to eating veggies and/or don't prep them in advance.
That said, if your greens are in a bowl on the kitchen counter, you'll be more likely to remember to use them when it's to get cooking—or snacking.
So, free them up.
Keep your greens—especially those that store well at room temperature—in a visible cool corner of your kitchen or pantry.
Or, at the very least, put your vegetables in visible containers on your fridge shelves. The more visible, the better.
2. Stock up on Frozen Veggies
If your fridge is packed with ice cream, cake, chocolate bars, and only one measly lettuce, then the natural choice will be the junk food. 9 out 10.
So, to avoid unhealthy grazing, keep the fridge loaded with healthy vegetables and fruits.
Moreover, frozen veggies are simple to prepare and can be kept for a long time. They're also as nutritious as fresh ones.
Not only that, they're often more convenient and affordable.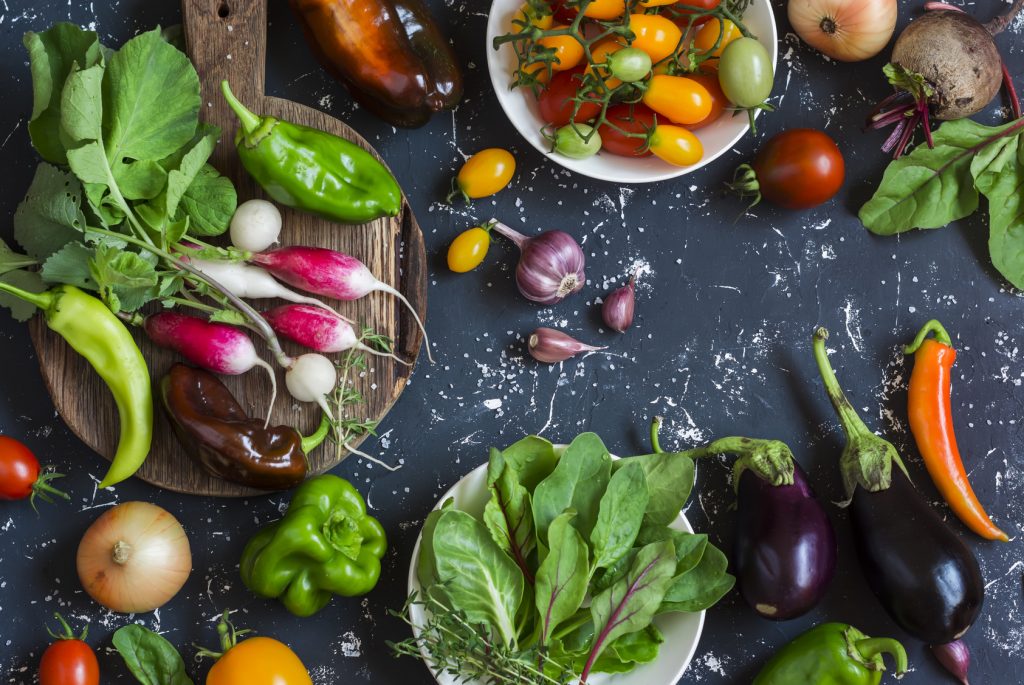 3. Have Veggies for Breakfast
For most people, breakfast is usually a sweat meal, with lots of cereal, oatmeal, bagel, fruit juices, and Greek yogurts.
That said, breakfast is also an ideal opportunity to sneak in more greens into your diet.
In fact, in my opinion, most breakfast dishes are better with veggies.
So, roast or sauté your favorite greens ahead of time, such as mushrooms, tomatoes, onions, or kale, then add them to your eggs for a delicious omelet.
4. Embrace the Salads
Want to eat more greens?
Then simply build the habit of routinely adding a simple side salad to your main meals. Do this whether it's breakfast, lunch or dinner—and regardless of what else you're eating.
Just make sure that the salads are made with dark green leaves with lots of colorful, crunchy toppings.
Cucumbers, onions, broccoli, zucchini, lettuce, nuts, bell peppers, cauliflower, seeds, you name it.
To save time, keep a box of pre-washed and cut veggies in the fridge.
Also, consider replacing your side order of fries with a salad when eating out.
5. Be Prepared
Success favors the prepared—this couldn't be more true when it comes to consuming more veggies.
After all, failing to plan is planning to fail, as the saying goes.
To put this into practice, chop up one week's worth of veggies over the weekend), then store them in small resealable plastic bags or containers. Just don't forget to wash them first!
Sure, this can feel like a chore, but if you've all the ingredients on hand, you'll more liekely make healthier choices throughout the week.
6. Stuff them into Sandwiches
Take your typical tuna sandwich and jazz it up with slices of onion, peppers, avocado, or mushrooms for both more flavor and nutrition.
Not only veggies are loaded with vitamins and antioxidants, but they also add taste and a nice crunch to sandwiches.
7. The Half Plate Rule
As a rule of thumb, vegetables should take up half of your plates.
Here is how:
Divide your dinner plate in half.
Fill one half with greens, then divide the remaining half into two quarters.
Fill one quarter with complex carbs, such as whole grain bread, brown rice, or whole wheat pasta.
Then fill the other with lean protein, such as poultry, lean beef, fish, tofu, or beans.
By doing this every day, you'll be consuming one to two servings in a single setting.
8. Hit the Farmers Market
A surefire way to buy nothing but lots of fresh veggies is to have a shopping spree at the farmer's market.
So, if there is a local farmer's market nearby, head to it once a week and get  as many greens as possible, where there is less opportunity to also buy junk foods.
9. Replace Junk Food with Sweet Veggies
The simple act of swapping the bad by healthy alternatives is all you need to maintain healthy eating over the long haul.
Here are a few examples:
Swap junk food, such as cookies, crackers, cake, pita, and white bread for sweet veggies, like cooked carrots, sweet potatoes, beets, etc.
Use leafy greens as wraps for sandwiches, tacos, etc. For instance, instead of using a wheat wrap for your dinner meal, use a large lettuce leaf.
Replace spaghetti with veggies by spiralizing greens into long strands noodles. Here is a whole website devoted to this uncommon practice.
10. Make a Smoothie
Smoothies are the makings of a great snack or breakfast.
They're also ideal for upping your greens' intake.
The ideal smoothie is made with lots of veggies (kale, cucumber, carrots, etc.) with a piece of fruit, like berries or apples, and two cups of water.
In case you're bored with green smoothies, then try something new, like papaya, kiwi, mango, or even ginger for a satisfying combination. Be creative. You're your own mixologist.
Here are the two rules for healthy smoothies:
Give vegetables the priority. Do not be afraid of experimenting.
Go easy on the fruits as these can swiftly add calories without much of the nutritious fiber found in whole options.
11. Purchase Pre-cut Vegetables
Always in a hurry? Then take full advantage of pre-cut greens since these are a great nutritional time saver to throw into any home-cooked dish.
Good news is, most supermarket and grocery stores sell pre-cut vegetables.
That said, while pre-cut greens are fresh, they're a bit more expensive, so it's up to decide if they're worth it.
If your budget does not allow it, then simply cut your veggies for a week on Sundays and put them into small containers.
12. Add Flavor to Veggies
If you're jaded with steamed veggies, try mixing it up to make them more tasteful.
How?
Simply drizzle extra virgin oil over your greens, with a little of bold no-calorie flavorings, such as garlic or sherry vinegar.
Using dietary fats, like olive oil—can go far in helping you add more flavor and texture to your vegetables.
13. Snack on Veggies
A veggie-based snack can help tame your hunger through the day and provide vital nutrients and energy.
And I'm not just talking about the baby carrots.
Instead, try out bell pepper, cucumber, roasted squash, or roasted beets to your snacking arsenal.
Also, make sure stockpile your panty, countertop, refrigerator, or desk with these healthy snacks.
14. Make Veggie-Based Soups
Soups are a fantastic way to consume many servings of veggies at once.
What's more, it's also simple to cook greens into cream-based or broth soups.
Moreover, according to research, starting a meal with a plain broth style soup may reduce your calorie intake by up to 20 percent.
15. Embrace Meatless Mondays
The campaign for "Meatless Monday" has gained a lot of steam—and for the right reasons.
Its premise is simple: encouraging people to go meat-free one day each week.
This a great way to practice eating nothing but veggies one day a week—a day does not inherently has to be a Monday.
But, for most people—yours truly, too—Monday seems to be a good day to try.
So, once a week, cut out the meat—and most junk food, then eat nothing but greens for the rest of the day.
New to Running? Start Here…
If you're serious about running, getting fit, and staying injury free, then make sure to download my Runners Blueprint Guide!
Inside this guide, you'll learn how to start running and lose weight weight the easy and painless way. This is, in fact, your ultimate manifesto to becoming a faster and a stronger runner. And you want that, don't you?
 Click HERE to check out my Runners Blueprint System today!
Don't miss out! My awesome running plan is just one click away.