I started running for one main reason: To lose weight. And truth be told, running is s one of the best exercises you can do to lose weight and get in shape.
But during the winter, you can pile on the pounds—especially if you let things spiral out of control.
In fact, winter gain is not an urban myth. It's real, and research has shown that most people gain about one to five pounds, sometimes more, during the winter season.
Therefore, today I'm sharing with you some of my best tips and strategies that can help you avoid winter weight gain. But before I do that, let's first take a quick look at the causes of winter's extra pounds.
Why Winter Gain
The three main culprits in winter weight gain are biology, lack of exercise, and overeating.
Biology. For starters, although we are living in the 21st century, our bodies are still hardwired to respond to cold weather just like our prehistoric ancestors did, by storing a bit more fat as survival mechanism.
Less Exercise. It's harder to keep a regular running and training routine with the harsh weather and all of the parties, family obligations, shopping and travel.
Winter Festivities. The cold season is a time of holidays, therefore we tend to consume more calories and overindulge during the season festivities—think Christmas dinner and the like.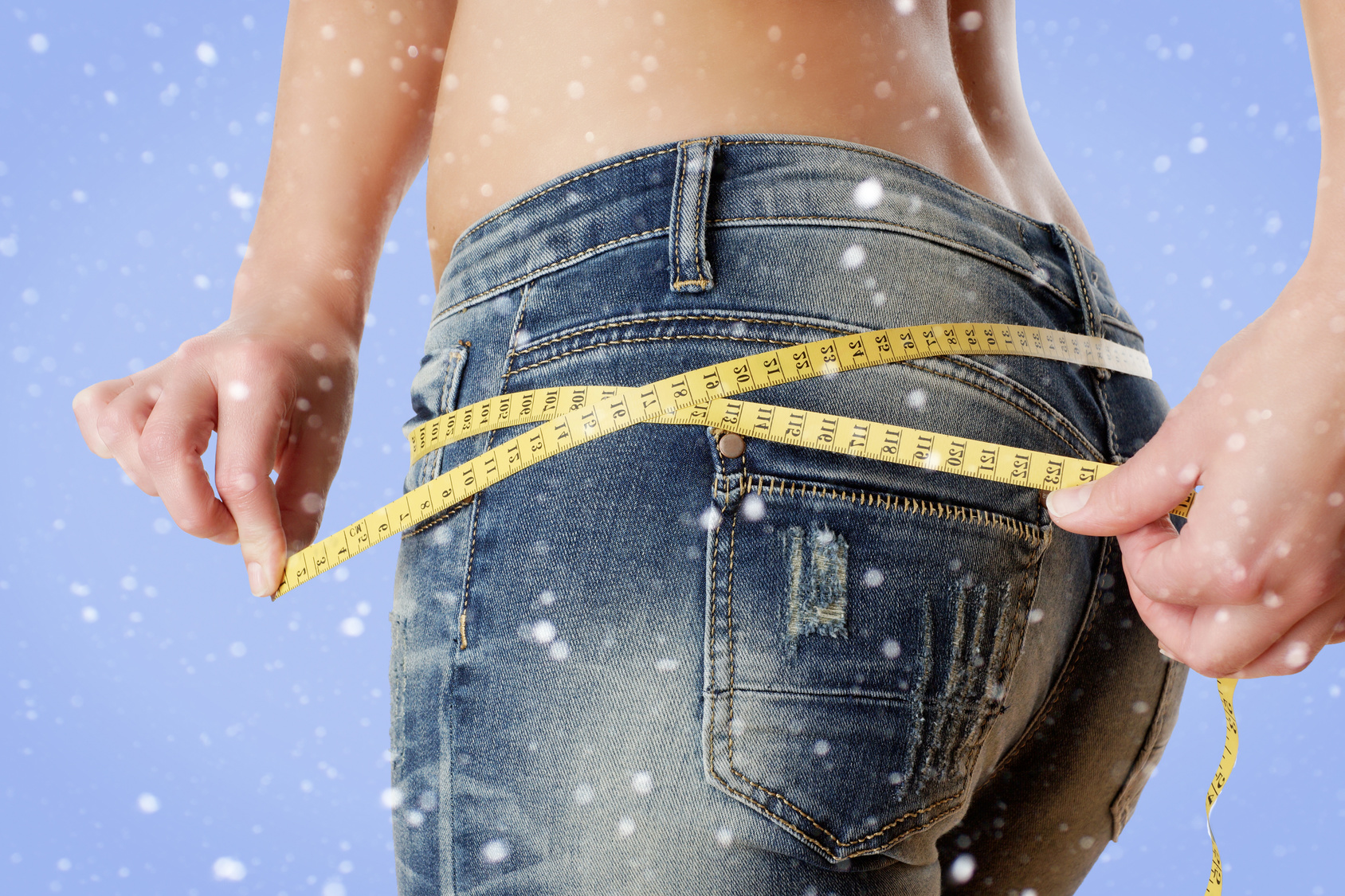 How to Avoid Winter Weight Gain
As a result, if you are serious about warding off the pounds during this season, even shedding some weight as well, here are the guidelines you need.
1. Prioritize Fitness
The best way to ward off weight gain is via keeping a regular running routine all-year-round—especially during the winter times when the risks of piling on the pounds are much higher.
This will not only keep the scale at bay, but it also get your brain releasing feel-good endorphins, key for warding off seasonal affective disorder (SAD) during the months of sparse sunlight and extreme cold.
Therefore, put exercise at the top of your to-do list during the cold times, and run at least three times a week throughout the cold season. If running is not an option, then hit the gym three to four times per week.
2. Do Something New
You might be disinclined to run outside because it's raining and/or freezing but that's no excuse to stop exercising altogether.
Instead, I urge you to change your training approach and be creative.
For starters, you could reverse the tide and actually take advantage of the cold weather by opting for winter sports. Activities like snowboarding, cross-country skiing are great ways to burn off excess calories while keeping fit.
If the cold is too much to handle, then consider moving indoors.
Take up swimming for instance. You can find indoor heated pools in most health clubs, and participating in a summertime activity can trick your brain into thinking the climate is warmer.
You could also try some indoor DVD workout. Here are a few of my favorites:
The Insanity DVD workout program: This is one of the best home training DVD systems there it. I completed my first challenge three or four years ago, and still this program is one of my favorites (Get it Here).
The Insanity MAX:30: This another great workout program by Shaun T and it's ideal if you pressed for time since most of the workouts will take you no more than 30 minutes to complete. But be careful, MAX:30 is quite advanced (Get it Here).
The Body Beast program. If you already do a lot of running and you are for a traditional strength training system, then the Body Beast. I love this program because it's varied and can help you get strong fast. Just keep in mind that you need weights for this one (Get it Here).
3. Smart Eating
You are more likely to overeat during the winter season then during any other time of the year. In fact, cold weather food cravings occur as a natural reaction to dropping levels of serotonin, a neurotransmitter that has a great impact on mood and it's less accessible to the brain throughout the winter months.
Therefore, set the right conditions for success by stocking up your kitchen cupboard with nutritious and real foods like vegetables, legumes, lean protein, whole grains, fresh fruits, and some healthy fats, like avocados.
You can also keep healthy snacks, like unsalted almonds or nuts, in your car or at your office so you don't snack on unhealthy food.
Plus, take advantage of the winter season by eating plenty of its greens. That includes Brussels sprouts, carrots, artichokes, potatoes and kale instead of grain cereals, white bread and pasta.
Make sure also to get plenty of Omega-3s. These fatty acids regulate the brain's serotonin levels. Shoot for at least three fish meals per week. Think sardines, salmon and mackerel.
In addition, eliminate all sources of empty calories like cookies, cakes, crackers, and other high-calorie high fat foods. Declare your house a junk-food-free-zone where unhealthy food is not allowed.
4. Limit Alcohol
Alcoholic beverages might be the glue that holds social circles together, but don't let that lure in. These drinks are loaded with carbs and sugars and will compromise your weight loss efforts and send the scale soaring in a heartbeat.
Therefore, limit your drinking.
If you have to, then make sure to drink a glass of water before and after every alcoholic beverage in order to pace yourself and dilute the empty calories. In addition, you can also reach for the smallest size drinks with sugar-free syrup, or opt for a healthier alternative, such as coffee or hot tea.
5. Weigh Yourself
If you weigh yourself regularly, you will have better control over losing weight and keeping it off for good. Being mindful of your weight—even the minute fluctuations—can help you avert major gains before they get out of control.
Therefore, weight yourself once a week to track major trends. I think it's better to step on the scale on a weekly basis because your body weight will tend to change during the week, especially with exercise, fluid intake, and sweating.
Plus, make sure to step on the scale as soon you wake up in the morning when your stomach is empty.
6. Handle the Feasting Right
The best thing you can to avoid over-indulging during the holidays' festivities is to never go hungry to a party. If you go hungry to a party (whether you are at an event or at home), then you are more likely to lose control, crave more foods and end up overeating and making the wrong food choices.
Instead, eat a healthy meal, like big salad, two hard-boiled eggs, a bunch of carrots, a banana or an apple to you up before the eating festivity starts. By doing this you will be less likely to binge when the big meal comes.
You can also bring a healthier side or dessert, if possible.
7. Plenty of Sleep
If you are looking to avoid winter weight gain this season, then the answer may lay with your sleeping habits. In fact, people who sleep for less than five hours per night are 30 percent more likely to gain weight and 15 percent more likely to get obese than those who slept for seven to eight hours, according to Case Western Reserve University study.
Sleep deprivations leads to unhealthy cravings for more food during the day and might also slow down metabolism, thus setting up the stage for overeating and weight gain.
As a result, sleep your way to a healthier body and mind. Try to get at least eight hours of high quality sleep during the night's time. Avoid taking stimulants, like coffee and alcohol, three to four hours prior to going to bed. Last up, turn off the TV as early as you can, and get to bed immediately.
8. Keep Track of your Eating
As a final note, I urge to keep tabs on everything you put in your mouth.
One of the main mistakes people make when they are trying to lose weight is underestimating the number of calories they are eating or drinking. So please, do yourself a favor and don't fall into this trap.
Note: This is, by the way, why a lot of runners keep on gaining weight even while sticking to a regular and intense running routine.
So use a notebook (such as DietMinder) or an app and keep track of what you eat, the quantity and the timing of your meals, you energy levels, etc.
Then, after a few days, look back over the data you have recorded and see if you can notice any obvious areas for improvement. And please keep in mind that there is always room for improvement.
New to Running? Start Here…
If you're serious about running, getting fit, and staying injury free, then make sure to download my Runners Blueprint Guide!
Inside this guide, you'll learn how to start running and lose weight weight the easy and painless way. This is, in fact, your ultimate manifesto to becoming a faster and a stronger runner. And you want that, don't you?
 Click HERE to check out my Runners Blueprint System today!
Don't miss out! My awesome running plan is just one click away.
Conclusion
The main key to change is to start now and never deviate. So make sure to put into action the above guidelines ASAP if you are serious about preventing weight gain and staying (or getting) in good shape throughout the cold months.
In the meantime, thank you for reading my post.
Feel free to leave your comments and questions below.
David D.
Note:This post contains affiliate links. For more check my privacy policy.