Whether your running goal is to lose weight, increase total weekly mileage, or get into better shape, endurance is key.
When I first started running, I made the mistake of doing too much too soon in order to build my stamina in the shortest time possible, but I paid for it dearly.
It was only once I'd incurred a couple of overuse injuries and a painful burnout that I figured out what I was doing wrong.
The most important lesson I learned back then (and something I still preach to this day) is that,  improving stamina needs to be combined with limiting—or controlling—the risk of injury. Otherwise why even bother!
How can you do that? Simple. Follow these training strategies.  They'll increase your running endurance without running the risk of injury or burnout.
Enjoy!
1. Start Slow
I get asked for advice on how to improve running stamina all the time, and this is my go-to recommendation.
Starting slow is the overarching principle of endurance building. This rule applies regardless of your current fitness level, but it's especially relevant during the early stages, when your risk of injury is highest.
How do you turn the words into action? You need to be SUPER patient. It takes time to strengthen your running muscles and connective tissue. Rushing it will lead to nothing but disaster.
Taking Your First Few (Slow) Steps
Start out by walking, then add jogging intervals to your walks. As you get fitter, try to jog for longer intervals until you're running at a slow pace for 25 to 30 minutes without gasping for air (Here's the full guide to the walk/run method).
Throughout this process, keep your pace slow. I always say that slow is a relative term, and it's really up to you as a runner to find out what that means, but as long as you can maintain a conversation—or if you're running alone, recite the pledge of allegiance—with little difficulty, you're on the right path.
Also, listen to your body. Your training exertion intensity should fall at about a 5 or 6 on a scale of 1 to 10 (for the full guide on RPE training, check my guide here).
Still not feeling confident that you can do it?
Then you should check out my Runners Blueprint System.
Why ?
My system was specially designed for beginners who either want to start running or take their training to the next level, but have little clue on how to do it.
And don't worry, my ebook is written in a conversational, jargon-free, style. All you need to do is download it, follow the simple instructions, then start seeing results ASAP.
Here's what it includes :
How to quickly and easily get started running (it's indeed is easier than you'd think!)
How fast (or slow) should you go on your first sessions
The exact 13 questions you need to answer before you a buy a running shoe
The seven most common running injuries….how to deal with them before they progress into major ones!
The quick standing stretching routine that keeps you flexible even if you're busy as hell
The 10-minute warm-up you must do before any session to get the most of your training
And much, much more.
 Click HERE to get started with The Runners Blueprint System today!
2. The 10 Percent Rule
Once you're past the beginner stage (meaning you can run for at least 30 minutes with ease), add mileage.
To do that without risking injury, follow the 10% rule.
Here's what is it all about. Never increase your weekly mileage by more than 10 percent. This simple guideline works because it honors your natural limits. Your body needs time to re-adjust to a new training regimen. If you rush the process, you're likely to get hurt. And you don't want that.
Keep It Simple Stupid!
Does a 10 percent increase feel like too much? Instead, increase your total weekly run time (provided that you're running for three to four times) by 10 to 15 minutes. It might not seem like much while you're doing it, but it adds up quickly.
There is one rule that you need to keep in mind, whether you're boosting your mileage or your minutes. On every fourth or fifth week of training, take a recovery week. Reduce your mileage by 50 percent and keep your pace comfortable.
3. Cross Train
The right cross-training program trains your heart without damaging your legs. It increases your cardiovascular conditioning, boosts your muscle strength, and builds flexibility, all without increasing your weekly mileage.
Don't get me wrong. I'm not implying that cross training should replace running, but it does improve stamina with little risk of injury. That's a good thing if you ask me.
The Best Options
Cross training incorporates different types of exercises or a mix of one or more. Some ideal cross-training options for new runners include:
Brisk walking
Biking
Skating
Swimming
Snow skiing
Elliptical trainer
Strength training
4. Be Consistent
To increase endurance, train consistently. Week after week, month after month is how you're going to build a cardio base.
As with anything else worth doing, practice makes perfect, especially when you're practicing consistently over a prolonged period. The more time you spend practicing your "craft," the more endurance you'll build.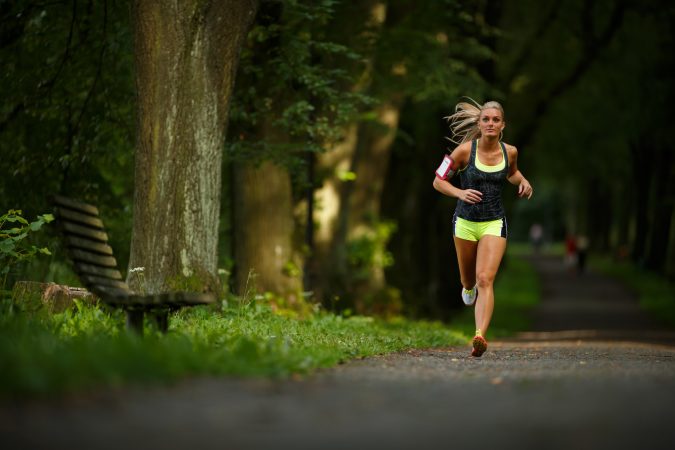 How Much is How Much?
At a minimum, run three to four times a week, for 30 to 45 minutes each session.
One of these sessions should be a long run that covers more miles than any of your other workouts for the week.
To put this into practice, you'd need a training schedule that will keep you honest and accountable for your actions. As the saying goes, failing to plan is planning to fail.
Here's an excellent sample schedule:
Monday – Run for 30 minutes at a leisurely and conversational pace
Tuesday – Cross train or rest
Wednesday – After a 10-minute warm-up, perform eight 400m reps at 75 to 80 percent maximum speed
Thursday – Cross train or rest
Friday – Long run of 45 to 60 minutes at a relaxed pace
Saturday – 20 minutes of easy paced recovery running, followed by a short cross-training session
Sunday – Rest
New to Running? Start Here…
If you're serious about running, getting fit, and staying injury free, then make sure to download my Runners Blueprint Guide!
Inside this guide, you'll learn how to start running and lose weight weight the easy and painless way. This is, in fact, your ultimate manifesto to becoming a faster and a stronger runner. And you want that, don't you?
 Click HERE to check out my Runners Blueprint System today!
Don't miss out! My awesome running plan is just one click away.
Conclusion
The above principles are all you need to build your endurance when running. Now the ball is in your court, and success is a matter of implementation.
Take action on what you've learned.
Thanks for stopping by, and keep running strong.