Running is a convenient sport you can do just about anywhere.
That said, your running kit can have an enormous impact on your training performance and motivation.
In fact, having the right gear is crucial—whether you're a complete beginner or a veteran athlete. The right gear improves your chances of success, and might even make your runs more enjoyable.
As a result, in today's post, I'm sharing with you a list of the must-have running items for all runners, new and old. This post will be particularly useful for those of you who don't have the first clue as to what running gear you might—or not might not—need.
So, are you excited? Then here we go.
What is Running Gear?
Running gear is the general term used to refer to the list of items you can wear on your person during a workout.
And it's a big business.
From running shoes,  technical clothing, performance socks, hydration belt, to sports bras, compression garments, heart monitors, and GPS watches, this niche is one of the most profitable sectors in the global fashion and sports equipment market.
So, what do you Really Need?
The answer depends on your personal preferences, training level, training goals, where you live, budget, and how much you love high-tech, stylish fitness gadgets.
Everyone is different and might be in the market for various things. No suit fits all.
But, all in all, an essential running kit should include proper running shoes, T-shirt, shorts, and sports bra for female runners. If you got these items, then you already have 90 percent of the must-have gear for running.
So, let's get the ball rolling…starting from footwear.
1. Running Shoes
Your running shoes are the most important piece of protective gear you need as a runner. Thus, you should spend time and money looking for the perfect pair.
If you want to stay a healthy and pain-free runner, then you need a pair of well-cushioned running shoes that feel comfortable and match your unique foot biomechanics and gait.
I hate to break it to you, but running in old or ill-fitting sneakers is not the wise thing to do. It's, in fact, one of the leading causes of pain and injury.
So, if you have a used pair gathering dust at the back of your closet, get rid of them, head to the closest specialty running store, and buy a new pair.
I personally like Brooke and Nike running shoes, but feel free to try out other brands and styles. I'm not affiliated with any shoe brand, and I cannot recommend a perfect pair. You decide.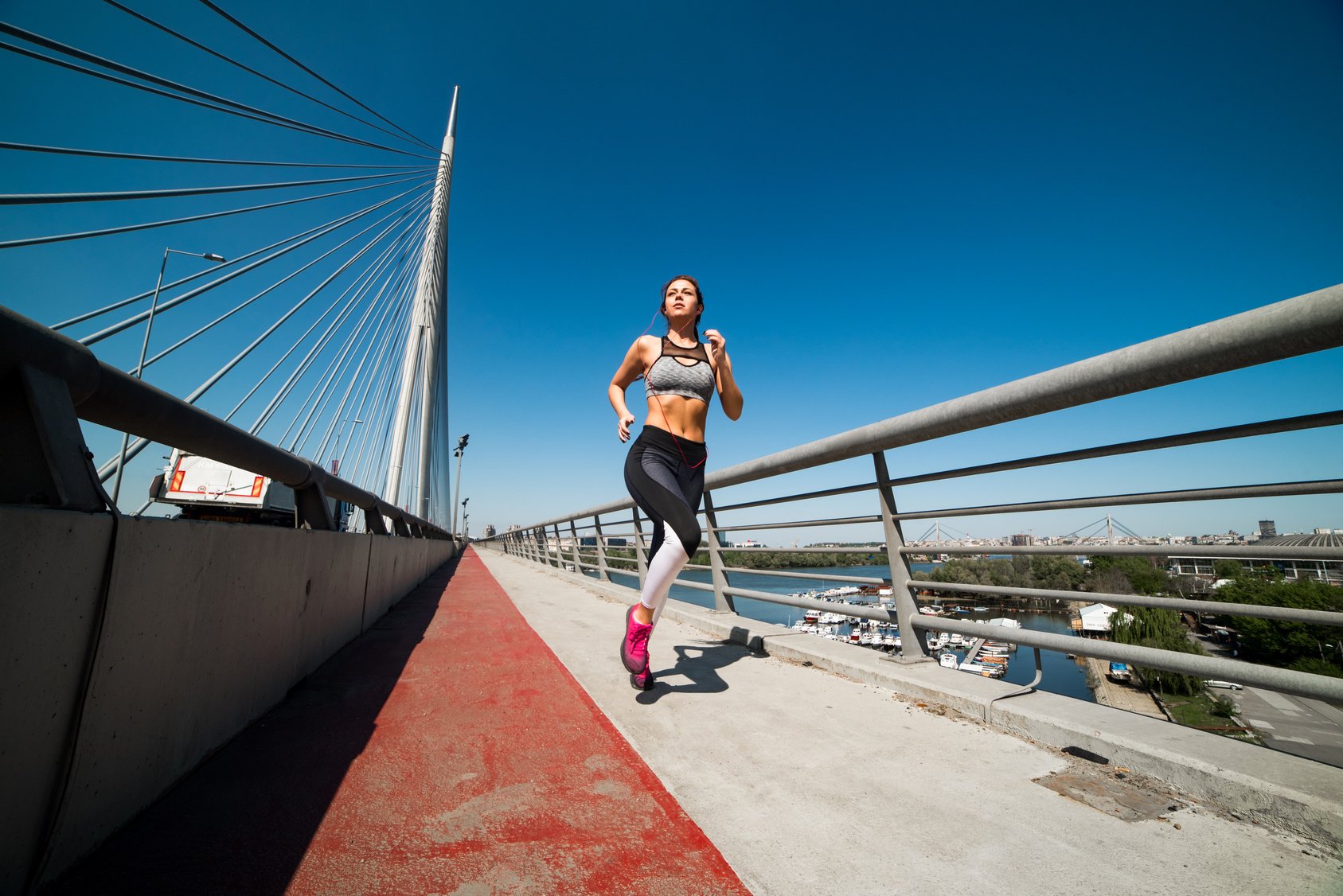 The Main Things
So, how do you pick the right trainers?
As a rule of thumb, fit, comfort, and flexibility should be the ultimate measuring criteria whenever you're looking for a new pair.
Here are the golden tips for picking the right sneakers:
Go shopping for a new shoe in the evening when your feet are at their biggest (our feet tend to swell after prolonged sitting or standing).
Get your shoes from a running specialty store. The pro staff will match you with the most suitable pair by assessing your foot type, running biomechanics, training needs, and personal preferences.
Leave enough wiggle room between your big toe and the end of the shoe—at least a thumbnail's space.
Don't under nor over pay. A cheap pair will not provide with enough support and won't last you that long, whereas a super expensive pair is uncalled for—especially if you're just a recreational runner.
For more on this, check my two posts here and here.
Expect to pay: $80-$160
2. Shirt
Shirt choice depends on the weather. That's why you will need shirts for different seasons and temperatures in a wide range of weights and fabrics. These might include sleeveless shirt, light shirts, heavy turtlenecks, etc.
Go for Technical Fabrics
As a rule of thumb, steer clear of cotton shirts.
Instead, make sure that all of your clothing items are made with technical fabrics.
These fabrics will move moisture away from your skin to the outer surface, where it will evaporate, keeping you dry and comfortable.
Technical materials also feel comfortable, light and cool against the skin, unlike cotton which, once it gets wet, it stays wet, turning into cumbersome and scratchy material that can cause chafed underarms and bleeding nipples.
Furthermore, technical fabrics can regulate your body temperature by dissipating heat during hot weather training and retaining it when the temperature drops.
A good running T-shirt is typically made from nylon, or brand names like Dri-Fit, Climalite or Coolmax. It should feel cool, light and comfortable against the skin.
Expect to pay $20 to $50.
3. Leg Attire
When it comes to leg attire, the two choices I recommend are shorts and running tights.
In my experience, the best shorts are those made of breathable, lightweight fabrics, with a light mesh interior underwear lining.
Also, consider getting shorts with a key pocket or extra pockets for carrying gels, keys, ID, or phone.
Proper tights are made from high-performance stretchy fabrics, like Nylon or Supplex. These can draw moisture away from the body, and keep you running comfortably, regardless of outdoor temperatures.
Tights also work well for the overweight beginner as they often protect against chafing and painful irritation in the inner thighs.
But, all in all, your leg attire should be made of a lightweight construction that protects you from debris and undergrowth and does not hinder your movement.
Expect to pay $20 to $60.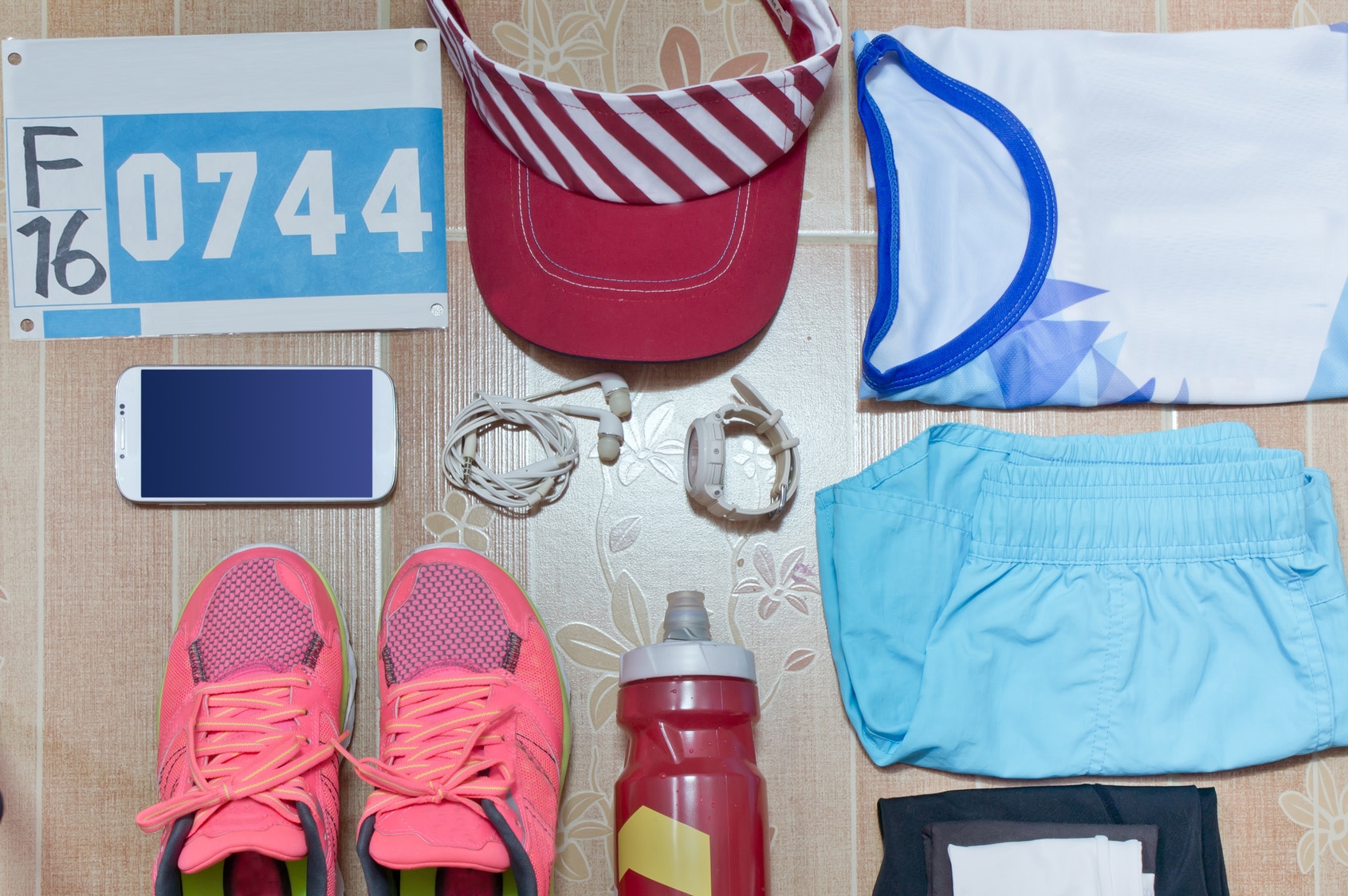 4. Sports Watch
If you are serious about your training routine, then a specialized sports watch will come in handy.
A good GPS watch can turn each workout into a data-producing session. It is ideal for keeping track of your running time, taking splits during the race, and help you see patterns in your training—all of which can encourage you to push the pace and run faster.
As a beginner runner, you can also use the sports watch "stop and start" button to measure run/walk intervals, making sure you're training within your fitness level.
Not only that, this interpretive piece of equipment is often equipped with a GPS system that tracks how far and how fast you run.
Just don't get me wrong. As a beginner runner, you don't need a fancy digital timepiece. In fact, a simple watch with a stop and start button can do the trick.
Once you get more sophisticated, consider getting a running watch that can track your pace, heart rate, running intervals, and pace, etc.—especially if you do any speedwork or carefully paced workouts.
You can choose from a wide variety of watches. They can range from a cheap Gosasa GOSK1155B costing around $12 to a several hundred dollars Garmin Forerunner 910XT multifunctional and GPS-Enabled Sports Watch.
Expect to pay: $10-$300+
5. Headphones
I love music, and Rock My Run Premium has made my running routine tenfold more enjoyable. Numerous studies have linked music to improved running performance, consistency, and overall more enjoyable training experience.
In other words, having something to listen to while pounding the pavement can make your runs that much better. That's why having a proper pair of running headphones are some of the most essential running gear you can get these days.
Good running headphones should have these three traits:
They need to be tough enough to keep up with your training,
They must be moisture-resistant so that they won't get damaged by sweat or rain.
They should fit nicely and comfortably in your ear. If your headphones fall out as you run, they're useless. In fact, fit is the most important factor, no matter how superior the music quality is.
In case you're not into music, turn to Audiobooks, podcasts to keep your mind occupied during long and tedious runs. Check out the Tim Ferris podcasts for some fantastic interviews.
Note: If you're running outdoors on the streets, then be careful. Listening to music while running can block out traffic noises, which can set the stage for accidents and other horrible tragedies.
So, please, put on your earbuds only you're safe outdoor. For more safety, go for a  pair of headphones with an open design that let in ambient sounds.
6. Heart Rate Monitor
If you are a serious runner looking unleash your full potential, or a beginner runner trying to keep your heart rate within a certain range during your runs, then training with a heart rate monitor is non-negotiable.
A heart rate monitor is strapped to your chest, and can provide you with an accurate reading of your heartbeat while exercising. It is precisely what you need to avoid under- or overtraining.
In fact, a good heart rate monitor is just like a running coach that can help you find your sweet training spot—not too much, not too little. You will no longer have to "guess" your pace or training intensity level.
There is a broad range of heart rate monitors to choose from. A basic model will just monitor your heart rate, while advanced versions will produce loads of stats, including calorie burned,
Just keep in mind that HRMs are not an absolute requirement even when you are preparing for a race, but they are something to consider getting.
Plus, some advanced running watches come with a built-in heart rate monitor. So if your watch already has one, then this is not something you have to buy separately.
Expect to pay: $30 to $350.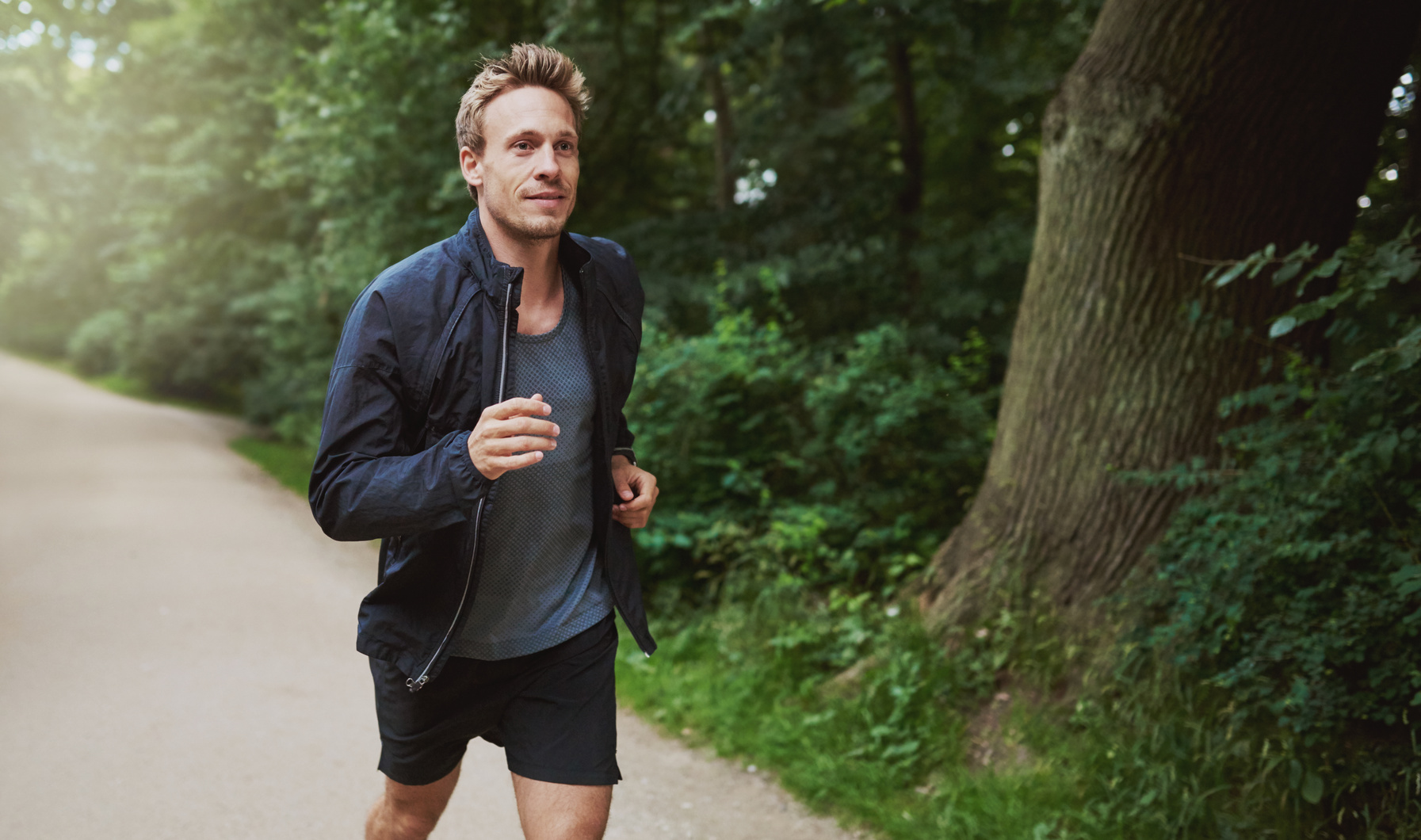 Adding it All Up
So how much you should invest in your running wardrobe?
As previously stated, there is no right or wrong answer to that question. It's all up to you.
You might already have in your current workout wardrobe the bare essential running kit.
But, irrespective of your budget, fashion sense, technological sophistication and training goals, let functionality, fit, and comfort, be your primary guiding criteria.
Your running gear is a performance tool. Not a fashion statement. I cannot emphasize this enough.
New to Running? Start Here…
If you're serious about running, getting fit, and staying injury free, then make sure to download my Runners Blueprint Guide!
Inside this guide, you'll learn how to start running and lose weight weight the easy and painless way. This is, in fact, your ultimate manifesto to becoming a faster and a stronger runner. And you want that, don't you?
 Click HERE to check out my Runners Blueprint System today!
Don't miss out! My awesome running plan is just one click away.