Looking for the best guide on running terms?
You are in the right place.
If you're new to the running game, you may feel as though you're learning a completely new language.
Here's the full guide to running terms so that you can talk the walk and what neve be left out of the conversation when in a running discussion.
So, If you can't tell gait from gaiter, or rabbit from the bandit, then this is your opportunity for a thorough running lingo lesson.
And please, if you think I'm missing out a couple of terms or more, feel free to share them in the comment section or shoot me an e-mail. I will be glad to talk to you, and hopefully, learn something new.
Seriously.
I need to hear from you.
So are you excited? Then let the vocabulary lesson begin…
The Ultimate Guide to Running Terms
Today I have compiled an extensive list of more than 150 words you might encounter in the running world and tried to explain each and one of them in the simplest and clearest ways I could.
And please, if you think I'm missing out a couple of terms or more, feel free to share them in the comment section, or shoot me an e-mail.
I will be glad to talk to you, and hopefully, learn something new.
So are you excited? Then let the vocabulary lesson begin…
Basic Running Terms
Carbs: Short for carbohydrates, this is one of the primary food groups. Carbs are the sugars, fibers and starches commonly found in vegetables, grains, fruits and other food.
Carbs are vital for runners because they are crucial for providing energy on the run and speeding up recovery afterward.
Common sources of carbs for runners include pasta, bread, and potatoes.
Glycogen: This is your body's stores of carbohydrate in the form of glycogen to be used for energy.
This is a form of carbohydrate storage found mainly in the muscles and liver and converted to glucose for energy during running.
Warm-up: A critical piece of all running workouts and it consists of 5 to 15 minutes of easy running or jogging or any light exercise that is done before a prescribed run or race.
The Warm-up is an integral pace because it raises heart rate, breathing rate and gets the blood flowing to the muscles, which can help you improve performance and ward off injury.
Cool-down: The flip side of the warm-up and it refers to the gradual transition back to normal functioning after a run.
The primary purpose of a cool down is to bring the heart rate to its resting level, as well as release tension in the muscles before ceasing the exercise.
The 10% Rule: This is one of the most important and widely accepted general running guideline that states that you shouldn't increase your weekly mileage by more than 10 percent from one week to the next to stay injury free for the long haul.
The Run/Walk Method: Also known as the Galloway method, which is a system of training that involves alternating between running and walking intervals during a workout or race.
This is the perfect strategy for beginners runners looking to improve their cardio power and build their fitness base without doing too much too soon.
Running Base: A type of running training that builds a solid foundation of aerobic fitness and endurance over a set period of time before starting a specific training cycle/plan.
Pace: A term that's used to refer to how fast you are running, and the expected time it takes to run a certain distance, typically expressed in terms of minutes per mile or kilometer.
Pace is also used to refer to a particular race pace.
For example, a 5K pace is the estimated time it would take a runner to cover one mile during a 5K race.
So when a runner is talking about running a 10-minute pace, they are talking about the length of time it takes to clock one mile.
Quads: Short for quadriceps, the four large muscle at the front of the thigh: the Vastus Medialis, Intermedius and Lateralis and the Rectus Femoris.
These muscles are in charge of stabilizing the knee during footstrike.
Quads weakness is linked by research to runners knee and other overuse injuries.
Hamstrings: These are the long muscles along the back of the thighs.
Weakness and/or tightness in the hamstrings is a common issue for many a runner that might lead to all sorts of performance trouble and injury.
Therefore, as a runner, you need to follow a comprehensive hamstring strength and flexibility program.
Aerobic: This is a broad term used to refer to any type of physical exercise that's intended to improve how your body uses oxygen to generate energy and sufficiently meet it's energy demands during exercise.
Classic examples of aerobic exercises include running, spinning, walking, hiking and swimming.
Anaerobic: On the other side,  anaerobic activity is any exercise that causes you to be quickly out of breath in which your body's needs for oxygen surpasses the oxygen supply on hand.
This term is usually used to describe very high-intensity exercise that's not intended to boost the efficiency of your body's cardiovascular system.
Classic examples of anaerobic activities include sprinting, jumping, and weight lifting.
New to Running? Start Here…

If you're serious about running, getting fit, and staying injury free, then make sure to download my Runners Blueprint Guide!

 Click HERE to check out my Runners Blueprint System today!

Don't miss out! My awesome running plan is just one click away.
Endurance: Simply, it's your body's ability to withstand pain and discomfort and run for extended periods of time.
An Important component of a well-rounded training program.
Running Economy: A broad term that's used to refer to the many biomechanical and physiological factors that may contribute to your running performance and have an impact on the efficiency of your running motion.
Overtraining: Also known as the "burnout," this is a training condition that's described as running too long too intensely that athletic performance actually collapses, leading to all sorts of fitness and health troubles including fatigue, unwanted weight loss, and chronic injury.
Running Form: Also known as "running mechanics," this is the science and art of running technique, and it refers to how you should move your body while running.
Contrary to popular belief, there is not such thing as a perfect form recipe that works for everyone.
Instead, if you are looking to improve your running form, then you should do whatever keeps you injury-free and feels right for you.
It's, after all, your particular physiology that has the ultimate call.
C25K: Standing for Couch to 5K, C25k is a popular beginner training program that newcomers to the sport of running use to build stamina and power without risking injury or burnout.
It's also a famous Subreddit for the same purpose.
Conversational Pace: This is a running pace in which is the training effort is relaxed enough that you should be able to speak in complete sentences without much huffing and puffing.
This is also referred to as the Talk Test.
Rest Day: An important day in every runner's calendar that involves doing no running or intense physical exercise at all.
Also known as recovery time or, downtime.
Interval Training: A broad term commonly used to refer to all types of speedwork and track workouts in general.
Interval training involves alternating between high periods of fast running with recovery breaks of low-to-moderate intensity.
Recovery Run: Used to refer to an easy, slow, and short run, usually at 60 to 70 percent of maximum heart rate, and taking place within a day after a challenging run, such as a speed session or a long run.
Recovery runs are performed mainly at a conversational pace.
Tempo Run: A type of running workout in which you typically run at 75 to 85 percent of your maximum heart rate for a sustained period of time of 20 to 30 minutes or a specific number of miles.
As a rule of thumb, tempo runs must be performed at a comfortably challenging pace.
LSD: Acronym for long slow distance, which is the longest run of the week, usually taking place on the weekend.
LSD runs are performed at a pace that's drastically slower than race pace goal, and they are vital for training the body to utilize efficiently diverse fuel sources while working on mastering and perfect running form.
Hill Training: Also known as hill repeats, this is a type of cruel speedwork that requires running up and down a hill of a decent degree of incline with a recovery break between each rep.
Hill training is a must because it can help you build strength, speed, and confidence in the shortest time possible and with the fewest of injuries.
Fartlek: A Swedish term that stands for "Speed Play", a form of speed work format in which the runner performs bursts of faster running, following an unspecific and unstructured training pattern, unlike traditional interval training, which centers around specific distances and/or timed intervals.
Trail Running: Refers to all sorts of running and hiking trails—mainly through woods and mountains and natural and dirt paths.
Trail surfaces are more merciful on the body and the exact break you might need from road running. In the UK and Ireland, trail running is usually referred to a mountain or fell running.
Cross Training: Or XT for short, this consists of low-impact activities or forms of exercise other than running, such as weight training, cycling, swimming, yoga, and aqua running.
Cross training is vital in a running program because it can help you prevent injury, boost conditioning and improve every facet of your fitness while adding variety to your training program.
Newbie: Or a beginner, this is a newcomer to running who just took up the sport and he is beginning to learning the basics by training for a short distance, like a 5K.
Elite: These the advanced runners.
If you are a beginner or even an intermediate, don't try to keep up with them because they are really fast.
They have done the work.
Triathlete: A type of overachieving athlete that does not only run, but bikes and swims, too.
Runner's High: Refers to the state of euphoria and pure joy experienced by runners either during a workout or right after.
This ecstatic state is, mostly, the result of the release of norepinephrine, serotonin, endorphins and dopamine, all of which promote a sense of well-being and happiness.
The Wall: Usually used to refer to a point between miles 19 and 26 of a marathon race in which the runner's energy and power plunge, making them feel physically and emotionally drained, like they've got nothing left in the tank, literally.
Resting Heart Rate: Or RHR, this is a measure of the number of contractions per minute of your heart when the body is in complete rest—typically measured first thing in the morning just after stepping out of bed.
RHR is a good measuring stick of your body's aerobic fitness and a reliable marker to whether you have been overtraining or not.
Body Mass Index: or BMI for short, this is a simple measure you can use to see if you have a healthy body weight for your height.
As a general guideline, an ideal BMI is in the range of 18 to 25.
If you want to calculate your BMI, then check out this link
MHR: Standing for Maximum Heart Rate, this term refers to the age-related number of contractions your heart can make in one minute when working its maximum.
The easiest way to measure it is by solving this easy equation: 220 – your age= MHR.
But this method only provides a close guess.
Racing & Competitions Running Terms



400 Meters: The equivalent of a lap around a standard track.
Mile: The equivalent of 5280 feet or roughly 1600 meters—four laps around a standard track.
5K: A racing distance of 3.1 miles.
Perfect for beginner runners.
10K: a racing distance of 6.2 miles.
Perfect combo of aerobic and anaerobic power.
Half-Marathon: A racing distance of 13.1 miles, or 21.1 kilometers.
Marathon: A race that's 26.2 miles long, or 42.2 kilometers.
Completing a marathon race should be on your bucket list.
Ultra Marathon: Also known as Ultra, this is used to refer to any race distance that's  longer than a marathon.
Some of the most popular ultra races include the 50KM (31.07 miles),  the 100KM (62.14 miles), and the 100-miler beast.
XC: Or cross country running, which is a type of running sport in which individual or teams compete in a race on a variety of surfaces—such as grass, trails, rocky areas, hills, gravel—typically anywhere off-road or off-track.
Runners who partake in this kind of races are usually known as "Harriers."
Road Race: All types of races that are held on a road.
These races take place on measured courses over an established road, unlike cross country and track and field running.
OCR: Standing for Obstacle Course Racing, which is a type of competitive racing events in which runners have to race on muddy terrains while making their way through military-inspired obstacles designed to test their physical and mental grit to the breaking point.
Some of the popular OCR events include the Warrior Dash, The Spartan Race, Tough Mudder and The CMC.
Bucket List: A list of races or physical achievements that a runner hopes (or plans) to have accomplished during their lifetime.
Master: Also known as "Veteran," this refers to any athlete of 40 years of age or older.
MP: Stands for Marathon Pace.
GMP: Stands for Goal Marathon Pace.
Race Pace: Your ideal running pace during a race.
World Marathon Majors: These are big guys when it comes to marathon racing, and they comprise of six prominent races: Boston Marathon, Chicago Marathon, NYC Marathon, London Marathon, Berlin Marathon, and Tokyo Marathon.
BQ: Standing for "Boston Qualifier", qualifying for the Boston Marathon is one of the ultimate goals for many a runner.
To qualify for this race, you must gain entry by either completing another race at a qualifying time or by a charity slot.
If you are BQ, then that must be a source of great pride and delight for you.
PR: Short for "Personal Record", and also known as " Personal Best" (PB), this is used to describe the fastest time achieved by a runner for a certain distance or race.
DFL: Acronym for "Dead F*cking Last".
It's pretty self-explanatory, and it refers to the poor last fella to cross the finish line.
DNS: Acronym for "Did Not Start" and it refers to not being able to show for a race even after registering for it.
DNF: Acronym for "Did Not Finish", whether it is was because of an injury, bonking or simply falling short of completing a race in the designated course time.
Clydesdale: Typically refers to a weight-challenged runner.
This is also a category that's reserved in racing for heavyweight male runners—usually over 200 to 220 pounds.
Athena: Similar to the Clydesdale category, the Athena category is a division for female runners who weigh more than a specified weight—usually 150 pounds and above.
Chip: This is a small computerized plastic device a runner attaches to their shoelace or race bib with the purpose of keeping tabs on progress and running times during a race.
The chip gets activated the second you step over the electronic mat after the official clock time starts, and stops the second you cross the finish line.
Just be careful not to forget your timing chip; otherwise, your race time won't be formally recorded.
Bling: Also known hardware, these are the finisher's prizes that participants receive after completing a race course in the designated time.
Bling might take the form of a medal, mug, belt buckle, etc., and these are a source of great pride for many a runner.
Bib: Refers to the square piece of paper with a designated race number that runners attach to their shirt using a safety pin during a race, and used to identify each runner in a race.
Bonk: Sometimes used interchangeably with "hitting the wall", a "bonk" can hit a runner at any time during a race and it's usually linked to plummeting blood sugar levels and improper racing fueling.
Legal Wind: Also known as "Wind Assistance," this is a technical term that refers to any type of mild wind that can either help or restrict a runner during a race, thus having a significant say in their finishing time.
This is quite of an issue since wind conditions that are too favorable can disqualify finishing times from becoming (personal or world) records.
Second Wind: Refers to a phenomenon typically experienced during long distance running, in which a runner feels an increase of confidence and energy and finds the strength to press forward, often just as they were starting to feel completely exhausted.
Rabbit: Also known as Pacemaker, or Pacesetter, often employed by the race organizers, this is a someone who leads a race—typically middle or long distance events—for the first section then usually drops out of the competition before the final laps.
Jack Rabbit: A runner who takes off too fast from the start of a race or run with rapid and sudden movement, looking a lot like a jack rabbit.
Chicked: A term that's used to describe a male runner (or cyclist) who gets passed by a female athlete during a race.
Nothing to be ashamed of.
Kick: Also known as "Giving it All you Got", or "Changing Gears," this is a broad term for the final push runners give at the final part of a race to boost speed to the finish line, leaving nothing in the tank.
Just don't kick too early in a race; otherwise, you will be scoring a DNF or be a DFL.
CR: Stands for the course record.
RRCA: Stands for Road Runner's Club of America, which is an organization that promotes the development of running events, running clubs and supporting runners from all levels and training background throughout the U.S.
USATF: Stands for the USA track and field.
IAAF: Stands for the International Amateur Athletic Foundation, which is a worldwide organization that tends to everything related to running.
Advanced Running Terms



HIIT: Short for High-Intensity Interval Training, a type of exercise that involves alternating between short bursts of intense activity—running, biking, jumping, squatting, weightlifting, etc.—with periods of low-to-moderate exercise or rest to recover.
Study shows that HIIT is ideal for speed up weight loss and increasing fitness level like nothing else, and through the roof in the shortest time possible.
Quality Workouts: Refers to any running workout that you perform at a faster pace or longer duration than your daily runs.
Examples of quality workouts include speed session, tempo runs, and long runs, all of which require at least one to two days of recovery.
Carb Loading: Refers to the practice of revamping glycogen stores in the body by boosting the percentage of carbs intake during the days leading to a big race or long run.
In other words, carb loading is all about eating plenty of bread, bagels and pasta to do up and increase energy stores.
Cadence: Also known as stride rate, or stride turnover, this refers to the number of steps taken during a minute of running.
According to most expert, the sweet spot when it comes to running cadence is around 180 steps per minute, which believed to reduce the risks of injury and help you run more efficiently.
Gait: In layman's terms, running gait is the style in which you run (or how you run for short).
You can have your gait analyzed and broken apart by experts to help you determine any biomechanical deficiencies you might have and help you improve your running form and become more of an efficient runner.
Foot Strike: One of the most annoying sticking points in the running worlds today and it refers to how and where your feet should strike the ground while running.
Finding the right foot strike is a matter of personal physiology and preference, so you should aim to find what works the bet for you and ignore all of the hype surrounding the subject out there.
MFS: Stands for "mid-foot strike" in which you land on the ground on the center to the ball of the foot.
This is the foot strike technique usually prescribed for runners and it's encouraged by the Chi running method and other philosophies.
I happen to prefer this striking pattern.
FFS: Or "Forefoot strike", a footstrike pattern in which the ball of the foot to toes lands on the ground first.
RFS: Standing for the "Rear Foot Strike", or "Heel Strike", a footstrike style in which the heel hits the ground first, followed by the forefoot.
It's believed that an RFS pattern might lead to all sorts of injury, but there is no conclusive evidence that proves the claim.
Training Log: Also known as a training journal, or training calendar, which is a daily record you can use to monitor progress (or lack thereof), boost motivation, and keep tabs on your daily workouts and diet choices.
A training log can take the form of paper, spreadsheet, an online record, or a Smartphone App.
Speedwork: Also known as track workout or repeats, this is the type of running training program that involves increasing the pace of a run according to a particular pattern.
Speedwork is typically used to boost speed, leg power, strength, and agility.
Types of speedwork include sprints, hill reps, and tempo runs.
Pyramid Intervals: A type of speedwork format in which the runner works on increasing the faster-running intervals in a pyramid-like fashion with recovery jogs in between.
For example, a simple ladder workout could include intervals of 200m, 300m, 400m, 300m, 200m, and finally a 100etc.
Negative splits: A running training method in which you run the second half of a run or race faster than you ran the first half
Splits: This is the length of time it takes a runner to cover any defined distance.
For example, if you are running one lap on a 400m track, a split is used to depict the length of time it takes to complete one 400m lap.
Junk Miles: The moderate-pace miles a runner might run without any specific reason or rhythm other than that of adding numbers and volume to total weekly mileage to reach a certain total mileage target.
In most cases, junk miles don't result in any specific physiological benefits.
Strides: Also known as "striders," they typically referred to a series of 50 to 100 meters bursts of fast running.
Strides are usually performed after a thorough warm-up but before a speed workout or race.
Yasso 800: Popularized by Bart Yasso, this is a renowned speed workout format that involves performing 10 sets of 800 meters with 400 meters recovery between each set, and it's used by runners who are trying to achieve a definite marathon goal.
Pick-ups: Used to refers to short, and gentle accelerations in speed performed during a run to either spice up a workout or make it more challenging.
DO NOT CONFUSE with cheesy pick-up lines.
Doubles: Performing two running workouts in one day.
Periodisation: An advanced training methodology that consists of managing training program throughout the year so that a runner can peak for an important event at a certain time of the year.
In most cases, periodization involves breaking down a training program into "periods" that focuses on different training goals, typically alternating between high and low-intensity training period chunks.
Plyometric Training: Also known as jump, or explosive training, this is a type of workout designed to produce explosive, and fast movement through rapid loading and contraction of the muscle in a rapid and fast sequence and manner.
Perfect examples of plyo exercises include box jumps, squat jumps and burpees.
Aqua Jogging: A form of low-impact cross training activity in which the runner performs a running motion against the water's resistance inside a pool or large body of water, where the runner can't touch the bottom.
Perfect for recovery and nursing a running injury.
BPM: Acronym for "Beat Per Minute", and commonly known as the "heart rate," this is the number of heartbeats during a minute.
Specific heart rate training is one of the best training methods out there to help you the most out of each workout.
VO2 Max: Also known as aerobic capacity, this is a measurement of your body's maximum intake of oxygen per minute while running.
Some of the factors that determine VO2 max include fitness level, body composition, age, and genetics.
Anaerobic Threshold: Also known as "Lactate Threshold, this refers to a physiological point during a running workout at which massive amounts of lactic acid begin to build up in the bloodstream at a faster rate—That's usually when the body switches from aerobic to anaerobic metabolism.
MPM: Stands for minutes per mile and used to gauge running pace.
MPW: Or miles per week, which is the number of miles you run per week, or weekly training volume.
Brick Workout: A triathlon training term that refers to doing two different workouts back to back, with a run combined with either a bike ride or a swim.
Taper: Describes a period of a few weeks before a big race in which the runner reduces their total training volume to store energy.
This period involves less running and it's used to sharpen fitness level before a big race.
Streaking: The act of running for consecutive days for an extended period of time.
In most streaking cases, at least, one mile per day more is requisite for an official running streak.
Also, streaking refers to runners who has completed a race, or a bunch of races, multiple years in a row.
DO NOT CONFUSE with running naked through a public place.
Pronation: This refers to the way a runner's foot might roll inward during a running stride.
It's a normal part of the natural motion that assists the lower leg in dealing with shock.
Some runners pronate a lot—or overpronate—while others pronate less—or underpronate.
This is an important piece of choosing the right shoe.
Supination: Also known as "Underpronation" this is a biomechanical term used to describe the outward roll of the foot during the gait cycle at toe-off.
It's believed that supination can put a lot of stress on the foot, leading to Achilles tendinitis, plantar fasciitis, and the notorious iliotibial band syndrome.
Quad Buster: When you run down long stretches of steep downhill running that your quads feel like they are on fire, typically performed at a pace so fast that you might seem somewhat out of control.
Endorphins: These are the body's natural painkiller brain chemicals released during running (and exercising in general) that reduce pain and promote well-being, creating a state of euphoria and typically leading to the experience known as Runner's High.
Running Terms For Injuries & Problems
Overuse Injury: The most common type of injury that strikes runners of all levels and training background, and it's typically the result of doing too much training volume before the body is ready.
Some of the widespread overuse injuries include plantar fasciitis, stress fractures, and the infamous Runner's Knee.
Hitting The Wall: Also known as bonking and it describes the state of complete and utter exhaustion experienced by marathon runners when the glycogen stores are worn-out and blood sugar plummet to their lowest.
In most cases, bonking can hit from mile 19 in a marathon—especially when following an improper racing fueling strategy.
RICE: Standing for Rest, Ice, Compress and Elevate, this is a runner's first line of defense against most running injury, and it can help reduce swelling, soothe pain, protect damaged tissues, speeding up recovery in the process.
Foam rolling: A form of self-myofascial release in which a cylindrically shaped firm foam object is used to apply pressure to certain body parts to soothe pain, promote range of motion and speed up recovery.
Dehydration: This is a condition in which the runner loses more fluids than they take in, leading to a drop in performance and other trouble.
Some of the main symptoms of dehydration include dizziness, thirst, weakness and fatigue.
Lactic Acid: A term usually used to refer to muscle burn and stiffness after a hard run.
This condition is the by-product of the anaerobic metabolism of glucose produced when the body can no longer generate energy using oxygen.
In most cases, runners typically use lactic acid to refer to all sorts of sore muscle and muscle fatigue—especially during or right after hard workouts.
DOMS: Standing for delayed onset muscle soreness, which is any sort of stiffness, pain or soreness of muscle, usually occurring between 24 to 72 hours following a run. DOMS is the byproduct of tiny tears of the muscles resulting from doing more work than they are used to.
Shin Splints: Also known as Medial Tibia Stress Syndrome, or MTSS, this is a  common overuse running injury that manifests as intense and sharp pain along the front of the lower leg, caused by improper footwear, weak calves or overtraining.
Plantar Fascia: This is the thick connective tissue that runs from the heels to the bottom of the foot.
Under too much stress, just like what happens with Achilles Tendinitis, the fascia become inflamed, leading to the condition commonly known as Plantar Fasciitis.
ITBS: Stands for the Iliotibial Band Syndrome, a notorious overuse running injury that happens when the IT band—the connective issues along the outer thigh and knee— becomes tight and inflamed due to overuse.
DO NOT BE CONFUSED with Runners' knee.
Tendinitis: Also spelled as tendonitis, this is an inflammation of a tendon, typically from overuse.
Runners Knee: Also known as Patellofemoral Pain Syndrome, or PFPS for short, this is one of the most common overuse running injury caused by inflammation or irritation of the underside of the patella—the kneecap.
Achilles Tendon: Refers to one of the strongest and thickest tendons in the body, located at the back of the ankle and connects the back of the heel to two major calf muscles: —the gastrocnemius and soleus.
Due to overuse, this vital tendon becomes irritated and inflamed, leading to what's known to the condition known as Achilles tendinitis.
Chafing: A painful rubbing or irritation of the skin caused by skin to skin or skin to fabric—socks, underwear, shirt, sports bra—friction.
Heat and moisture might exacerbate the irritation.
It's painful, and it hurts.
But you can always use moisture cream, such as Vaseline or BodyGlide to prevent the chafing.
Side Stitch: Also known as the "Side Sticker" or "Side Cramp," this is a sharp and stabbing pain felt just blow the rib cage that occurs during running—especially for beginner runners or during downhill running.
Runner's Trots: May also be referred to as gastrointestinal (GI) issues on the run resulting in unwanted bowel movement and diarrhea.
Some of the leading causes of this embarrassing phenomenon include stress, poor diet choices and, arguably, coffee before a run or race.
Other terms used in association with runners trots include "Code Brown", and "Fitness leak".
Chub Rub: A painful phenomenon that's described as intense chafing caused by inner thigh rubbing together while running.
Chub rub can be super annoying, and it's mostly common among overweight runners or during hot weather.
Jogger's Nipples: Also known as "Bloody Nipples," this is abrasion and soreness of a runner's nipples due to repeated friction of clothing, leading to bleeding and pain.
Bloody nipples are mostly common among male and female long distance runners—, especially during the summer.
Black Toenails: A painful condition taking place because of the development of blood under the nail, and commonly caused by wearing tight running shoes or by too much downhill running.
In most cases, black toenails heal on their own within a few weeks or months.
Runger: Also known as the runchies, this is a type of intense hunger and cravings produced by running.
The typically runner sensation is also followed by a short temper if the cravings are not satisfied and tamed.
How will you know you got the runchies? If you usually feel like you could eat anything on sight after a long run.
FOMO: This famous acronym stands for the Fear of Missing Out, and it's used quite common these days.
When applied to the world of running, FOMO is used to describe the negative inner state of not being able to sign up for a race with your running friends and missing out all of the fun.
In some cases, FOMO might lead to fatigue and burnout as runners try their best to compete in as many hard runs and races as possible without taking into consideration proper rest and the physiological cost of putting the body under all that workload.
Run Envy: The feelings of envy and jealousy you might experience when you see another runner in the park paying his due diligence when you are not.
It's perfectly reasonable 😉
Running Terms For Shoes & Other Apparels
Moisture-Wicking Clothing: Refers to any running-specific training fabric that's made of non-cotton, synthetic fibers or apparel that can help keep your body warm and dry during a run by wicking moisture from the skin.
This can prevent chafing and a host of other troubles.
Heart Rate Monitor: This is a small device, typically a chest strap, a watch-like wrist receiver,  or ear monitor,  that's used to gauge the electrical activity of the heart in real time and record the heart rate for later examination.
Shock Absorption: Also known as "Cushioning," this describes the shoe's ability to absorb impact during a footstrike.
In the running world, cushioned running shoes are generally a sub-category for a running shoe that offers a lot of support and assistance—especially for heavy runners.
Orthotics: These are small inserts devices worn inside of a running shoe to help correct any biomechanical imbalances, preventing pain and injury in the process.
The type of orthotics you might opt for depends on your specific needs and the type of injury you are trying to address.
Gaiters: A type of sleeve-like garment similar to leggings that a runner (or a hiker) attaches to their shoes and goes up the leg or ankle for the purpose of protecting the feet from the elements, such as water, sleet, dirt, pebbles, rocks, and other debris.
Gaiters are super useful if you do any sort of trail or wintertime running.
Motion Control: Used to describe any shoes' ability to control the motion of the foot, usually made to limit overpronation and other biomechanical issues.
Toebox: Also known as the "Forefoot," this is the front portion of the upper of your running shoes, the area of the shoe where your toes are.
Toeboxes come in all forms: shallow, medium or deep, and might also vary in shape and function.
The Upper: Refers to the top half of the shoes, typically the light-weight mesh or leather materials that encloses the shoe.
Outsole: This is the very bottom of most running shoes (the layer of the shoe that hits the ground), typically made of blown rubber or carbon rubber.
Midsole: Refers to the layer for the shoe between the outside and the upper that's in charge of the shoe's cushioning abilities.
Typically, midsoles are made from foam materials: either polyurethane or ethylene vinyl acetate, or EVA for short.
The midsole is also vital for shoe durability.
Drop Bag: This is a bag that contains your special race day items and personal gear that you believe you will need during an ultra race event.
In most cases, drop bags are transported by the race organizers to designated aid stations.
GPS: Standing for the Global Positioning System, this is the famous and reliable system used to track location, speed and time wherever in the world.
Several running watches and apps feature a GPS system that you can use to track running distance, elevation gain and other factors with a relatively high degree of precision.
Agility Ladder: A handy piece of equipment that allows you to do agility training in the comfort of your own home.
Running Terms Philosophies and Movements
Barefoot Running:  Also known as "Natural Running," this term refers to the act of running without footwear.
Barefoot running takes minimal running one step further and preaches getting rid of running shoes.
Proponents of the movement claim that barefoot running can improve performance and prevent injuries.
Running barefoot has gained a lot of popularity in the recent years and it's practiced by runners all over the world.
Minimalist Running: A running movement that preaches running in shoes without the added cushion and shunning the highly cushioned heeled models that have become the standard shoes in the running world.
In most cases, minimalist shoes are very light weight, lack high-cushioned heels, have little arch support and stiff soles.
Naked Running: A worry-free running philosophy that preaches running without relying on modern gadgets and special gear, expect for shoes and clothing of course.
Don't get me wrong.
This is not streaking, you'll still have your clothes.
Nothing illegal.
Miscellaneous Running Terms
Dreadmill: A mocking term used to refer to the boredom and monotony experienced during treadmill running.
A lot of runners are not very fond of the treadmill and regard it with such disdain, so they prefer to call it dreadmill instead.
Runhole: A derogatory term referring to a runner who talks ceaselessly and without stopping about running and might prefer spending most of his time training than be with family and friends.
A runhole is also fluent in the running lingo.
He can compile sentences in the running lingo without giving it much thought.
I can be described as a runhole.
But don't be a runhole—most of the time.
Image Credit – Twitter
Downhill Warrior: A type of a runner who struggle when running the uphill terrain section or even flat of a run or race, but sprints at maximum speed down hills.
This is a frowned upon practice because too much downhill running can lead to all sorts of injury.
Plus, it's not well-balanced approach to running.
Wind Chill: This is the temperature that expresses how cold it really feels outside, taking into consideration the effective lowering of temperature by the wind.
Heat Index: This is the apparent temperature, and it's measured by combining air temperature and relative humidity in an attempt to determine how hot it really feels outside when relative humidity is added into the equation.
Weather Stalking: The obsessive act of checking the hourly weather forecast before a significant run or race, expecting it to display your ideal conditions.
Runfie: The combination of Selfie + Run, or the picture that you take of yourself before, during or after a run or race to share on social networking services such as Facebook, Instagram, and Twitter, and let the whole world know about what you just did.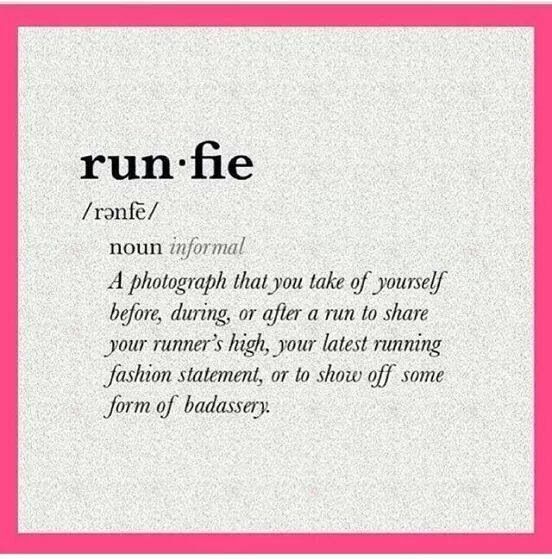 Image Credit – RunSelfieRepeat
Farmer Blow: Also known as the "snot rocket," this is a technique used by many runners and it refers to the art and science of holding one nostril while forcefully blowing the contents from the other with one solid blow.
This is a skill that requires a lot of time and practice to master.
Bandit: A usually frowned upon practice that describes someone who participates in a race without paying the entry fees, robbing the race for the experience without permission.
Carrot: A super attractive male or female runners who motivates you to keep going strong during a run or race by keeping up with their pace as if you are following a carrot on a string.
New to Running? Start Here…
If you're serious about running, getting fit, and staying injury free, then make sure to download my Runners Blueprint Guide!
Inside this guide, you'll learn how to start running and lose weight the easy and painless way. This is, in fact, your ultimate manifesto to becoming a faster and a stronger runner. And you want that, don't you?
 Click HERE to check out my Runners Blueprint System today!
Don't miss out! My awesome running plan is just one click away.