When it comes to running, strength training is crucial.
In fact, runners who strength train are usually healthier, stronger, injury-free and more likely to keep reaching new levels of performance.
In fact, sticking to a runner-specific strength routine is hands down one of the best things you can spend your valuable timing doing.
Therefore, if you are serious about becoming a well-rounded runner, then here is a cross-training bodyweight strength workout routine to try.
So today I decided to share with you some excellent bodyweight strength exercise you can do at home in minimal time and with no equipment required—unless you choose to do so.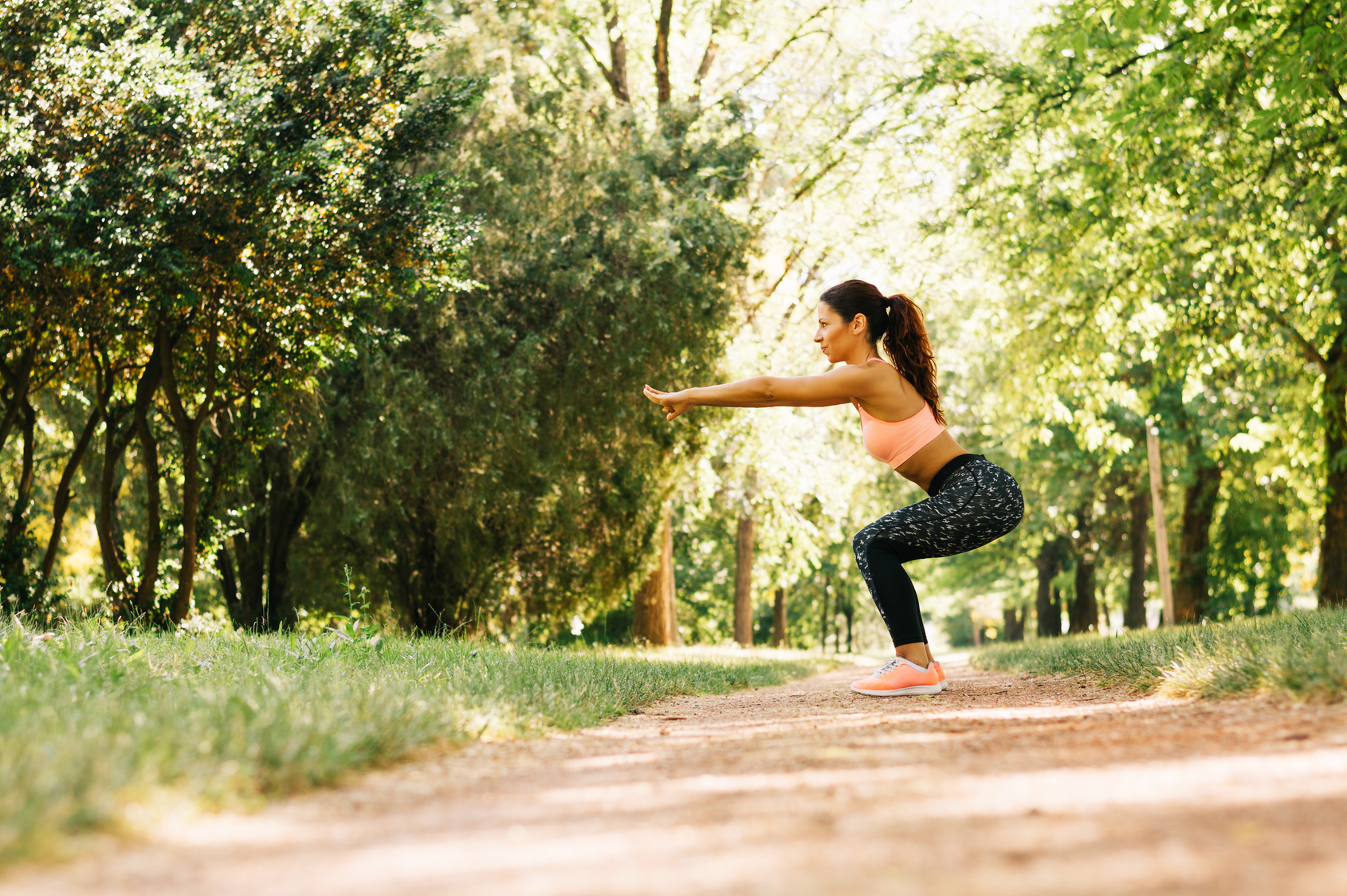 Bodyweight Training Benefits

Bodyweight exercises are some of the best moves that can help you improve your fitness level and get into the best shape of your life without paying for hefty gym fees, or be confined to a gym.
This kind of training is really convenient, and can be done anytime anywhere. You don't need any sort of fancy equipment or access to the gym. All you need is your bodyweight, a clear and comprehensive routine and a bit of determination.
The bulk of bodyweight exercise is convenient, simple and scalable, so as you long as you are willing to keep good form the entire time, listen to your body, and do your best, you will be in a good place.
The routine I'm sharing with you today involves doing a set of challenging bodyweight exercises designed to push you hard, while the recovery periods refresh you for the next round of high-intensity work.
To make the most out of this workout, be sure to push your hardest on every interval—just keep good form the priority here—and by the end of the routine you should feel utterly exhausted. If you are not completely worn out, you are not pushing it hard enough.
So make sure to push yourself as hard as possible while keeping proper form the entire time. If your form starts to suffer, that's a clear sign that you should back off, recover a bit, then go at it again. Just don't give up.
1. Air squats
Benefits
Bodyweight squats are wonderful multi-joint exercises target almost every muscle in your lower body. They are also key for boosting endurance, especially if you are doing any type of running, biking, and swimming.
Proper Form
Begin by standing with your feet a little wider than hip-width apart, toes should be slightly turned out, with the arms resting at your sides.
Next, while bracing your core and pulling your shoulder blades in towards each other, start squatting by bending your knees slowly while putting most of your bodyweight onto your heels.
Make sure to keep your knees aligned over your ankles and back straight the entire time.
As soon as you reach the bottom of the squat, press back up through the heel and return to standing position.
Do this exercise slowly and gradually at first, but as you master proper form, be sure speed it up to boost the cardiovascular activity and burn some mad calories during this exercise.
2. Spiderman Plank Crunch
Benefits
This awesome exercise will not only raise your heart rate through the roof, but it will also test your core strength and balance to the breaking point.
Proper Form
To do them right, start in a standard plank position with your body perfectly straight from head to toe, forearms firmly resting on a mat. Make sure to keep your back straight and core engaged the entire time.
Next, lift your right foot off the floor, then bring your right knee forward towards your right elbow, pause, then slowly return to the starting position. Repeat on the other side to complete one rep.
Alternate sides for a total of 12 reps to complete one set. Aim for three sets.
3. Dive Bomber Pushups
Benefits
These are my favorite types of a push-up. Also known as the Hindu push-ups, this exercise can help you tone up almost every muscle in your body while providing you with a killer cardiovascular workout
Proper Form
This will push your heart rate to the max. So make sure to pace yourself here.
Begin in a downward dog position with your butt elevated in the air, and feet spread roughly shoulder width. Make sure your body is forming an inverted "V' shape, with your head down.
Next, lower your chest to the floor by bending your elbows toward the floor until your chest almost touches it, then push forward into a dip motion to an upward dog position.
Pause for a moment, then return back to the standing position to comlplete one rep.
Do 10 reps to complete one set, aiming to perform 3 total sets.
5. Side plank crunch
Benefits
Planks are some of the best bodyweight exercises, so make sure to do a lot of them. However, the variation I'm sharing with you today will not only test your core mettle, but they will also drive your heart rate through the roof.
Side plank crunches strengthen the obliques and the deep ab muscles, and they are an awesome cardiovascular exercise.
Proper Form
Begin in a standard plank position with legs together, back straight and core engaged. Then, lean to your left side while lifting your right arm up toward the ceiling, bend your right elbow and place your right hand behind your head.
Next, while keeping your right shoulder tracking over right hand and hip raised the entire time, bend your right knee and bring in to touch your top elbow, and start performing crunches.
Do 8 reps on each side to complete one set. Aim for three sets.
6. Pike Jumps
Benefits
This is another awesome core exercise that will help you develop core strength and stability while hitting your hips and quads hard and pushing your cardiovascular endurance to the limit.
Proper Form
Begin in a standard plank position with palms on the ground, core engaged, back perfectly straight and hands directly beneath your shoulders. Make sure to form a straight line your head to your heels.
Next, while engaging your core, jump your feet together and forward and assume a pike position with butt raised in the air, pause for a moment, then jump back to the plank position while making sure to keep the hands firmly placed on the ground. That's one rep.
Do 16 reps to complete one set. Aim for three sets.
7. Jump Squats
Benefits
Jump squats are some of the best plyometric exercises you can do to develop explosive power, which is key to building your muscles' ability to generate force more quickly.
This exercise mainly works the calves, quadriceps, hamstrings, and glutes—vital running muscles.
Proper Form
Stand as straight as possible with the feet spread shoulder-width apart, arms hanging at the sides and core engaged.
Next, while keeping your chest up and back straight, squat down by bending your knees until your thighs are parallel to the ground. Be sure to keep your back straight and knee is tracking over your toes.
Then, while pressing mainly with the ball of your feet, jump up explosively in the air as high as you can, using the thighs like springs. As soon as you land on the floor, go straight away to the next squat and jump again.
Do 20 reps to complete one set. Aim for three sets.
8. Windshield Wipers
Benefits
This awesome core exercise is ideal for targeting the rectus abdominis and obliques muscles to activate and strengthen your core stabilizing muscles, which is crucial for keeping your trunk steady and good posture while you are running.
Proper Form
Start out by lying down on your back, then raise your legs to a 90-degree angle. For more support, feel free to spread your arms straight out to your sides.
Next, to perform this exercise, rotate your legs to your right side, stopping short of touching the floor, pause for a moment, press back up, then turn to the left side, and press back to starting position to complete one rep. Make sure your legs are moving from side to side in a "windshield wiper" motion.
As you get stronger, make it more challenging by bringing your arms closer into your sides so they offer less support.
Do 10 slow reps to complete one set. Aim for three sets.
9. Single Leg Elevated Glute Bridge
Benefits
As you may already know, glutes are the source of power when it comes to running. Good news is the single leg elevated glute bridge exercise is one of the best exercises that target these large and powerful muscles.
Strong glutes can help you run faster and longer while preventing common injury. Plus, it also builds balance and coordination.
Proper Form
Lie down on your back with your feet flat, knees bent, ankles hip-distance apart, then raise your right leg off the floor, pulling the knee to your chest. This is the starting position.
Make sure to extend your right leg as straight as possible toward the ceiling.
Next to perform this exercise, raise your glutes off the floor by driving through the heels and extending your hip upward.
Be sure to extend your right leg as far as you can, hold it for 30-second to one full minute, then slowly lower your leg down and switch sides to complete one set. Aim for three sets.
10. Burpees
Benefits
This compound movement will blast your heart and increase your stamina like nothing else. Burpees target virtually every major muscle group in the body while helping you become functionally fit in the shortest time possible.
It's no wonder that the burpees are the bread and butter of most CrossFit workouts and military training programs.
Proper form
Start by standing with feet shoulder width apart. Squat down by bending your knees, then lower your body toward the floor by putting your hands on the floor in front of you. Thrust your feet back, and lower yourself into the bottom portion pushup position, so your legs are fully extended, abdominals tights, and arms straight.
Then in one swift and smooth motion, jump your feet back into the squat position and leap up as high as possible from the squat position. That's one rep. Repeat as fast as possible.
New to Running? Start Here…
If you're serious about running, getting fit, and staying injury free, then make sure to download my Runners Blueprint Guide!
Inside this guide, you'll learn how to start running and lose weight the easy and painless way. This is, in fact, your ultimate manifesto to becoming a faster and a stronger runner. And you want that, don't you?
 Click HERE to check out my Runners Blueprint System today!
Don't miss out! My awesome running plan is just one click away.