Running is a great way to keep fit, but without the right equipment, it can lead to discomfort and potentially, injury. One essential and often overlooked component of running gear is the back support belt. In this blog post, we highlight its importance, demonstrating why it is a must-have accessory in every runner's wardrobe, novice or veteran.
Benefits of Using Lower Back Support Belt for Runners
It is a protective gear that you fasten around your waist – spanning over your lower back – providing stability and support in this region. The belts are typically made of sturdy, breathy materials like neoprene and come in various sizes to snugly fit all body types. This accessory works by reducing the stress on the user's lower back. It facilitates proper weight distribution and absorbs some of the impacts when a runner's foot strikes the ground, ensuring that the pressure does not overwhelmingly concentrate on the lower back.
The usage of these braces is not just limited to professional runners; even hobbyists and those who partake in occasional or moderate running sessions can make great use of the back belts. When running, the repetitive jarring motion can give rise to an incidence of strain and potential injury, especially in the lower back area. Regular usage of a lumbar back belt adds an extra layer of defense against these injuries, effectively reducing the risk of muscular strains or ligament sprains in the lower back region.
Moreover, they are incredibly beneficial for those recovering from an injury. As the belt restricts undue movements and provides optimum support, it aids in quick and safe recovery by preventing further damage to the strained muscles. Thus, incorporating it into your running regimen will invariably improve posture, decrease discomfort, prevent severe injuries, and aid in recovery, urging you to push your limits.
Ensure You Choose the Right One
Picking the perfect back belt for running depends on key factors:
Adjustability: The brace should have flexible fitting options to provide custom compression levels according to your needs;
Material: The material used should ensure durability and effective performance. A prevalent material choice is neoprene due to its robust nature, flexibility, and ability to retain heat, thereby soothing the muscles;
Comfort and support: They should also be key considerations, as a belt should not feel restrictive or uncomfortable. It should give your lower back secure but comfortable support.
Among the myriad options available, Nygex stands out as the top brand. Its distinguishing feature is the stretchy interlaced bands offer steady compression, while the adjustable hook and loop straps let you select the fit that feels most comfortable. Further, its premium quality neoprene ensures maximum breathability while providing a high level of support without hindering mobility, making it a preferred choice. By visiting https://nygex.nz/p/lumbar-back-support-brace/, you can see other benefits of this back support and choose the right size.
To utilize it effectively, ensure that you wear it snugly around your waist in a way that covers your lower back adequately. However, remember not to fasten it too tightly as it may hinder blood circulation. Ensure it fits you comfortably even during movements. Wearing such belts over a thin layer of clothing is ideal to evade skin irritation.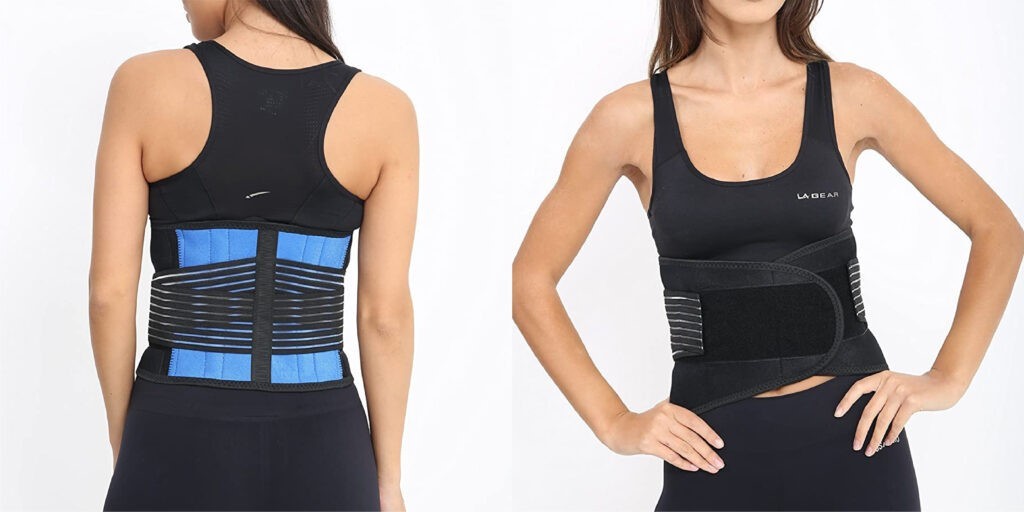 The Role of Back Belt in Maintaining the Proper Running Posture
The right posture can make a world of difference in improving the run and conserving energy by maximizing efficiency and speed and minimizing force. Back support braces play an integral part in achieving and maintaining correct running posture. The belt supports the natural arch of the lower back, aligning the body correctly from shoulders to legs. With a snug fit around the waist, they keep the lower back firm yet flexible. This helps prevent unneeded stress on the back, facilitating a correct and consistent posture throughout a run.
To achieve the correct running posture, here are specific tips:
Ensure your head is up, maintaining a comfortable and neutral position while looking ahead;
Keep your shoulders relaxed, loose, and lowered, and avoid shrugging;
Your arms should be bent at a 90-degree angle, swinging loosely from the shoulders;
Engage your core muscles while keeping your back straight;
Remember to land softly on your heels, rolling forward to push off the balls of your feet;
A lower back support belt can highly facilitate this, allowing you to focus and maintain this ideal stride, supporting a flawless running form.
The Impact of Regular Exercise and Proper Gear on Spine Health
Exercise strengthens muscles around the spine, improving balance and posture, thereby reducing the risks of back pain and injury. Proper gear like lower support belts, good running shoes, and suitable clothing further enhance this protection by providing additional support and safety.
Apart from offering support, back braces encourage proper alignment of the spine while running. They maintain and stabilize the normal curvature of the spine, reducing the chances of undue strain or uncomfortable postures. This functionality is beneficial to protect from potential injuries and also to heal from existing ones.
The combination of regular exercise, engaging in proper alignment, and the use of a back support belt helps in keeping the core and back muscles sturdy, resulting in better spine health. Moreover, these measures help prevent painful conditions like herniated discs or sciatica that runners can sometimes face.