Are you a runner on the hunt for that extra edge in performance? Well, you're in the right place!
Let's face it, the world of fitness supplements can be overwhelming, especially if you're new to the game. There's a supplement for everything, from turbocharging recovery to giving your muscles that extra oomph and even boosting your lung power.
But worry not, my running friend. In today's article, we're going to navigate this supplement maze together. I'll be your guide to uncover some of the best supplements for runners, ensuring your high-performance engine keeps humming at its best.
So, if you're ready to explore the world of running supplements and take your running game to the next level, let's lace up those shoes and get started!
Note – Please keep in mind that the supplement world is vast and constantly evolving. Today, I'll share some well-researched supplements that have proven benefits for runners. However, it's essential to remember that the supplement industry is a massive business, and not every product out there is worth your hard-earned money.
While seeking ways to enhance your running performance, it's crucial to rely on science-backed options. So, let's explore some of these supplements that have a solid foundation of research behind them. Keep in mind that this list is not exhaustive, but it's a great starting point for runners looking to optimize their nutrition and performance.
What is A Supplement?
Sports supplements are a powerhouse of performance-boosting goodies that are custom-made for athletes and fitness fanatics. They're like a turbocharged version of your regular diet, delivering a range of benefits that go beyond what you get from your everyday meals.
We're talking about a diverse squad here, including:
Amino acids: These are your trusty sidekicks for muscle recovery.
Vitamins: The essential alphabet for keeping your body in top shape.
Herbs: Nature's little helpers for various fitness goals.
Minerals and electrolyte-rich drinks: The hydration heroes.
Bone & joint support compounds: Keeping your frame strong and sturdy.
Other botanicals: A wide world of natural goodness.
So, supplements are like your fitness toolkit, packed with specialized tools to help you smash those goals. Whether you're looking to recover, energize, strengthen, or do something else entirely, there's probably a supplement out there for you.
Do supplements work?
Ah, the million-dollar question.
Well, it's a bit like navigating through a foggy forest. Science suggests that certain supplements might lend a hand with certain types of exercise, but here's the plot twist: they're no magical shortcut to fitness heaven.
See, experts advise that supplements can be helpful sidekicks, but they're no replacement for a healthy, balanced diet.
And here's where the plot thickens: while many sports supplement companies make grand claims, only a select few have the research receipts to back them up.
To add a twist, some supplements might come with hidden surprises, like harmful additives and sneaky artificial compounds not mentioned on the label.
What's more?
Supplements don't have to pass any strict Food and Drug Administration (FDA) tests before hitting the shelves. It's like the Wild West out there!
So, here's the golden rule: if you're considering playing the supplement game, make a pit stop at your doctor's office first. No dice-rolling with your health!
Oh, and here's a pro tip for the journey: store your supplements in a cool, dry place to keep them pristine. Don't go rogue and take more than the recommended dose, and if you encounter any side effects, it's time to drop the supplement like a hot potato.
Do Runners Need Supplements?
When it comes to supplements, runners don't necessarily need them like a squirrel needs nuts for winter.
In fact, I'd say runners probably shouldn't pop those pills and powders unless a wise doctor in a white coat gives the green light.
So, what's the game plan? Well, step one is to make a pit stop at the doc's office for a checkup, especially if you've been grinding those miles or made some major lifestyle changes recently. Safety first!
Remember, supplements are like sidekicks to your diet's superhero. They can swoop in to save the day if there's a nutrient deficiency, but they're not the main show.
So, lace up those running shoes, hit the pavement, and let your diet be your trusty fuel. And if things feel off, that's when you bring in the health experts for backup!
Be Careful
I'm not a doctor, and I'm not here to give you a prescription for supplements. The decision to take supplements should be based on your individual circumstances and needs.
Several factors can come into play, including:
Your training intensity and volume. If you're pushing the limits with your mileage and intensity, supplementation might become more important.
Your competitive level. If you're a serious competitive runner, your training demands might necessitate supplements.
The quality of your diet. If your dietary choices aren't the healthiest, or if you have dietary restrictions, supplements could fill in the gaps.
Your blood test results. If your blood work reveals specific nutrient deficiencies, supplements might be recommended.
Now that we've covered some of the potential drawbacks of supplements, let's dive into the actual list.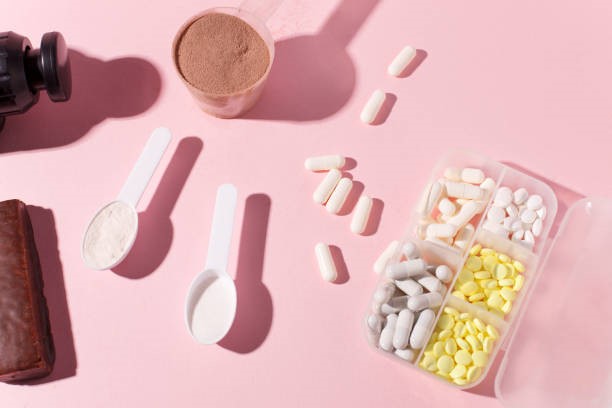 The 9 Best Supplements For Runners
In today's market, there are many innovative supplement options available to cater to the specific needs of athletes and runners.
Let's dive into some of the most recommended supplements for runners and how to make the most of them.
Protein
Protein is indeed a vital supplement for runners and athletes. It plays a crucial role in muscle repair and recovery, which is essential for maintaining performance and preventing injuries. When you engage in activities like running, your muscles undergo stress and breakdown, and adequate protein intake helps in rebuilding and strengthening them.
To determine how much protein you should consume, it's recommended to aim for approximately 0.8 to 1.1 grams of protein per pound (or 1.6 to 2.2 grams per kilogram) of body weight per day. This means that, for instance, a 160-pound individual should target around 140 to 180 grams of protein daily. Meeting this requirement through dietary sources can be challenging, which is where protein supplements become beneficial.
Whey protein, especially hydrolyzed whey protein, is an excellent option for runners. It is known for its quick absorption into the muscles, making it an efficient choice for post-exercise recovery. Whey protein is considered a high-quality protein due to its high biological value and has been shown to support recovery and limit muscle protein breakdown.
Additional Resource – Here's your guide to pre and post-run nutrition
Electrolytes
Electrolytes are crucial for runners, especially when training in hot weather. These charged ions play a vital role in various bodily functions. While you can meet your electrolyte needs through your diet, excessive sweating during long, hot runs can lead to imbalances.
Signs of electrolyte deficiency include nausea, dizziness, muscle weakness, soreness, fatigue, cramping, and, in severe cases, blood pressure and heartbeat issues, as well as an increased risk of stroke.
Fortunately, there are electrolyte drink tablets available to help replenish lost electrolytes after your workouts, leaving you feeling refreshed instead of tired and sluggish. These tablets typically contain potassium and sodium, essential for proper hydration.
While some sports drinks also contain electrolytes, they often come with added sugars. In contrast, electrolyte tablets contain only the necessary electrolytes and are designed solely for hydration. Look for tablets that can be dissolved in water or taken in capsule form, whichever is more convenient for you.
When selecting an electrolyte supplement, ensure it includes essential electrolytes like sodium, calcium, magnesium, and potassium. Prioritize products that offer a reasonable price per serving and are easy to use. The key is to stay hydrated and maintain your electrolyte balance for optimal running performance.
Magnesium
Magnesium is a critical micronutrient that many people are deficient in, and it plays a vital role in numerous biological processes. For runners, magnesium is even more essential due to its involvement in various aspects of exercise performance.
This coenzyme is responsible for approximately 300 reactions in the body and influences bone health, blood pressure, nerve function, and muscle contraction. Specifically for runners, magnesium helps regulate heart rhythm, lower blood pressure, facilitate proper muscle contraction, and is crucial for ATP production—the primary energy source for our cells.
However, surveys have indicated that a significant portion of the American population, around 85 percent, is deficient in magnesium. Given that many individuals in developed countries lead sedentary lives, it's likely that trained athletes, especially those who log high mileage each week, may also experience magnesium shortages.
Magnesium deficiencies can exacerbate the loss of various vitamins and minerals as the body struggles to absorb nutrients from the gut. To address this, it's important to include magnesium-rich foods in your diet, such as leafy vegetables (e.g., spinach), nuts, whole grains, seeds (e.g., Brazil nuts, pumpkin seeds, cashews), legumes, and bananas.
Supplementing with magnesium is another option, and there are different forms available, including magnesium oxide, citrate, glycinate, malate, and chloride. When selecting a supplement, it's essential to read the labels carefully. Avoid amino acid oxide-based supplements like magnesium carbonate and magnesium glycinate if you're prone to stomach issues while running. Instead, opt for magnesium malate and magnesium glycinate chelates, which tend to be more digestible and absorbable by the body.
The appropriate daily magnesium intake varies depending on individual needs. If your doctor prescribes magnesium supplements to address a deficiency, you should generally take more than 250 mg daily.
However, be cautious with the dosage, as excessive magnesium intake can lead to diarrhea and digestive problems. The recommended daily allowance for the general population is approximately 450 mg for men and 350 mg for women. Research suggests that athletes, especially runners, may benefit from safely taking 600 to 800 mg of magnesium daily.
Vitamin B12
Vitamin B12 is a crucial nutrient that can significantly impact your running performance and overall well-being. If you frequently experience fatigue or lethargy or seek to enhance your running capabilities, it's worth considering increasing your vitamin B12 intake.
Vitamin B12 serves various vital functions in the body, including:
Facilitating protein absorption
Ensuring the release of dietary folate into the body
Maintaining healthy blood cells
Promoting muscle strength
Reducing fatigue and tiredness
A deficiency in vitamin B12 can lead to neurological issues and a range of unwanted symptoms. Weak muscles and fatigue may occur because your body can't produce enough red blood cells, which are responsible for delivering oxygen and nutrients to working muscles during running. Severe deficiency cases can even affect your balance, increase the risk of falls, and cause mouth ulcers.
While vegans are particularly susceptible to B12 deficiency, anyone can be at risk if they don't consume enough B12-rich foods. Whole grains, leafy greens, eggs, nuts, and dairy products are natural dietary sources of vitamin B12.
Ideally, vitamins should be obtained from a balanced diet whenever possible. However, if you believe you're not getting enough B12 through your diet, supplementing with a B-complex vitamin may be a safe option, especially under the guidance of a certified physician.
When it comes to supplements, vitamin B12 is available in two primary forms: methylcobalamin and cyanocobalamin. While cyanocobalamin is more cost-effective, it's less readily absorbed by the body and may not effectively address your deficiency. When choosing a supplement, check the label for vitamin B12 in the form of methylcobalamin, which is more bioavailable and effective.
Iron
Feeling unusually tired and can't pinpoint the cause? Low iron levels might be the culprit, making iron supplementation a valuable consideration for runners as a form of insurance. However, it's essential to be aware that even with supplementation, factors like gut health and inflammation can still put you at risk of iron deficiency.
Why is iron so crucial for runners? Iron is a mineral responsible for oxygen transport throughout your body, especially to working muscles. It plays a vital role in energy production and the distribution of oxygen via red blood cells, making it particularly important for athletic performance.
Unfortunately, research has shown that more than 56 percent of runners suffer from iron deficiency, significantly impacting their performance. Several factors make runners more susceptible to this deficiency, including excessive sweating, gastrointestinal (GI) issues, and a condition known as "foot strike hemolysis."
This condition, often referred to as runner's anemia, occurs when the repetitive stresses of running damage red blood cells as they pass through the feet.
Female runners face an increased risk of iron deficiency due to menstruation and may require additional supplementation.
So, how should you address this? Iron-rich food sources include red meats, grains, and black beans. When considering iron supplements, it's advisable to undergo a blood test to assess your current iron levels. This not only helps determine if you have a deficiency but also establishes a baseline for tracking improvements with supplementation. Remember, you can't enhance something you can't measure.
To maximize iron absorption, increase your intake of vitamin C, which assists your body in absorbing iron effectively. By addressing iron deficiency, you can potentially alleviate fatigue and enhance your running performance.
Calcium
Calcium isn't just about maintaining strong bones; it's essential for various organ systems' proper function. This mineral plays a crucial role in nerve signal transmission, heart rhythm regulation, and muscle contraction. For runners, calcium is particularly important in preventing stress fractures and knee problems.
Runners have higher calcium requirements compared to the average person, but the specific daily intake can vary based on factors like age, training level, and weight. Younger runners might need around 1,300 mg daily, while older ones may manage with about 1,000 mg.
Apart from supplements, there are dietary sources rich in calcium that runners can incorporate into their nutrition. These sources include dairy products, leafy green vegetables, and salmon. Additionally, calcium-fortified beverages like soy and almond milk are excellent alternatives, especially if you can't consume dairy products.
To ensure optimal calcium absorption, it's essential to have an adequate intake of vitamin D. This fat-soluble vitamin plays a vital role in calcium absorption, making it a critical companion for maintaining strong bones and overall health.
Vitamin D
Vitamin D deficiency is more common than you might think, with research revealing that approximately 75 percent of adults are deficient in this essential nutrient. Even among runners who average 20 miles a week, three-quarters were found to have low vitamin D levels, according to a study conducted at the Cooper Clinic in Dallas.
Vitamin D isn't just important for bone health; it also has a significant impact on cardiovascular health, mood, and immune system function. As a runner, it's crucial to ensure you're meeting your daily vitamin D needs.
If you're concerned about your vitamin D levels, it's wise to get tested by measuring your blood levels of 25-hydroxyvitamin D. Your doctor can assess whether you're at risk of deficiency and recommend an appropriate dietary or supplement plan. These blood tests are relatively inexpensive, typically ranging from $30 to $50, and can be combined with other tests for a comprehensive blood panel profile.
The primary source of vitamin D is direct exposure to sunlight, as your skin can produce this nutrient from cholesterol when exposed to UVB rays.
However, various factors such as sun protection, skin color, and genetics can affect how much vitamin D your body generates from UVB light. Additionally, there are limited food sources of vitamin D, making supplements a practical option for many individuals.
Considering these factors, runners, especially those who are deficient, may require around 5000 IU of vitamin D per day for eight weeks to reach a blood level of 40 ng/mL. It's worth noting that vitamin D is fat-soluble, so consuming it alongside a source of dietary fat can enhance absorption.
Probiotics
Gastrointestinal issues can be a common challenge for runners. If you're someone who experiences stomach problems during your runs, maintaining a healthy gastrointestinal (GI) tract can make a significant difference.
Probiotics, which are beneficial bacteria found in certain foods and supplements, can play a crucial role in supporting digestive and gut health.
Probiotic-rich foods help balance the friendly bacteria in your digestive system. This balance is essential for reducing the risk of various digestive disorders, promoting heart health, enhancing your immune system, and more. On the flip side, an imbalance in gut bacteria can lead to increased inflammation and various health problems.
If you're committed to reducing instances of skipping runs due to feeling run down or experiencing stomach issues, probiotics can be a valuable addition to your routine.
Probiotics can be obtained from foods like sauerkraut, yogurt, miso, kimchi, tempeh, and kombucha. Alternatively, you can opt for probiotic supplements. However, it's important to choose your supplements carefully because not all products labeled as "probiotics" may be suitable for your specific microbiome.
When it comes to selecting probiotics for runners, the best choices should be tailored to your individual needs, including factors like recovery, performance, immunity, and overall gut health. To find the most suitable probiotic options for your training goals and health conditions, it's advisable to consult with a healthcare professional or a registered dietitian. They can provide personalized recommendations based on your unique circumstances.
Omega-3s
Omega-3 fatty acids, commonly found in fish oil, offer a wide range of health benefits, and they can be particularly beneficial for runners. Research suggests that these fatty acids help reduce inflammation, limit the build-up of lactic acid in muscles, and contribute to longer runs, reduced soreness, and faster recovery.
Furthermore, omega-3s have been shown to improve immunity, alleviate inflammation, and potentially reduce workout-induced muscle damage and delayed onset muscle soreness. For runners, incorporating omega-3 fish fatty acids into their routine can be highly advantageous.
It's important to note that our bodies cannot produce omega-3 fatty acids, so we need to obtain them through our diet or by taking supplements. Experts typically recommend a daily intake of approximately 250 mg to 600 mg of DHA and EPA omega-3 fatty acids. This is equivalent to consuming two to three seafood meals per week, as per the Dietary Guidelines for Americans 2020. Additionally, the recommended daily intake for ALA omega-3 fatty acids is around 1600 mg for men and 1100 mg for women.
Where and how To buy Running Supplements
You can purchase running supplements from various sources, including health food stores, pharmacies, grocery stores, and online retailers. However, it's crucial to ensure that you're buying high-quality supplements that meet your specific needs.
Here are some tips to help you make informed choices
Choose Reputable Retailers: Always buy supplements from reputable and trusted retailers. Look for stores or websites with a good track record for selling genuine products.
Check Ingredient Lists: Select supplements with the fewest extra ingredients and no added fillers. This ensures that you're getting the active ingredients you need without unnecessary additives.
Third-Party Testing: Look for supplements that have been independently tested for quality and purity. Organizations like Consumer Labs provide reviews and evaluations of various products, helping you assess their quality.
Beware of Extremely Low Prices: While cost is a consideration, extremely cheap supplements may raise concerns about their quality and authenticity. If a product is significantly cheaper than similar options, it's essential to scrutinize it thoroughly.
Price Doesn't Always Equal Quality: Conversely, the most expensive product on the market doesn't necessarily make it the best for your needs. Evaluate the ingredients, dosage, and intended purpose of the supplement to determine its suitability for your goals.
The 9 Best Supplements For Runners – The Conclusion
There you have it! Today's article should get started on getting to know the most important supplements for runners.
Remember that when your body is running low on essential nutrients, you might be causing more harm than good.