Winter running is no easy feat, especially for runners who have breathing problems during cold weather.
In fact, most runners—except for the lucky ones living in moderate climate regions—often experience issues such as a runny nose, restricted breathing, burning lungs, and a dry throat when braving the cold.
For these reasons (and some), many shy away from winter running.
But, that's no excuse to stop running altogether.
Here are the guidelines you need to keep the cold air from taking your breath away.
By implementing the following tips, you'll be able to breathe better throughout your outdoor winter workouts.
But before we do that, let's first look at what happens to your body when exercising outdoors in the cold.
The Difficulty Of Running in Winter
There's a common belief that running in cold weather can do more harm than good.
Some beginner runners even worry that breathing the cold air will freeze their lungs and lead to immediate disaster.
But here's the reality: the fear of frozen lungs is somewhat exaggerated. Running in sub-freezing temperatures might be uncomfortable, but it's not typically dangerous. Severe lung damage due to cold air is only a concern in extreme subfreezing conditions.
In such conditions, which generally occur at temperatures below 4°F (-15°C), outdoor exercise is not advisable. This is because your body may struggle to sufficiently warm the air before it reaches your lungs, among other potential issues that can arise.
However, it's worth noting that the chances of you running in such extreme freezing conditions are quite slim—unless you happen to live in an exceptionally cold region. So, while running in winter may be a bit uncomfortable at times, it's generally safe.
The Process of Air "Warm-ups"
Your body's pulmonary system is pretty impressive when it comes to dealing with cold air. Here's how it works
When you inhale cold air, whether during exercise or just going about your day in chilly weather, your body's respiratory system springs into action. Your nose, mouth, throat, and the cells lining your windpipe, or trachea, all play a crucial role in warming up the incoming air.
By the time that cold air travels from your nose or mouth down to the bottom of your trachea, it's already been warmed significantly and is close to your body's internal temperature. Your body works diligently to make sure the air you breathe is comfortable for your lungs.
On the exhale, regardless of the temperature and humidity of the surrounding air, you breathe out air that is close to your body temperature. This natural process ensures that your lungs are exposed to air that won't shock or harm them, even in cold conditions.
How to Breathe While Running in The Cold
Although research shows that exercising in the cold won't do permanent damage to your lungs—running in the winter is no walk in the park.
That said, before you start thinking about skipping outdoor running altogether, know that the downsides are manageable and are by no means a valid excuse to skip your training.
Without further ado, here is how to breathe right when running in the winter.
Additional resource – Your guide to Runners cough
Use A bandana, Scarf, or Balaclava
Chilly weather and frosty air can really take a toll on your run, especially if it leaves your lungs burning or triggers some serious coughing fits. But fret not, fellow runners, there's a simple solution: wrap up with a moisture-wicking neck warmer, scarf, or trusty bandana.
Why is this gear so darn helpful, you ask?
Well, picture this: as you venture out into the icy abyss, your bandana or scarf becomes your trusty sidekick, shielding your precious lungs from the frigid air. It's like a warm, cozy hug for your respiratory system.
But it doesn't stop there. These nifty accessories do more than just block the chill. They're like lung superheroes, swooping in to humidify the cold, dry air you inhale and recycle the moisture from your exhales. The result? The air you breathe is not only warmer but also easier on your lungs.
Now, when your lungs feeling extremely cold, consider the merino wool balaclava. This bad boy covers your mouth, nose, ears, and head, providing you with full insulation. It's not just about staying warm; it's also your shield against frostbite on those rosy cheeks and kissable lips.
Okay, let's address the elephant in the room. Sure, you might resemble a mysterious bank robber out of a movie, but hey, you'll be toasty warm, comfortable, and definitely not hacking up a lung.
And here's the best part – there's a whole world of neck-warmers, bandanas, scarfs, and balaclavas out there, sporting designs to match your personal preferences. You can protect your health, stay stylish, and conquer the winter run – all in one fell swoop. So, go ahead, embrace the cold, and keep those lungs happy.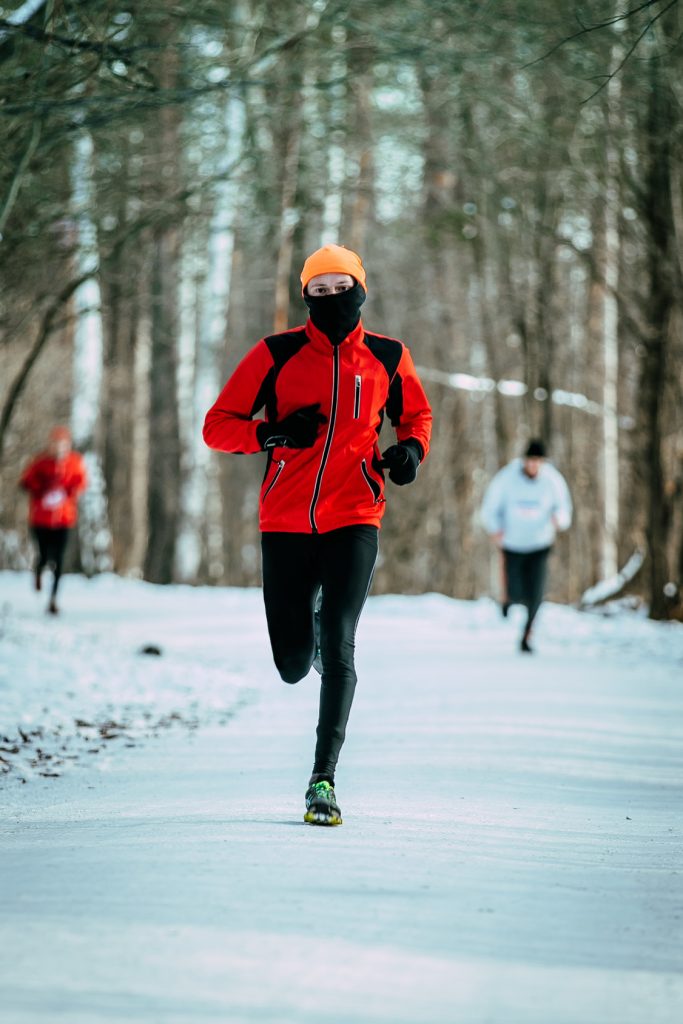 Inhale Through the Nose & Exhale Through the Mouth
When it comes to the art of breathing while running, I've usually recommended taking in those sweet lungfuls of air through both your nose and mouth. But hold onto your hats because cooler temperatures might call for a different approach.
In fact, when you're out there braving the cold, consider this: inhaling solely through your nose could be the winning strategy.
Here's the scoop on why it works. Breathing in through your nose can actually do a fantastic job of warming up and humidifying the icy air. You see, as that frigid air embarks on its journey to your lungs, it's got quite a distance to cover. And that's a good thing. It gives it more time to get toasty and moist as it winds its way through your nasal passages and those nifty little cells lining your windpipe.
Nasal breathing isn't just about heating things up; it's a master of maintaining your body temperature too.
Now, here's the catch – it won't let you inhale as much oxygen as the mouth can manage. This becomes especially apparent when you crank up the intensity of your run, like when you're tackling those grueling intervals or conquering hill reps.
So, here's the game plan for those frosty days. If you find yourself in the midst of an extreme cold snap, consider dialing down the intensity a notch. This will help you avoid those desperate gasps for air. Keep your workouts cruising along at a conversational pace. And when the conditions are just right, and the breathing feels easy, then, my friend, you can crank up the intensity to your heart's content.
Are You Asthmatic?
Feeling like you've tried everything but still finding yourself gasping for breath in the chilly air? Well, it might be time to consider whether you're dealing with asthma or another pulmonary issue.
You see, when you inhale that dry, icy air, it can be a real irritant to your throat. It might even lead to inflammation and damage, triggering an asthmatic response.
If this sounds like your situation, it's crucial to consult with your doctor for a thorough check-up. They'll be able to determine if asthma is the culprit, and, if so, they can prescribe medication and maybe even an inhaler to help you out.
But asthma isn't the only condition that can put a damper on your cold-weather runs. Here are a few others you should be aware of:
Cardiovascular Disease: If you're dealing with heart issues, it's best to avoid running in the cold. The extreme temperatures can strain your heart and potentially worsen your condition.
Exercise-Induced Bronchitis: This nasty condition can rear its ugly head when you work out in chilly weather. It's characterized by chest tightness, coughing, and wheezing. Not fun, right?
Raynaud's Disease: This one messes with your blood circulation, leading to numbness and pain in certain parts of your body. Running in the cold can make these symptoms even worse.
So, if any of these health issues sound familiar, it's time to think twice about those frosty jogs and consider alternative indoor workouts instead.
A Better Alternative
It's all about making the right choice for your comfort and well-being, my fellow runner!
When you're standing there, all bundled up, contemplating a chilly run, just remember: you have options! If the cold weather isn't vibing with you, it's totally okay to skip that run and live to hit the pavement another day.
Consider shifting your workout indoors to the cozy gym. You don't have to be a running martyr!
Treadmills, as much as they might get a bad rap from some runners, are actually fantastic machines. They're like your trusty sidekick for year-round, consistent training. Who wouldn't want that, right?
So, remember, it's not about battling the elements; it's about making smart choices for your fitness journey. Whether you're out conquering the cold or rocking it indoors on the treadmill, you're still making strides toward your goals. Keep it up!