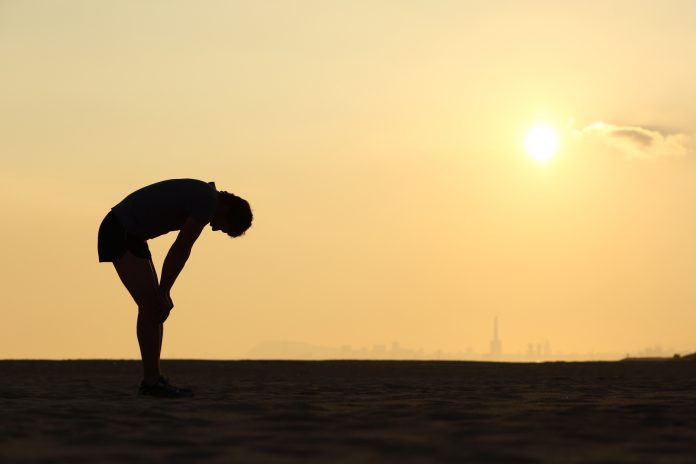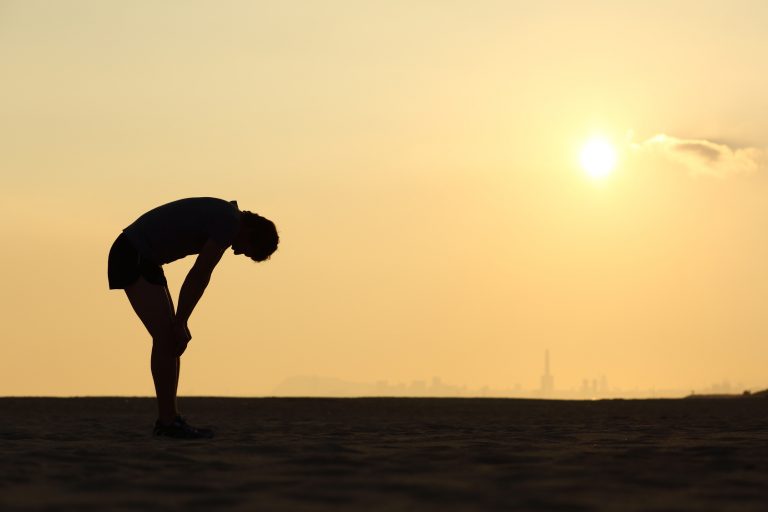 Looking on advice on how to protect yourself from dogs while running? Then you're in the right place.
Imagine yourself enjoying a run on the trails or around the neighborhood when, and out of nowhere, a hostile dog runs up to you at light speed with fangs barred and bad intentions.
Do you know what you should do?
If your answer is no, then keep on reading…
As much as I love dogs—and all animals for that matters—I don't really like being chased, or attacked, by them while  running.
In fact, dogs can be a runner's worst nightmare when they go on the offense.
In fact, every outdoor junkie—whether it's a runner, a biker, walker, etc. —has a story about an up-close-and-personal-encounter with a hostile dog.
And this is no news.
There are plenty of stories about runners who were injured by dogs while hitting the pavement.
Take, for instance, this tragic story of the 63-year old woman who was mauled to death by four dogs during her morning jog in Palmdale, or Littlerock, California.
Of course, these attacks are not everyday occurrences, but it's well worth the effort to know how to proceed in the off chance of a dangerous encounter.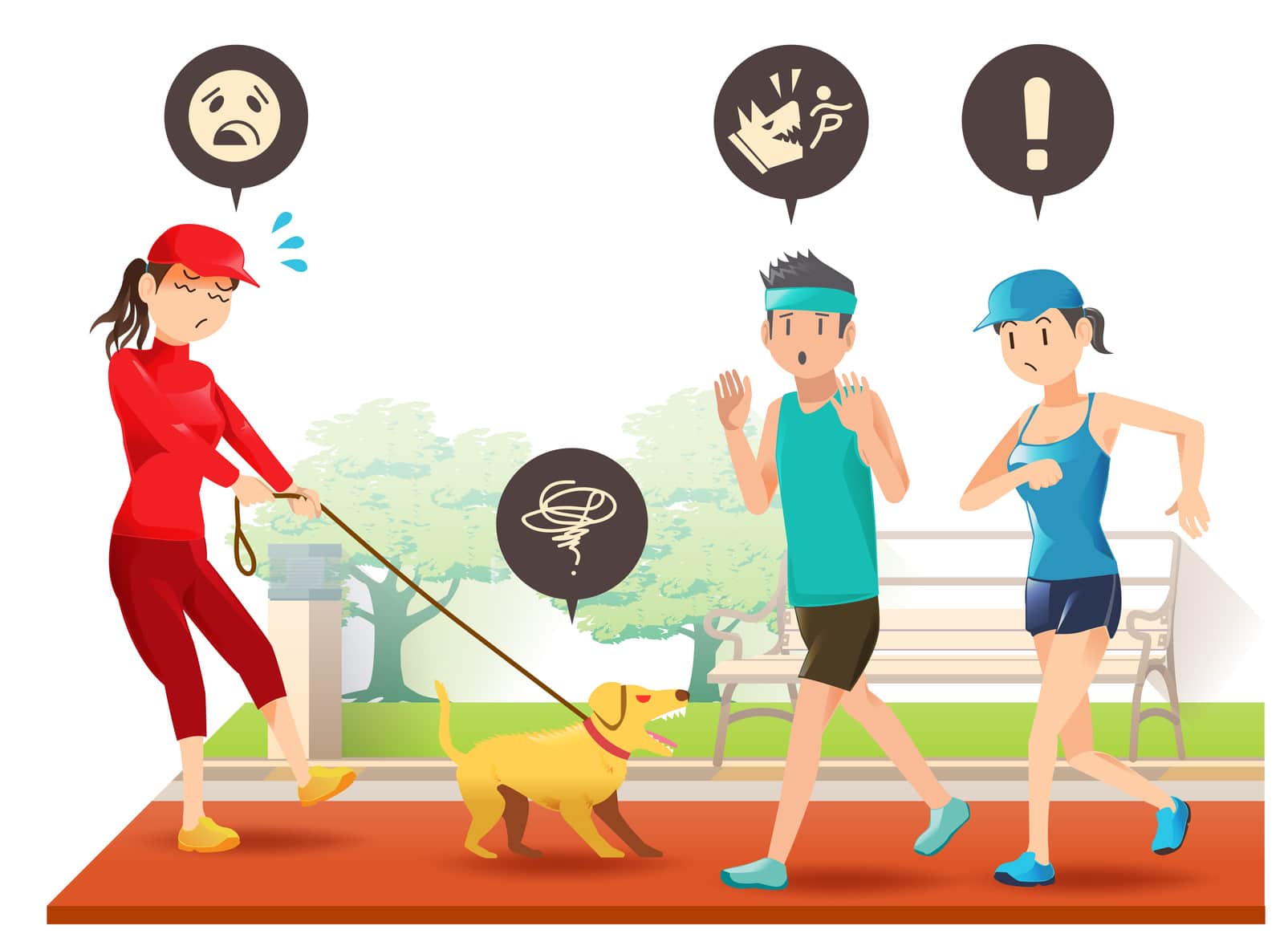 The Statistics
About 4.7 million people get bitten by dogs each year in the United States, and out of those incidents, 1 out of 5 ends up in the emergency room and requires medical attention, and 17 result in death according to the American Human Association, with roughly 55 percent of all fatal dog attacks in the US committed by pit bulls
Therefore, learning how to handle the situation is of utmost importance—especially if you do a lot of outdoor running in not-so-safe and/or unfamiliar areas.
how to Protect Yourself From Dogs While Running
As you already know, prevention is better than cure, so before showing you how to fend yourself off a vicious dog, it's crucial to look at ways you can avoid such encounter completely. And of course, these measures aren't just about using a dog repellent spray for runners.
Here are a few ways to help you avoid a violent clash with an angry four-legged tail-wager.
Know your Route
This shall come as no surprise, but the best advice I can ever give you when it comes to avoiding dog attacks, is to be aware of your environment, period.
Here is how to increase your awareness while hitting the pavement:
Keep your eyes on the route ahead of you. If you spot one in the distance, be sure to keep a safe distance between your and a dog—even on lead— change direction or simply cross the street.
Avoid running in areas where there are dogs on the loose or where neglectful owners don't provide their dogs with enough care and attention, allowing them to roam freely.
Run distraction free. Leave your headphones at home as doing so can help stay aware and be conscious and aware of your surroundings, especially in not-so-safe and/or unfamiliar areas
Read their Body Language
In most cases, reading the dog's body language will tell you everything you need to know about how to proceed.
So learn to recognize the warning signs of an impending attack so you can get safe while you can—with your limbs intact.
Here are some of the telltale signs you need to keep an eye on:
Tense body with the hackles—the area between the tail and shoulders—up and ears erect.
Loud growling
Furrowed brows
Drooling from the mouth
Flicking tongue
Backing away while growling
Stiff tail, or held high and wagging faster than normal.
Intense stare with eyes wide with rage
If any (or a combination) of the above is on the scene, be sure to put a safe amount of space between you and the dog.
In Case You are Chased…
If and only if things escalate and you couldn't avoid the attack, do the following:
Stop in Your Tracks
The first thing you need to do is to calm down, stop running, and stand still with your arms folded across your chest to not activate the dog's prey drive —according to most dogs' experts, this is the best approach.
Even if every cell in your body wants to run in the other direction, you need to fight that and stand your ground.
Bolting in the other direction will only make things worse.
The only scenario in which you should keep on moving and running is if you know that you can get behind a barrier, such as a car, bench, or tree to separate you from the dog.
Otherwise, stand still and control your nerves.
No Eye Contact
Looking straight into the dog's eyes can feel threatening to most dogs out there, which will only make them more aggressive and territorial.
Therefore, be sure to avert your eyes but keep the dog in your peripheral vision the entire time.
But as a rule of thumb, never turn your back to the dog as it can be interpreted as a sign of weakness.
Use the Right Commands
If the dog persists, face him and while using a deep and firm voice, command him to "back away" using a strong and confident voice.
If the owner is close by, call them.
Hopefully, he'll intervene and call off the dog.
Check this youtube clip for more tips on using commands:
If You Got Attacked – How To Handle it The Right Way



If all else fails, it's time to on defensive mode and protect yourself.
Here is what you need to do here;
Try a Dog Repellent Spray For Runners
Spraying an attacking dog with mace is one of the things you can do to stop the attack in its track. This might be  the best weapon to defend against dog attack
Of course, this might sound terrible, but this option actually doesn't hurt the dog, and will really save you a lot of trouble.
However, this is not a fool-proof solution.
Factors like wind speed, your aim and your mental and emotional state have a say, and in some cases, you could end up making the dog more aggressive if you don't know how to the use pepper spray right.
Hence, I don't think it's the all end of all your prayers when it comes to dealing with dogs attacks—but it is still an option to consider.
Even so, if you are serious about this option, then be sure to look for dog repellent when you are scouting the market for a pepper spray.
These are designed to fend off attacking dogs.
Give it Something to Chew On
If it's possible, give the dog something to chew on.
It's better than tearing up your own flesh.
Therefore, put something between the dog's teeth and your body.
This could be a loose fitting piece of fabric, your jacket sleeves, a stick, or anything that could separate the two of you.
If the worse happen, and the dog is inches away from biting you, let it bite your shins or forearms—that is better than getting bitten in your face, throat, or any other sensible area.
And do your best not to panic.
Do Not Pull Away – Fight Back
Whatever you do, do not pull away as that will only tear the skin and make things worse.
Instead, defend yourself by kicking or hitting the dog in the back of the head, nose or throat, busting its head, choking it, breaking its knee, etc.
If you have a heavy object or a weapon, like a stick, rock, brick, you should use it to hit the dog and keep using it until the dog retreats or loses consciousness.
Also, as you are fighting the dog, be sure to yell for help.
Yell something that you know will have others attention, such as "TERRORIST!" "FIRE!"
Roll into a ball
This is the worst case scenario, so pay special attention to this, probably life-saving, advice:
If the dog takes you down, curl into a ball by tucking your knees and placing your hands behind your neck to cover your head, making sure to protect the soft tissue areas such as your face, throat, and belly.
Also, make sure to keep your hands in a fist to guard your fingers.
Post Bites Measures
If you got bitten, then the first thing you need to do when you get home is to wash the wound carefully with warm water and soap to gently cleanse it and examine it.
If it's nothing serious, treat it yourself and dress the bite using a topical antibacterial such as bacitracin and a sterile band-aid or sterile bandage.
Next, keep cleaning the wound every 24 hours while looking thoroughly for any signs of infection, including increasing swelling, redness, warmth, oozing pus or drainage—these are the warning signs of infection, and you should see a doctor and get checked out if any of these symptoms arise.
Nonetheless, to err on the right side, a visit to the doctor is the right course of action if you ask me.
Better be safe than sorry.
The doctor will be able to assess the injury better.
In most cases, he might suggest you take antibiotics to prevent infection and receive a tetanus shot, or a series of preventative shots called rabies post-exposure prophylaxis.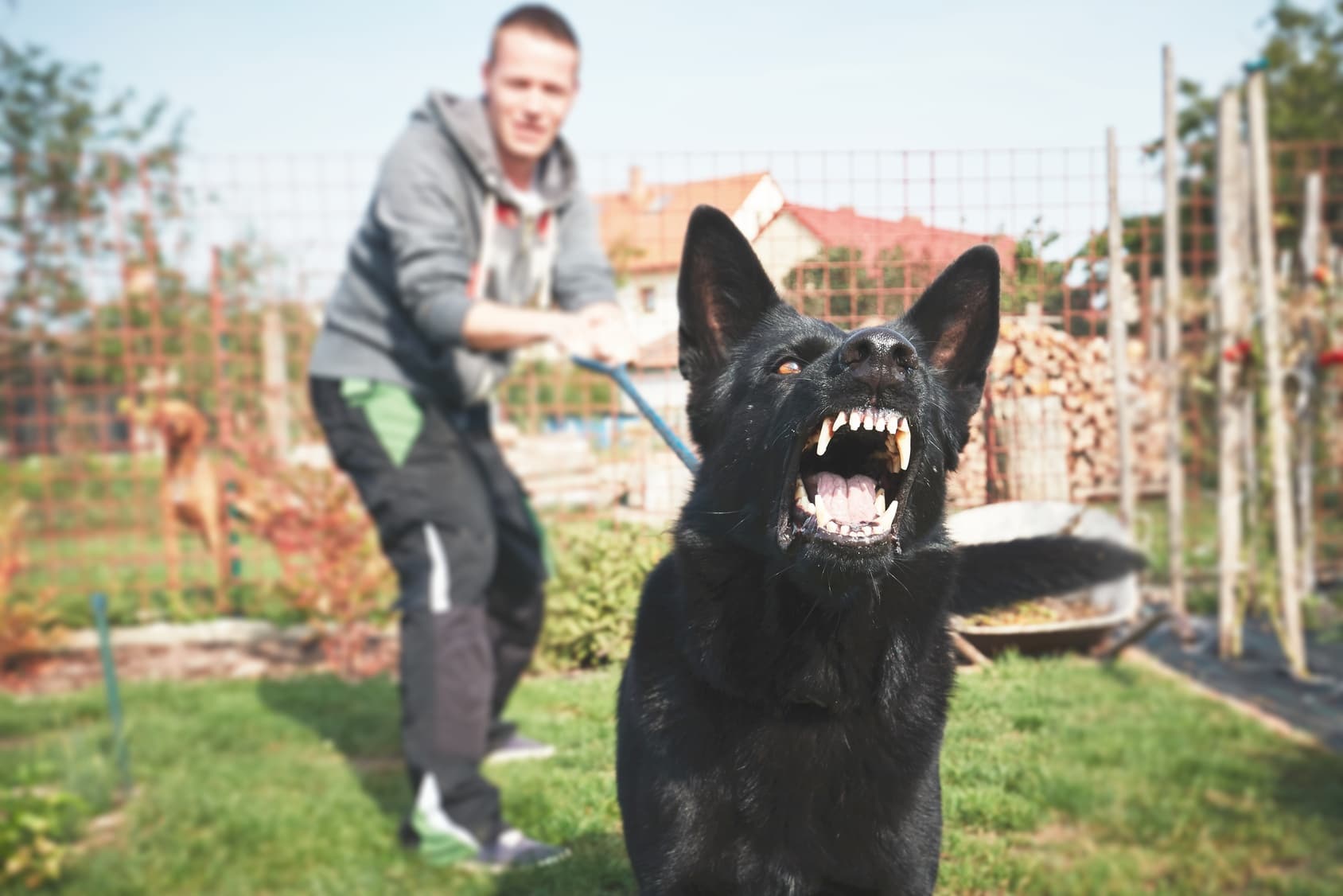 Report It
Yes, snitch on the dog.
Report the incident to your local police department, animal control as well to the owners, if you can find them, immediately after the attack.
Also, be sure to talk with the owner.
Start with a genuine attitude.
Perhaps the whole accident was a once-in-a-lifetime thing and won't happen again.
Nonetheless, if the owner is a complete a$$hole, then you MUST take things to the next level.
And in case you got hurt badly, consider taking legal action against the owners—that will teach them something.
Dogs can be a danger to the community should they be neglected.
Here's the full guide to preventing animal attacks while running.
New to Running? Start Here…
If you're serious about running, getting fit, and staying injury free, then make sure to download my Runners Blueprint Guide!
Inside this guide, you'll learn how to start running and lose weight the easy and painless way. This is, in fact, your ultimate manifesto to becoming a faster and a stronger runner. And you want that, don't you?
 Click HERE to check out my Runners Blueprint System today!
Don't miss out! My awesome running plan is just one click away.