If you're looking for some of the best low-carb, keto bread recipes on the internet, then you come to the right place.
The Struggles of Eating Bread On The Keto Diet
When I first switched to the ketogenic eating lifestyle, the one food that I missed the most was BREAD.
And I know I was not alone.
Bread is one of the food items that keto initiates miss the most on a low-carb diet.
Why it's the case is no secret.
Bread is delicious, and it's a dietary staple in the typical high carb diet.
Nonetheless, regular bread is to avoid at all times on the keto diet because of its high carb content that increases glucose levels in our body.
(Not to mention that isn't very healthy at all, but that's another subject for another day).
In general, one regular slice of bread packs in 20 grams of carbs—so a simple sandwich can set you back by up to 40 grams.
Sure, that may not seem like a lot, but if you're following a keto diet that limits carb intake to no more than 30 grams total per day—40 grams far exceeds the allowed intake.
Keto Baking Demystified
Keto bread baking is different.
It requires some specific ingredients, and you might need to experiment with a few recipes before you get the hangs of it.
But if it helps keep you in ketosis and away from the carb-loaded grains, it's definitely worth the effort.
Here's the full keto food list.
6 Keto Bread Recipes That You'll Fall In Love With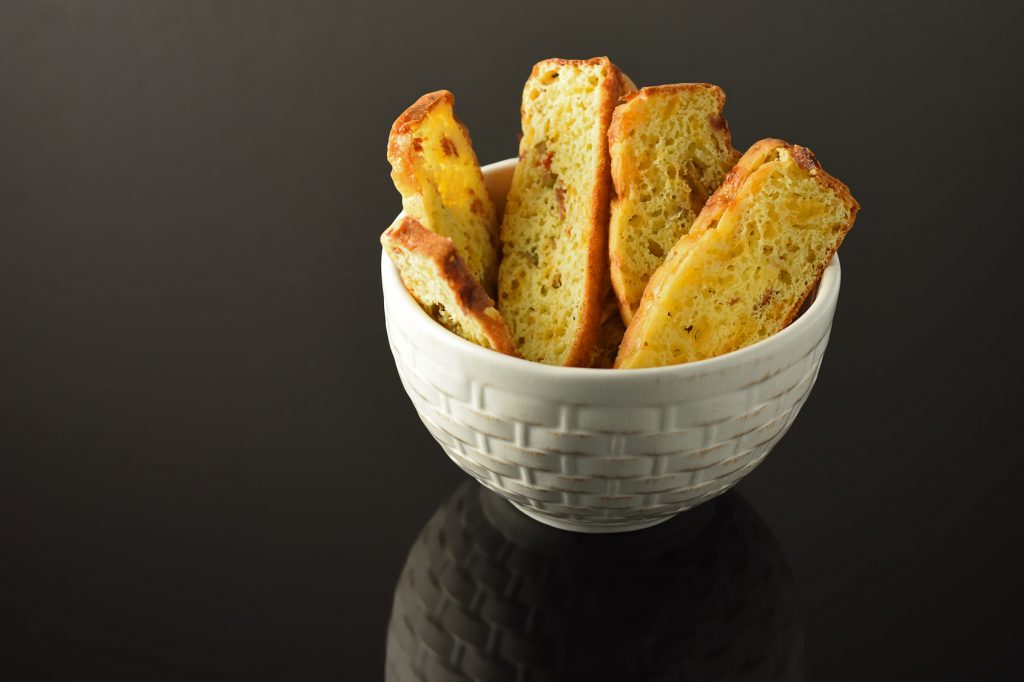 The best part about these recipes is that they're easy to make, and once you get them down, you can replicate (and play around) them anytime you want.
Plus, the recipes are also tasty, filling, and ideal for making sandwiches, buns, toasts, and everything else you might be missing.
Note: Just as heads up, all of the recipes shared in this post use either coconut flour and almond flour.
These are great alternatives for baking with that are not only low in carbohydrates but can also be enjoyed without kicking you out of ketosis.
1. The Keto Quick Bread
This is the first low-carb bread recipe that I made with almond flour back when I was still trying to figure out the ins and outs of the keto diet.
It's the ideal substitute for simple white bread.
So, make it your default option.
Once you can pull off this recipe with ease, then most of other keto bread recipes will come in handy.
Basic keto bread could be quickly thrown together with an ingredient you typically have on hand.
That's why it's one of my favorite breakfast recipes.
It's also the perfect side to serve with stews and soups or to just enjoy with some peanut butter.
Ingredients:
Almond flour
Baking powder
Ghee
Egg
2. Garlic Keto Bread
This is another low carb bread recipe I've fallen in love with recently.
Keto garlic bread can be served as a snack, appetizer, or as a side dish suitable for anyone following a healthy ketogenic approach.
When it comes to garlic, you've two options.
You can either use fresh (grated or pressed) garlic (resulting in a more Italian bruschetta-like bread), or powdered option (yielding more American garlic bread type).
Also, if you like spices, then throw in some dried basil into the mix, etc.
It's up to your taste buds
Ingredients
Almond flour
Ground psyllium husk powder
Baking powder
Egg white
Sea salt
White wine vinegar
Garlic clove
Butter
Fresh parsley
Fresh thyme
Dried oregano
3. Cornbread Keto Bread
Missing the taste of cornbread on a keto diet?
This recipe shall deliver.
The following "corn" bread recipe has no corn, but it's tasteful and a healthy way to safely enjoy cornbread again.
This bread also has an impressive texture.
Clocking at about 0.6 net carbs per serving, the following recipe won't throw your total carb count out of whack for the day.
Ingredients
Almond flour
Egg
Green onions
Baking powder
Full fat sour cream
Melted butter
Salt
View Full Recipe
4. Keto Hot Dogs
Yes.
You read that right.
Just because you're embracing the low-carb eating lifestyle does not mean that you have to say no to hot dogs.
The following keto buns recipe packs in just 2 grams of carbs a piece.
Compare that to regular hot dog buns that about roughly 20 grams of carbs each.
These are also easy to make.
Just wrap, roll, then bake in the oven.
For fillings, you're only limited by your own imagination.
Tasteful options include meatballs, pepper grilled chicken, smoked chicken, tuna, bacon and ham, veggies and avocado, etc.
Ingredients
Almond flour
Baking powder
Eggs
Hot water
Apple cider vinegar
salt
5. Cinnamon Bread
Made with a few ingredients, the following recipe is versatile low carb recipe bakes a bread that's spicy, sweet, filling, and taste just like the real thing.
This bread is the making of a decadent dessert, a hearty breakfast, or even a filling snack.
It's also low carb with just 4 grams net carbs per serving.
Best of all?
It can be thrown together in less than 5 minutes.
Ingredients
Egg white
Coconut flour
Flaxmeal
Almond flour
Ground cinnamon
Melted butter
Baking powder
Raisins
6. Coconut Flour Keto Flatbread
I'm a busy guy, and I don't have to bake to during the week, so when I need a burger bun, a low carb sandwich bread, or pizza base, I turn to the following recipe.
Made only with five ingredients, it's easy to make and only takes 10 minutes to throw together.
Feel free to load the flatbread up like an open sandwich, spread it with peanut butter, or use it for dipping with sauces.
You can also use it to make a mini pizza or as a sandwich…Just have fun and enjoy it!
Ingredients
Coconut Flour
Coconut oil (or melted butter)
Egg
Baking powder
Salt
Still want more?
Here's a 7-day keto eating plan for beginners.
New to Running? Start Here…
If you're serious about running, getting fit, and staying injury free, then make sure to download my Runners Blueprint Guide!
Inside this guide, you'll learn how to start running and lose weight weight the easy and painless way. This is, in fact, your ultimate manifesto to becoming a faster and a stronger runner. And you want that, don't you?
Don't miss out! My awesome running plan is just one click away.
Click HERE to learn more about The Runners Blueprint System today!