Whether you're just starting your journey with 5K races or you're a seasoned marathoner, there's one thing that's crucial for your training success: the long run. It's like the secret ingredient in the recipe for achieving your running goals.
Trust me, it's the real deal.
Long runs are the backbone of any effective training program. They work wonders for building your stamina, increasing your speed, and toughening up that mental game of yours. Think of them as the essential building blocks that pave the way for efficient training and impressive performance on race day.
Now, I get it. Long runs can be a bit perplexing. Questions like "What exactly is a long run?" and "How long should it be?" might be buzzing around in your head. And don't even get me started on figuring out how to schedule these babies into your training routine. It can feel like trying to solve a complex puzzle.
But fear not, my friend! I've got your back. In this article, we're diving deep into the world of long runs. We'll uncover their true essence, unravel the mystery of their ideal duration, and shed light on the art of scheduling them just right. Get ready to have all your burning questions answered.
Ready? Let's dive in!
What is A Long Run – The Complete Guide
To start (and keep) a long run routine, use these four vital principles to guide you throughout training:
Your distance
Your pace
Your recovery
Your nutrition
Let's dissect each one.
Your Long Run Distance
The ever-elusive question of how far should you go on your long run. It's a puzzle that varies from one runner to another, like finding the perfect fit for your favorite pair of running shoes. But fear not, my friend, for I'm here to guide you through the maze and shed light on the factors that determine the ideal distance for your long runs.
First things first, let's consider your fitness level. Just like a tailor measures your body to create a custom suit, your fitness level sets the foundation for determining the length of your long runs. A beginner runner may find their sweet spot with a 7-mile long run, while a seasoned marathoner might thrive on a 20-mile epic adventure.
Next up, let's talk about your training goals. Are you aiming to conquer a 10K race or perhaps tackle the demanding terrain of a trail marathon? Your goals serve as a compass guiding your training journey. The distance of your long run should align with the demands of your target race. Just like an architect designs a blueprint to create a magnificent structure, you must tailor your long run distance to match the requirements of your racing aspirations.
Another crucial element to consider is the timing of your event. Is the race just around the corner or do you have several months of training ahead? The date of the event influences the progressive nature of your long runs. If race day is looming near, you might gradually increase your long run distance to simulate race conditions. However, if you have ample time to prepare, you can build up your mileage more gradually.
Last but not least, let's not forget about the precious resource we call time. How much of it are you willing to dedicate to your running endeavors? Your inclination to sacrifice a significant chunk of your schedule for running plays a role in determining the distance of your long runs. It's a personal decision that requires finding the right balance between your running ambitions and other aspects of your life.
The general rule of thumb is to allocate around 20 to 30 percent of your weekly training volume to the long run. Just like a chef expertly balances the ingredients in a recipe, this guideline ensures that your long runs contribute to your overall training without overwhelming your body. For example, a recreational runner logging less than 30 miles per week might embark on a 10-mile long run, while an elite athlete conquering 80 miles may venture into a 16-mile long run.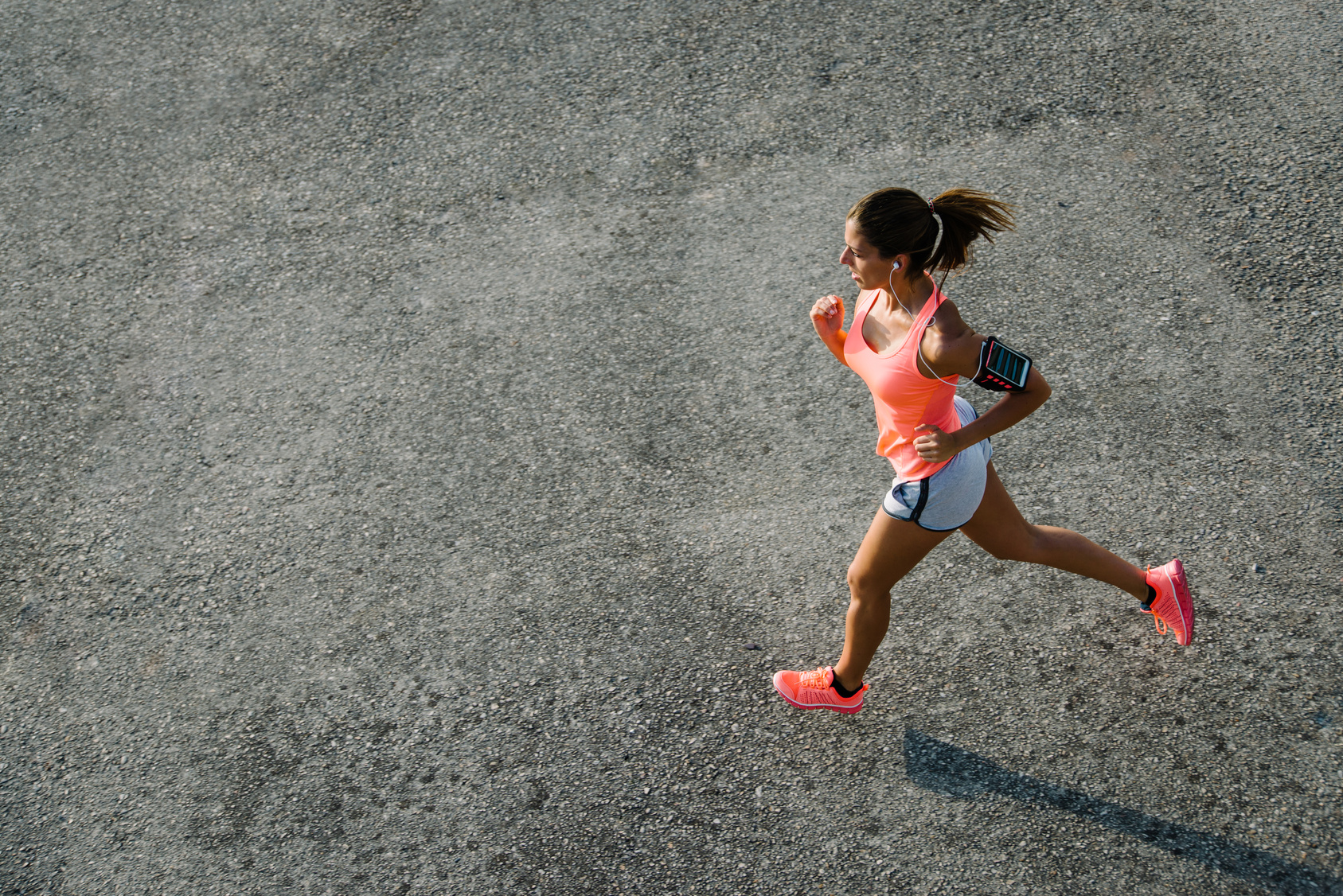 How Long is a Long Run?
Running is good for you, but that doesn't mean that you can do it 24/7. Log in too many miles, and you might experience chronic fatigue, muscle damage, and prolonged recovery, which outweigh the long run benefits.
The long run should make up about 20 to 30 percent of your weekly running volume as a general guideline. Those logging fewer miles can aim for the higher end of that range, whereas runners running more will likely be close to the lower limit.
For example, if you're logging 50 miles every week, your long run could be anywhere between 10 and 15 miles.
Here are more recommendations for long run distance based on target distance goal.
Mile or 1500m = 4- to 10-miler long run
5K = 9- to 15-miler long run
10K = 11- to 17-miler long run
Half Marathon = 14- to 20-miler long run
Marathon = 17- to 22-miler long run
Your First Session
If you've already taken that first step and have a starting point, congratulations! You're on your way to unlocking your true long run potential. Now, let's talk about building it up, step by step. Remember, slow and steady wins the race.
As you embark on this exciting journey, keep your pace comfortable and enjoyable. Picture yourself on a scenic road trip, taking in the breathtaking views at a leisurely pace. Now, here's the trick: when planning your long run route, aim to add one extra mile or approximately 10 minutes to your run each week.
But hold on, my friend, there's an important caveat. We must tread carefully to avoid pushing our bodies beyond their limits. Just as a tightrope walker maintains their balance, we must never exceed the upper range of what our body can handle. Going beyond our limits increases the risks of injury and burnout, casting a shadow on our running dreams.
Now, here's a word of encouragement: don't give up. Time has a funny way of flying by when we're focused and committed. Before you know it, those initial 5 miles will transform into 10, 12, 16, and maybe even 18 miles every weekend.
Your Long Run Pace
The cardinal rule of long-distance running is to go slow and steady.
More specifically, long runs should be performed at roughly one minute slower than your marathon race pace, or around 90 to 120 seconds per mile slower than your current 10K pace.
Now, let's talk about your heart rate. Keep it in check, my friend, within the range of roughly 65 to 75 percent of your maximum heart rate. Think of it as finding the perfect balance on a tightrope, where going too fast or too slow can throw off your equilibrium. By staying within this range, you'll optimize your training without pushing your body to the brink.
Ah, but here's a word of caution: don't be tempted to zoom past the upper end of that heart rate range. It's like revving your engine too hard for too long—a recipe for potential injury, excessive fatigue, and the dreaded overtraining syndrome.
Now, let's imagine a scenario where you don't have a fancy heart rate monitor or a precise 10K or marathon pace time. Fear not! There's a simple solution. Just focus on maintaining a conversational pace.
It's like having a friendly chat with your running buddy, effortlessly exchanging words without gasping for breath. On the perceived exertion scale, aim for around a 5 out of 10. If you catch yourself panting like a dog on a hot summer day, my friend, it's a clear sign that you're pushing the speedometer a tad too far.
Your Long Run Recovery
Let's talk about the vital importance of recovery after those challenging long runs. Just like a car needs fuel and maintenance, your body deserves some extra love and care to bounce back stronger and minimize the risk of injuries.
So, let's dive into four key things you should prioritize for maximum recovery.
If you're eager to keep the momentum going, a recovery run can be a viable option. Just remember to keep it light and easy. Think of it as a gentle jog, allowing your body to flush out any remaining fatigue and promote blood flow to aid the recovery process. Listen to your body, embrace a relaxed pace, and enjoy the freedom of movement without pushing yourself too hard.
Hydration
Hydration is absolutely crucial after a long run. Your body has been working hard, and it's time to replenish those fluid stores. Reach for a refreshing glass of water to meet your immediate hydration needs. You can also consider electrolyte water to restore any lost minerals. However, keep in mind that water should be your main go-to, while energy drinks or supplements should be left on the sidelines. Remember, keeping hydrated is key to supporting your body's recovery process.
Recovery day
Give yourself a well-deserved break, or even a couple of days, to let your body recharge. But wait, don't fret if you're itching to keep moving. Cross-training is your secret weapon! Engage in low-impact activities that won't put excessive stress on your body. Think of it as a way to give your running muscles a break while keeping active.
Explore options like a gentle total-body workout, a core exercise routine, or indulge in the soothing practice of recovery yoga. And hey, let's not forget about the wonders of foam rolling! Roll away any tension or post-run ache and pain, allowing your muscles to recover and regenerate.
Stretch Your Running Muscles
While the scientific evidence on its effectiveness for injury prevention and recovery is still a bit murky, I firmly believe in its importance. So, let's unravel the benefits and delve into the post-run stretching routine.
Imagine your muscles as flexible rubber bands, ready to be stretched and lengthened. After a satisfying run, your body enters a post-run window where your muscles are warmed up and primed for a good stretch. It's like an open invitation for your body to embrace the benefits of stretching.
So, what should you focus on during your post-run stretching session? Direct your attention to the major muscle groups, particularly the ones that have been working tirelessly during your runs. Give them some well-deserved TLC and let them revel in the release of any built-up tension. Breathe into those tight spots, allowing the oxygen to flow and bring a sense of ease to your muscles. It's like unlocking knots in a tangled rope, one gentle stretch at a time.
And hey, let's not forget about the cramp-fighting superpower of stretching! Cramps can be a runner's worst nightmare, but by incorporating regular stretching into your routine, you can minimize their occurrence. Stretching helps increase muscle flexibility and range of motion, reducing the likelihood of those pesky cramps that might try to interrupt your running groove.
Ideal Running Program for Maximum Recovery
Here is how a typical running schedule may look like
Monday: Interval run
Tuesday: Rest day or recovery
Wednesday: Fartlek run
Thursday: Hill run
Friday: Easy day
Saturday: Long run
Sunday: Rest
Overall, this is just an example.
You can always come up with your own training schedule.
In fact, I urge you to do so.
Note – Here's how often should you run per week.
Your Long Run Nutrition
The food you eat before a run serves two important purposes. First, it provides the necessary energy to tackle those miles. After all, that's the whole point of pre-run eating, isn't it? Second, it can either enhance or hinder your running performance and overall comfort during and after your workout. So, let's make the smarter choice and opt for option number one—fueling our bodies for peak performance.
But wait, there's more! Let's address the dreaded runner's stomach issues. It turns out, stomach troubles caused by poor food choices are all too common among runners. According to a recent poll by @runnersworld, over 40 percent of runners have experienced stomach issues that have ruined their long runs. Ouch! But fear not, my friends, because making the right diet choices the night before a run can be your secret weapon.