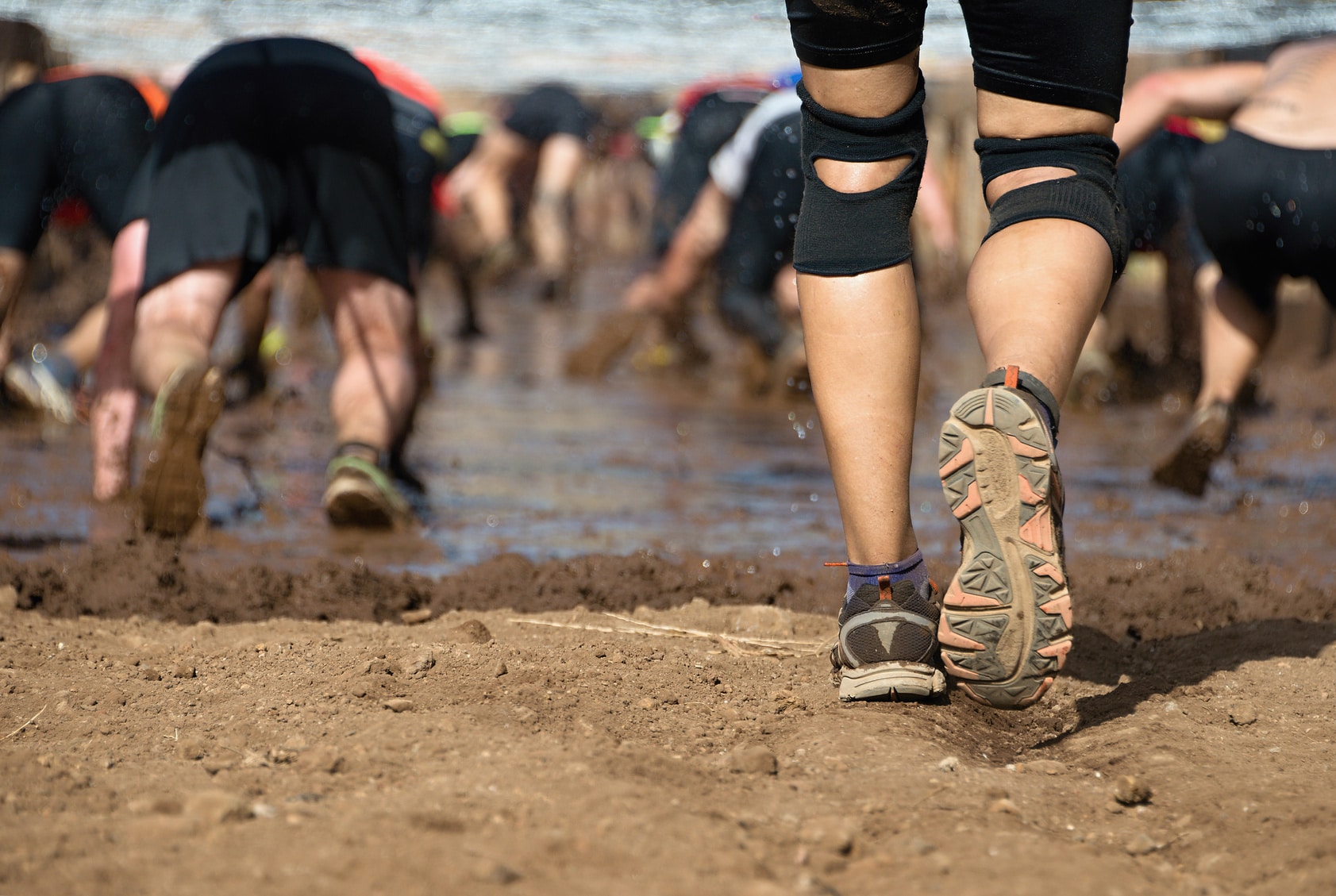 If trudging through mud, crawling beneath barbed wire and hopping over fire is something you'd love to do, then obstacle course races are for you.
These crazy events have exploded in popularity over the last few years, and they're not going away anytime soon.
The sport has evolved from a fringe hobby to a worldwide phenomenon that attracts millions of athletes around the world.
Obstacle Course Races Demystified
Ranging from roughly three miles up to 10, obstacle course races, or OCRs, are non-traditional competition events consisting of plenty of muddy water and military-style obstacles designed to test the racer's resolve to the breaking point.
Unlike the classic 5K or 10K, crossing the finish line on an obstacle course race requires strength, stamina, coordination and a lot of mental toughness.
The Distance and Obstacles
OCR distance tend to vary from one event to the next.
In fact, they can range from three to 25 miles (or even more), with 10 to 40 death-defying obstacles.
Some of the obstacles include:
Wall climbs,
Greasy monkey bars,
Cargo nets climbs,
Rope climbs,
Swimming through frigid pits of waters,
Carrying heavy objects,
Jumping through fire,
Crawling under barbed wire or through pipes,
Tackling slippery hills,
Smudgy pits
and other gut-busting military-inspired obstacles, designed put you through the ultimate ordeal.
It's open for Everyone
And this is not an exclusive sport.
Au contraire, enter most obstacle course races, and you'll see people of all shapes, sizes and fitness levels on the starting line.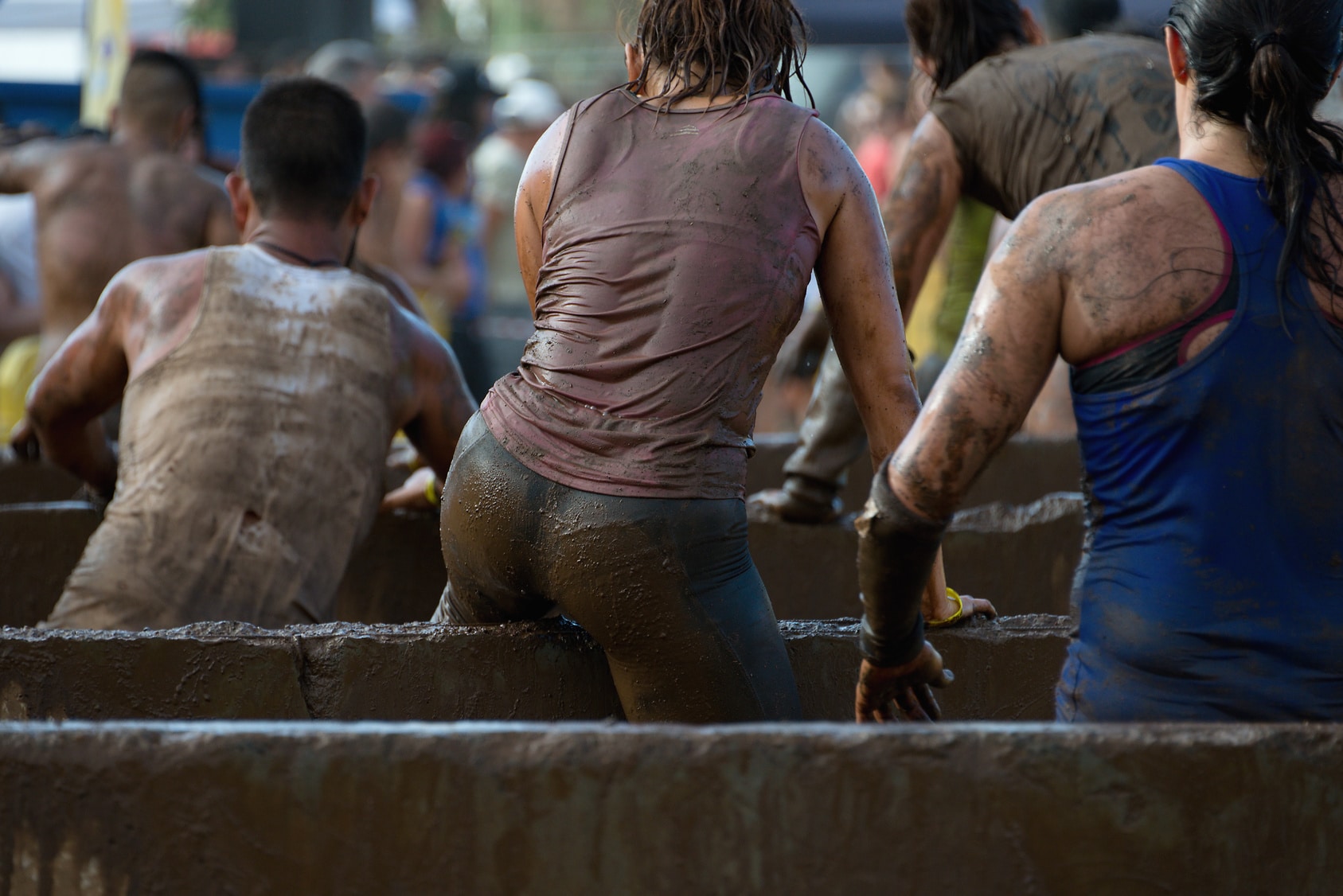 Obstacle Course Training Explained
Most OCRs mix elements of adventure racing, trail running, and gut-throbbing military-inspired obstacles—all of which can offer you a one-of-a-kind fitness experience.
Unlike training for a traditional race, the ideal OCR plan touches on every aspect of functional movement.
For instance, most presume that athletes with a running background excel at this type of events.
Wrong!
Road runners often score low on upper body strength.
Thus they do not always shine in the sport.
Likewise, strength athletes such as powerlifters, wrestlers, and football players often lack the endurance needed to finish strong.
The Skills Needed
To make it to the finish line of an OCR event, you are going to have to develop a broad range of fitness skills.
For starters, you'd need massive amounts of endurance—most OCR events are running based after all.
Not only that, as a racer, you'd also need to increase total body strength.
( I hate to break it to you, but traditional weight lifting routines will only get you so far).
Furthermore, you'd also need to have high levels of mobility, speed, agility, as well as an uncompromising mental game.
In other words, you will have to become the ultimate athlete.
Where are you at?
But first things first.
Before I get into details of OCR training, I need you to do one thing first: Assess your current fitness level and needs.
Hence, before you take your first steps, make sure to evaluate your current starting point as well as your ultimate goal.
So please a grab piece of paper or open a word office document and answer the following questions. (be honest)
What type of OCR are you planning to tackle?
How long is the race?
Can you already run the course distance? How hard from a scale of 1 to 10?
Do you consider yourself mentally tough?
On a scale of 1 to 10, how fit are you? (check my post here for a well-rounded fitness assessment guide)
Do you have any current injuries? Are you recovering from any?
Do you do any sort of regular strength training?
Do you mind paying good money just to get dirty and muddy (even have your own a$$ handed to you)?
Do you have a sense of adventure?
If your answers are mostly positive, then you might proceed to the next section.
How much Time you need to train?
Disclaimer: Proceed with the training program prescribed below once you've had enough cardio and strength level.
In other words, you have to be fit.
To make it to the finish line of most OCR events, I highly recommend that you should be able to run at least 6 to 8 miles without much trouble.
If you are not already a runner, then please check my beginner running programs here and be sure to start from there.
There is no skipping fitness levels when it comes to OCR.
Of course, you don't need to be in tip-top athletic shape, but you gotta at least to be fit enough.
Otherwise, you'll fall short, and be wasting your own time, money (and a set of good shoes) in the process.
The Ultimate Obstacle Course Training Guide
For a complete beginner, train for at least three to four months (even more). This, of course, depends on the type of race you are planning to partake.
Aim for three to four workouts a week, increasing training volume gradually from one week to the next.
If you are a regular runner and have ample total body strength, then give yourself at least 4 to 8 weeks of specified obstacle race training.
As an intermediate or advanced athlete, aim to train 5 to 6 times a week.
With all that being said, whatever you do, please give yourself plenty of time to train.
Additional resource – Here's how to avoid a DNF in a race
Ocr Training Plan For Beginners
The majority of workouts you'll do must target the precise movements needed to overcome the military inspired obstacles, as well as increasing overall body stamina and conditioning.
In my opinion, the ideal OCT training program is a mix of trail running and CrossFit WOD type of workouts.
To give a rough idea on the type of workouts you need to do, here are 10 must-routines  to try out.
Endurance
As I have already stated, most OCR includes running distances that vary from one event to the next.
But it ain't your typical 10K road race.
During an OCR event, expect to run on trails, up and down hills, across mud, and through obstacles.
Hill and Speedwork
To get ready for the OCR, you need to do plenty of speed work and hill reps to develop the explosive power needed to go through the whole course unscathed.
Here are the workouts you'll need to do:
1. Interval Run Workout
Obstacle race tends to take place in in full-out-efforts or intervals, typically alternating between running and the obstacles.
In other words, they are like fartlek training on steroids.
Build your explosive power and stamina for the OCR by doing plenty of interval running workouts.
Here is how to proceed on your (first) interval running workout.
Start off the workout with a warm-up for 10-minute.
Doing so helps you get prepared for the intense work ahead and prevents injury.
Sprint at 80 percent of your maximum speed for a full of 30-second.
Jog slowly for a full minute for recovery.
Repeat the process six to eight times
Finish the workout with a cool down.
Reduce your running into an effortless jog, then perform a few stretches.
The intensity and length of each interval depends, mostly, on your fitness level and training goals.
Just be careful not to hurt yourself.
Otherwise, it's not worth it.
Additional Resource – Your Guide to fun runs
2. The Hill Workout
Hill training increases both lungpower and lower body strength.
This combo is going to help you overcome many of the obstacles like the steep incline, the stairs and so on.
Here is how to proceed with your interval hill workout
First of all, you need to locate the nearest steepest hill, preferably with a gradient of 5 to 10 percent.
This hill should take you up to one to two minute to climb at maximum running speed.
Start with a warm-up.
Run slowly for 5-to 10-minute on flat terrain to get your blood pumping and raise body temperature.
This gets you ready for the workout ahead, preventing injury and premature fatigue.
Go for your first sprint at about 80- 90 percent of your maximum cardio power.
Walk down slowly to the starting point.
Repeat the cycle four to six times—and PLEASE stop when you start losing either speed, form, or both.
End your workout with a cool-down.
Jog slowly for 5-minute and gently stretch your body afterward.
Additional resource – How to avoid slowing down during  a race
3. Long Run Workout
To increase your lung power and endurance, do, at least, one long run per week.
How much is enough?
Well, as I have previously said, you'll need to be able to run, at least, for 8 miles non-stop at a slightly challenging pace.
Nonetheless, if you are not there yet, then aim to be comfortable running a 10K without panting for breath, before race day.
To make the most out of your long runs, make sure to do them on trails for at least 90 minutes at an easy pace.
For the full guide to long runs, check my post here.
Simulate the Course – Bonus Tip
If you are an elite athlete, then consider simulating OCR experience by training in similar conditions.
Do this also if you are serious about dominating the race.
For starters, be willing to step out of your comfort zone.
Do plenty of rainy runs, muddy hill and cold morning workout.
Also, do the bulk of your running outdoor, preferably on trails or under conditions similar to OCR day.
Want more? Then run in wet clothes and shoes to simulate real racing conditions.
Additional Resource – Guide To Running Race Distances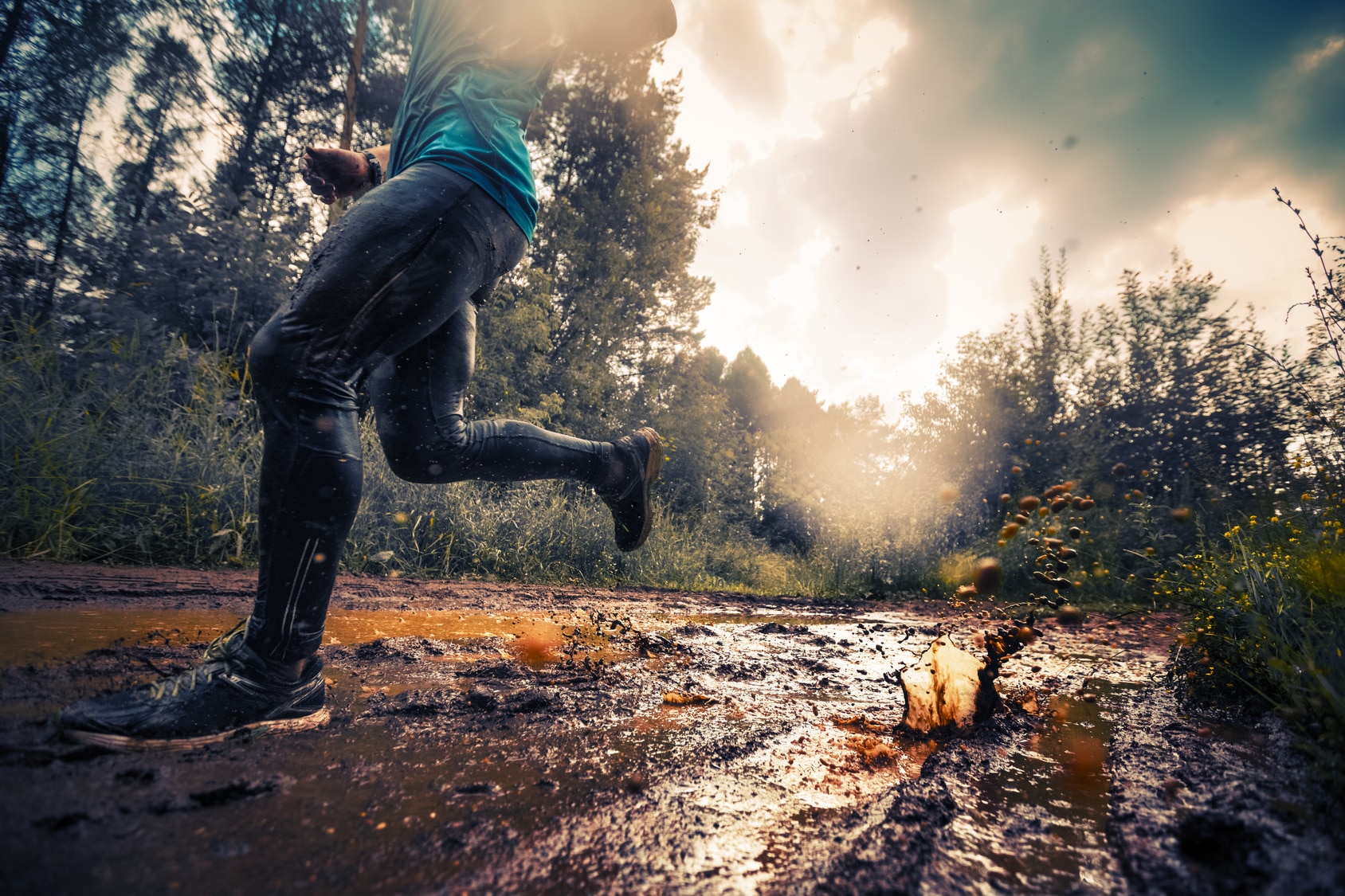 Simulation Options – Advanced Workouts
4. The Interval Sprint Body Weight Workout
If you are looking to take your interval runs one step further, then try adding bodyweight exercises into them.
By doing this, you're teaching your body to keep on moving, even when you feel utterly exhausted.
Doing this also increases muscular endurance in a similar fashion to OCR.
Here are is a sample workout to try:
After a 10-minute dynamic warm-up, complete the following circuit two to three times, taking as little rest as necessary
Run 400m at a 5K pace
Perform 40 walking lunges, then 30 standard push-ups.
Run 400m slightly faster than your 5K pace
Perform 40 bodyweight squats, then hold a plank for 90 to 120 second.
Run 400m slightly faster than your 5K pace
Perform 30 burpees, followed by 40 mountain climbers
Run 400m at the fastest pace you can sustain.
Jog for 10 minutes for cool-down.
5. The Tempo Obstacles Simulation Workout
After a 10-minute dynamic warm-up, perform the following
Run for one-mile at a tempo pace
7 ten-foot wall climbs
Run for one-mile at a tempo pace
5 ten-foot wall climbs
Run for one-mile at a tempo pace
3 ten-foot wall climbs
Run for one-mile at the fastest pace you can sustain
7 ten-foot wall climbs
Cool-down
6. Long Runs 2.0
To take your long runs one step further, do the following exercise every 10 to 15 minutes of running:
25 lunge steps
25 pushups
25 (or more) air squats.
25 burpees.
Or any other convenient bodyweight exercise that you can do safely in the outdoor.
Total body Fitness
Strength is the other major component.
In fact, running will only carry you so far.
The right strength training strategy must have 5 primary goals:
(1) increasing your total body conditioning,
(2) grip strength,
(3) agility,
(4) explosive power and
(5) balance.
These skills are going to help you dominate every one of the obstacles you are going to have to tackle.
Additional resource  – How to prepare for your best running race
Compound is King
To increase your explosive power, compound movements are vital.
Also known as multi-joint exercises, these target lots of muscles and vital for increasing full body strength.
Here are the moves you need to do:
Deadlifts,
pull-ups,
standing overhead presses,
squats,
back squats,
power cleans,
thrusters
push-ups,
dips, and
bench presses.
Be Stable
Also, most OCR events are going to force your body to use muscles you didn't know you had.
And in ways, you are not used to.
That's why you'll also need to work on increasing strength in your stabilizing muscles.
These are vital for keeping balance on slippery surfaces as well as sliding around in the mud.
Agility
To increase your agility, do plenty of plyometric exercises such as jump squats, kettlebell swings, box jumps, and burpees. Here's the speed and agility ladder workout you need.
Grip Strength
For the grip strength, one of the best exercises you can do is the kettlebell swings.
This grip strength will help you get you over the wall and be able to grip and climb a rope with relative ease.
Without further ado, here are the workouts you need:
7. The Dynamic Strength Workout:
Purpose: Increase total body conditioning
After a thorough 10-minute dynamic warm-up, perform Five sets of the following exercise:
50 bodyweight squats,
50 mountain climbers,
30 push-ups,
30 lunges,
20 burpees, and
8 pull-ups.
Please keep going strong throughout the workout and take as little rest possible between each exercise.
Your goal here is to keep your heart rate soaring high throughout the workout with the aim of building endurance and strength at the same time.
8. The agility and Speed Workout:
Purpose: Boost speed
After a thorough 10-minute dynamic warm-up, do at least three to four sets of the following exercises
30 kettlebell swings,
30 med ball slams,
25 box jumps,
15 jumping burpees and
30 jump squats.
Please keep in mind that plyo exercises are the epitome of intensity.
So, take at least 30- to 45-second of rest between each exercising, then one to two minute between each set.
And whatever you do, please perform the exercises with good form.
Bad form will only lead to injury and limited growth.
And you don't want that.
For more challenge, feel free to strap on or add some weights to the workouts.
9. The total body strength workout:
Purpose: Increase total body explosiveness and power
Here is the mother of all strength training workouts.
To complete this beauty workout, do four to six sets of the following exercises:
8 to 10 back squats,
8 to 10 deadlifts,
8 to 10 bench presses,
and 8 to 10 chin-ups.
Make sure to pick the right weights.
For instance, I highly recommend that you Perform the deadlift and bench press at, at least, your current bodyweight.
If you are not there, then work on getting there.
Take at least one minute of rest between each exercise and as much recovery as needed between each round.
10. Bodyweight Workout
Purpose: boost total body strength using nothing but your bodyweight
Here is a workout to try:
10-15 military Push-ups
Bear Crawl 15-25 yards
10-15 Squats
8-10 Pull-ups
10-12 Burpees with a jump
20 Spider Lunges.
OCR Training Program – The weekly plan
The following weekly training plan should give you an idea of how to proceed.
Monday – Long run
Run five to eight miles at a slightly comfortable pace.
Tuesday – Upper Body Strength
Complete five sets of the following:
Pull-ups
Plank dumbbell row
90-second planks
Chin-ups
Chest presses
Wednesday
Following a warm-up, spring up a hill for 30 to 45 seconds, then jog back down.
Repeat the circuit for 20 to 30 minutes.
Thursday – Lower Body Workout
Complete five sets of the following:
Single-leg deadlifts
Squats
Weighted jump lunges
Bulgarian squats
Friday – Endurance Intervals
Following a 10-minute warm-up, perform eight to ten 200-meter sprints with a 30-second rest after each. Follow with an easy 10-minute jog as a cool down.
Saturday – Total Body Endurance Workout
Complete five sets of the following:
Squats to upright rows
Woodchop lunge
Push-ups
Bear Crawls
20 Burpees
Sunday – Easy Run
Run 20 to 30 minutes at a comfortable pace.
Start with an easy Obstacle Race
If this is your first time, I'd suggest that you start with a race that's 5K or shorter.
These are designed to give you a taste of what it's like to be in an obstacle race course without requiring long months of training to prepare for.
The following obstacle course races are great for beginners.
These are roughly 5K long, the obstacles are not that challenging, and you'll have a good time.
Want to move to the advanced ones?
Then get at least of these events under your belt before you take up more challenge, like Spartan Race Sprint.
On the Big Day
Here a few tips to help make sure that you are well prepared, logistically, to tackle an OCR event.
1. Get the Right Shoes
As I have already stated, expect to spend a lot of time on muddy, greasy trails, and murky grassland.
Therefore, you are going to have to race in the right shoes.
Otherwise, you'll be falling short.
Why is the typical running shoe a bad choice?
Regular running shoes is bulky.
Thus, they tend to hold in too much mud once they're soaked.
This will only interfere with your racing experience and might end up slowing you down.
The best shoes for OCR must be well-fitting athletic models to avoid getting blisters and other troubles.
In my experience, minimalist shoes are, by far, the best option.
Why?
Well, minimalist shoes have, typically, less padding on the bottom.
Thus they don't hold in too much mud and/or water.
Not only that, most of them are made of water-resistant fabric.
Some of the best minimalist trail shoes are the Brand X, and Brand Y (Inov-8's X-Talon 190s).
Hold'em Tight
During the race, your feet will get slick and soaked in muddy water.
Hence you risk losing your shoes on the course.
hence, make sure to tie your shoes firmly.
You can duct tape the top of your shoes to your ankles.
Nonetheless, PLEASE leave enough wiggling room for your toes; otherwise expect pain, even injury.
2. Dress Right
Although most OCR events do not state a specific dress code like other races, the type of clothing on the big day can be a deal maker or breaker.
Dress wrong for the event, and you'll end up slowing yourself and wasting a lot of valuable energy.
As a rule of thumb, the less clothing you wear, the better.
You can even go shirtless if that suits you.
Why is that?
Well, the fewer the clothing items you have on, the less mud to cake onto.
Also, a shirt will get soaked, mucky, and might chafe your skin.
If it's not the case, race with something light and tight.
So what is the right clothing? And what is it made of?
Make sure to wear moisture-wicking, breathable clothing that's made from technical fabric.
This type of technical fabric is designed to keep the body dry and warm.
Think swimwear.
This type of clothing dries faster and grants more mobility to tackle the race with ease.
And please whatever you do, DO NOT wear cotton.
It tears easily and gets waterlogged, keeping you cold and weighing you down in the process.
You might consider investing in tight-fitting, synthetic materials like Under Armour's HeatGear compression shirts.
3. Get the Right People
According to my experience, OCR is more of teamwork than a solo effort.
In fact, the sense of camaraderie is at the heart of many OCR event ethos.
Also, teamwork can come in handy when you need help overcoming the tough and challenging obstacles.
Therefore, on the OCR course, do not expect to be a lone wolf.
Better still, I recommend that you form your OCR team beforehand and tackle the race together.
It's more fun that way.
Just make sure to pick your teammates wisely.
Or, at least, get yourself a crew of fit friends to race with you.
As a general guideline, the average team size is between four to 8 people.
If you can't get anyone to join you on your crazy adventure, then don't lose sleep over it worry.
Why? You'll end up teaming up with a group at the first obstacle anyway—even if you are not a people person.
4. Race Smart
Slow and steady wins the race.
This may sound like a cliché, but only because it's true.
Going full throttle from the get-go will only leave you prematurely fatigued and disappointed.
Instead, get a good start and gradually build tempo and speed.
5. Handle Obstacles Properly
Note: Go out and try as many of the obstacles as you can.
This helps you hone your technique and save you the guessing afterward.
Here are some of the most common obstacles and how to overcome them—unscathed:
Tunnels: Don't crawl on your knees, instead, opt for the bear crawl as it's more efficient that way.
The Stairs: Think stutter steps as you get up by taking small quick and small steps.
The Wall: Jump up and grab the edge of the wall,  then kick your leg over it.
Mud pits: Run towards the edges at maximum speed. Running through them will only make you slower as the heavy traffic can cause the middle to be the deepest and difficult to tackle.
The Tires: Keep your head down and knees up. Take one tire at a time while keeping your knees high and staying on your toes.
Barbed wire: Most opt for the military crawl, but it's far better effective to roll sideways rather head on.
The Monkey Bars: Use the momentum to carry you forward by keeping your arms straight and swinging your legs just like a monkey will do.
6. Have Fun
Remember to have fun.
In the end, that's what it is all about.
If ain't fun, then you shouldn't bother with it.
Sure, these OCR events are go-to venues for serious athletes looking to test their fitness resolve to the breaking point.
But if you take it too seriously, then you'll be missing out, big time.
So please, whatever you do, make sure that both training and racing is fun.
The 5 Best Obstacle Races In The World
Here's a short list of my 5 favorite obstacle races out there, along with some of the obstacles and challenges that you will encounter on the race course.
The Warrior Dash
The Warrior Dash is the perfect stepping stone to new comers to the scenery of obstacle racing.
Organized by Red Frog Events, an event company out of Chicago, IL, and with its 50 races on four continents, the Warrior Dash is the world's largest and most challenging running series.
What to Expect
On the course of this race, you will need to trudge your way through 3 to 4 miles of muddy and grimy terrain while going through and over 12 gut-busting obstacles that include cargo nets, running over barricades, a mud pit with barbed wire, Muddy Mayhem, fire pits, and other intense obstacles that will push you to the breaking point.
And by the end of the race, you will be, literally , covered and submerged in mud from head to toe.
But Don't fret yet.
On the Warrior Dash course, you still can skip over any apparently impossible obstacle with no penalty attached, and you will still receive a finisher's medal at the end of the race.
2. Tough Mudder
From the largest in the world, to "world's toughest race".
Tough Mudder is a 10 to 12 miles obstacle course that's so grueling it might have you praying on your knees for it to end only halfway through.
The events take place on five continents and attract thousands of athletes from all around the world.
What to Expect
On the Tough Mudder course, you will have go through and over about 25 gut-busting military-inspired obstacles designed by British Special Forces.
Some of the obstacles you will find along the course include the Funkey Monkey—sslick bars with mud and butter that cross a sub-zero pit muddy water, The Arctic Enema—a plunge into a frosty dumpster filled with icy water, Electroshock Therapy—a sprint through field of hanging live wires with more than 10,000 volts of electricity, and other challenging military-inspired obstacle.
Spartan Race
The Spartan Race is another big player that attracts a thousands of participants from all fitness and training backgrounds because it has a little something for every one.
So regardless of your fitness level, there is always an obstacle course distance that will fit your current fitness level.
Here are the main distances on the Spartan Race series:
A three-mile sprint with 15 obstacles
The Super Spartan, an 8-miler featuring 20 obstacles.
A 12-mile Spartan beast with 25 obstacles
And finally, the Death Race, an 48-hour endurance race held once a year.
What to Expect
On the Spartan Race course, expect a lot of muddy pits, rope climbs, dark tunnels, barbed wire and other gut wrenching obstacles.
However, you cannot cheat on this one.
If you skip an obstacle, expect a penalty of 10 to 30 burpees before you can move on with the rest of the course.
4. Columbia Muddy Buddy Ride and Run Series
CBM is a bit different from the above event because it's a partners-only event.
Columbia Muddy Buddy course is about 6 miles long and it's broken down into 5 legs by obstacles along the way.
During this race, participants trade running the 5k obstacle course and riding a mountain bike.
And each team has to make it all the way to end of the seventh mile course.
In other words, you and your partner will keep switching the entire course between running and biking up to the finish line.
So it's the ideal event to-do with your friend, spouse, girlfriend/boyfriend. Just pick em wisely and train in advance.
What to Expect
Obstacles on the course include a high wall, a 50-foot long mud pit, a cargo net, and balance beam, and conquering the infamous Mud Pit as a team before making it the finish line.
Good news is this event allows participants to skip an obstacle if it's too much with no penalties imposed.
5. The Civilian Military Combine
This is the obstacle race with the most military influence,so if you are into military inspired challenges, then this race is for you.
The Civilian Military Combine, or CMC for short, is a military style competition per excellence.
And it's your perfect opportunity to join the ranks for a day and see what it's like to be in the military.
What to Expect
On the race, expect to blast through the six mile obstacle course race which includes about 20 intense and crazy obstacles.
But, before tackling the obstacle course, you must make it through the PIT, which is a high intensity AMARAP (as many repetitions as possible)challenge in which you will be judged on the number of reps you can pull off in four timed lifting events, that consist of kettlebell swings, box jump burpees and push presses.
New to Running? Start Here…
If you're serious about running, getting fit, and staying injury free, then make sure to download my Runners Blueprint Guide!
Inside this guide, you'll learn how to start running and lose weight weight the easy and painless way. This is, in fact, your ultimate manifesto to becoming a faster and a stronger runner. And you want that, don't you?
 Click HERE to check out my Runners Blueprint System today!
Don't miss out! My awesome running plan is just one click away.