Looking for the best guidelines on how to start running on a treadmill?
Then you have come to the right place.
Here's the truth. the treadmill is thee best way to get into the world of running without risking injury or burnouts. How come? Keep on reading.
In today's post, I'm sharing with you the essential treadmill workout guidelines you need to get started with indoor running.
By the end of this beginner guide to treadmill running, you'll learn:
How to use the treadmill
The benefits of treadmill running
The exact treadmill running gear you need
How to take your first steps on the machine
How to stay motivated when treadmill running
The Treadmill running apps you need
The exact treadmill workout for beginners
Advanced treadmill workouts to try
And so much more.
Sounds great?
Let's press the start button and get started!
Note – Looking for the best Beginner's Guide To Running?
Then Check my Runners Blueprint System Here.
*Disclosure: This post may contain affiliate links that at no additional cost to you. I only recommend products I'd use myself and all opinions expressed here are our own. 
How to Start Running On a Treadmill –  The Benefits
Here's what you stand to gain from hitting the belt more often.
Less Impact
Running on hard surfaces, like asphalt and concrete, increases the risks of overuse injury.
However, the treadmill belt offers extra cushioning that helps absorb much of this stress.
Forget About the Outdoor Conditions
Outdoor running exposes you to the elements, be it the weather, unsafe streets, uneven surfaces, etc.
All of these can stand in the way of your running success.
Luckily,  you don't have to worry about any of this when treadmill running.
Simulate the Race
Preparing for a race?
A treadmill can help you nail your perfect pace.
For example, if you are planning for a hilly 10K race, you can simulate that racing experience by incline training or even intervals on the treadmill.
Additional Source – Check this treadmill pace chart
Safer Than Running Outside
You can always run into troubles when doing outdoor running workouts: cracks, ruts, cyclists, cars, people, thieves, stray dogs, the wrong side of town, you name it.
Again, a treadmill can help you sidestep all of these risks.
Privacy
Dealing with insecurities?
Worry no more.
Hopping on the treadmill gives you more privacy as you don't have to fret about anyone judging your performance.
You can run at your own pace and call it to quit anytime you want.
Measurable Data
On a treadmill, you have a say on your training conditions, helping you run with more accuracy, whether it's speed, incline, calories burned, heart rate, step count, and so on.
Note – Looking for the best Beginner's Guide To Running?
Then Check my Runners Blueprint System Here.
Beginner Treadmill Workout
FAQ
Before we get into how you actually can get started with treadmill running, let's address some of the most common questions beginner runners have about the treadmill.
How Fast Should I train on the Treadmill As A Beginner?
The answer depends on your current fitness level.
If you're a sedentary, overweight, 50 years+ beginner, you're not going to be faster then you once were.
But if you're already in a good shape, exercise often, and are young, you should be able to crank up the pace  (check out the beginner treadmill routines below for more details).
If you can get to 5 mph or higher as a beginner, that would be terrific.
This will provide you more room for growth while upping your heart rate and pushing your body out of your comfort zone.
Just keep in mind that five miles per hour is the equivalent of a 12-minute mile.
Not bad at all for someone who's just starting out.
Here's a cheat sheet so you can have more ideas about your per-mile pace.
5.0 mph = 12:00 minutes per mile
5.5 mph = 10:55 minutes per mile
6.0 mph = 10:00 minutes per mile
6.5 mph = 9:14 minutes per mile
7.0 mph = 8:34 minutes per mile
7.5 mph = 8:00 minutes per mile
8.0 mph = 7:30 minutes per mile
How long Should a Beginner Train on a Treadmill?
Again, the answer depends on you.
Every beginner is different and has a different starting point.
Just do as much as you can in the beginning while staying within your fitness level and paying attention to your body's needs and signals the entire time.
For a complete beginner, you can start off treadmill training at a slow pace for no more than 15 to 20 minutes three times a week.
Then slowly increase the duration to 30 to 40 minutes over the course of a few week.
Here's how often should you run per week.
Treadmill Vs. Outdoor Running – Is treadmill running easier than running outdoors?
The answer is not all black or white.
But overall, running on the treadmill is less challenging than running outdoors for many reasons.
When treadmill running, the ground is moving underneath you, making it easier to run faster.
That's one reason many runners find that their treadmill pace and speed don't correlate to their outdoor running pace.
What's more?
When you're running outdoor, you're also dealing with the elements and weather conditions, especially wind and heat.
This can make outdoor running more taxing as you have to deal with a lot of resistance.
But on the treadmill, you're in a controlled environment that's intentionally designed to make you as comfortable as possible.
It's also recovery friendly.
For those who just had injury or accident, they don't need to worry about the ground.
It's perfectly stable and sturdy.
A beginner runner? Try this couch to 5K plan.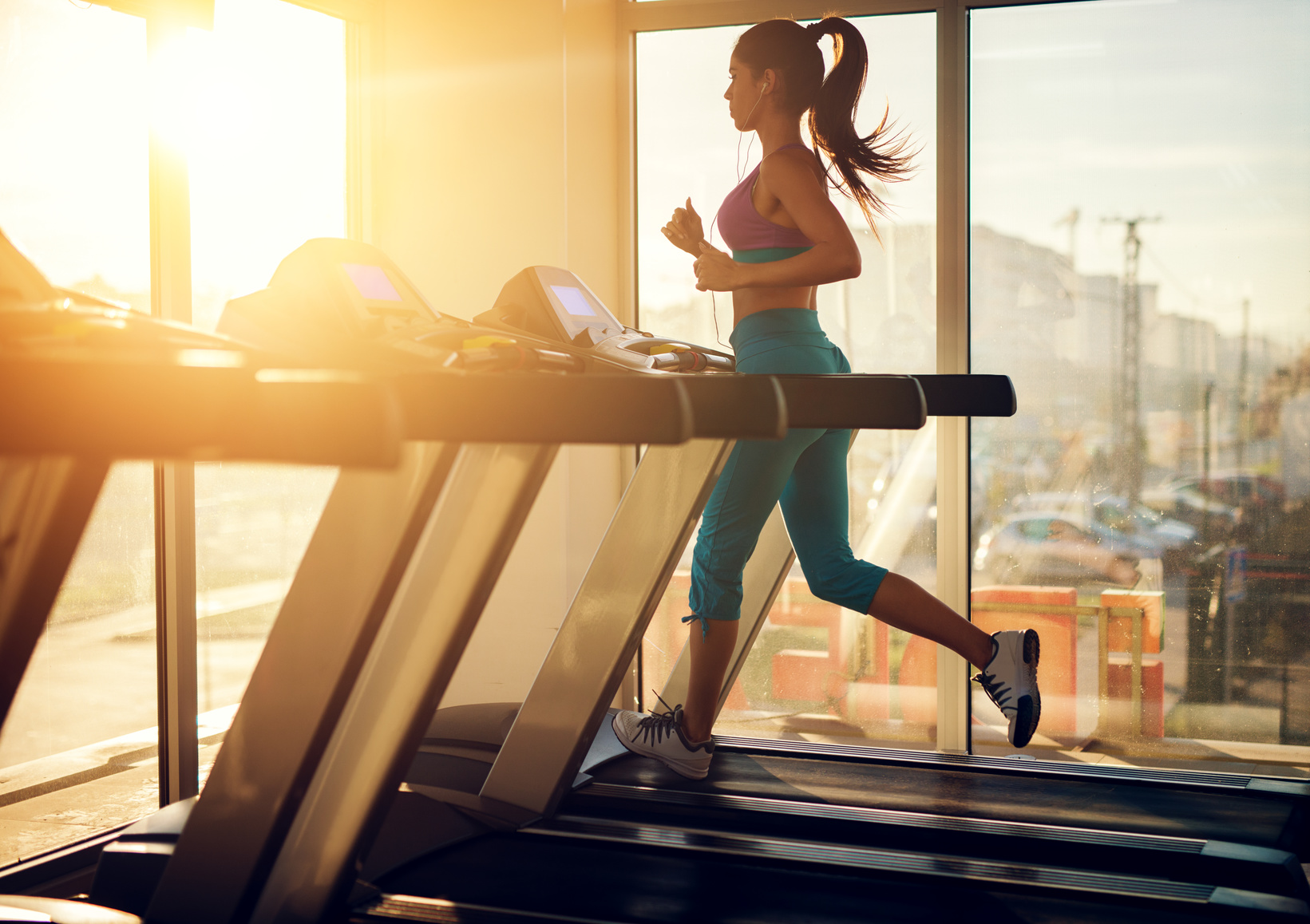 How long should you run on a treadmill to lose weight?
If you're looking to lose weight, especially if you're really out of shape and/or embarrassed to run in public, the treadmill is exactly what you need.
How long should you train on it depends on you, but I'd recommend that you shoot for at least three 30 to 45 minutes sessions per week 
Wht's more?
Keep in mind that exercise is only half the battle when it comes to losing weight—the other half being diet.
So, if you train often, and eat clean, you can pretty much guarantee that you'll be able to lose weight and keep it off for good.
Additional resource – Here's your guide to running three miles a day.
How To Start Running on A Treadmill
For Beginners?
To make the most out of your treadmill workouts, try to incorporate these two valuable training tips.
Know Your Treadmill
Taking your first few steps on the treadmill can be quite unnerving.
But it's no rocket science.
In case you have never used a treadmill before and don't even know how to turn one on, here are the basics:
First, the "Start Workout" or "Quick Workout" button.
Hold the handrails, step onto the belt, simply press this button, and in 3…2…1, the belt will start to move.
The belt will start at a slow walking speed, and it's up to you to play with speed.
Keep in mind that you may feel wobbly or dizzy when you use a treadmill for the first time—as if you were going to slide back or lean forward.
Don't panic.
You're practicing a new motor skill, and it will take a few sessions to feel at ease.
Next, familiarize yourself with the speed controls, the incline/decline options, the "Stop" and the emergency stop mechanism, as well as the programming controls.
Of course, not all treadmills are made equal.
Some are simple and often come with minimal options (think hotel treadmill) while other more fancy treadmill offers a more complicated user interface.
But the basics are still the same: Start/Speed/Stop.
The Right Treadmill Workout Gear
Getting the right treadmill training gear is the first step.
Start by training in proper running shoes.
Of course, you won't need specific shoes just for the treadmill
(although I'd recommend you do that, so you can still use the same running shoes for indoor and outdoor running— just make sure they are clean ).
As a rule, your running shoes have to fit well, which is why I always advise buying shoes from a specialty running store (here's is how to make your shoes last longer).
Just like you'd choose proper clothing for outdoor runs, your treadmill runs deserve the same attention.
You also need comfortable wicking underwear. Don't go for fancy cotton clothes. They won't cut. They can cause more harm than good—and you don't want that. I can assure you.
Female runners should also choose a sports bra that hold their chest securely in place.
Shirt
Choose a lightweight tank for treadmill running. Make sure it's made from high performance, moisture wicking fabrics to help wick moisture away from your body, keeping you dry and comfortable in the process. Avoid wearing cotton clothing. More than likely, indoor running will make you sweat a lot. And all that sweat will stick to your clothes, causing all sorts of troubles, when wearing cotton fabrics.
To avoid at all times.
Here's the full guide to proper running gear.
Keep hydrated
Remember to keep your body well hydrated when running on the treadmill. You'll be shedding a lot of fluids through sweat.
When running on the treadmill for more than 30 minutes, it's key to drink water to stay hydrated.
As a general rule, drink about four to six ounces of water every 15 to 20 minutes.
For indoor running, I'd recommend Hydro Flask's stainless-steel bottles. Check this reasonably priced water bottle at amazon's.
I'd recommend the Hydro Cell Stainless Steel Water bottle.
Cooling Fan
Last but not least, if you find yourself sweating more than usual when indoor running (or don't have proper air conditioning), consider setting up a cooling fan. Sure, some treadmills have a build-in fan, but they tend to be less than powerful and effective.
Plus they only blow air at your face, ignoring the rest of your body. That ain't good at all.
In addition, expect to sweat a lot—even if it's cold outside—so get yourself a towel to wipe your arms, hands, and face as needed.
Warm-Up For Your Treadmill Workout
Just like outdoor running, the key effective treadmill training is a proper warm-up.
Skipping it will only increase the risks of premature fatigue and injury.
A good warm-up helps you get your blood pumping and heart rate ticking and be for the hard effort ahead.
Invest in at least 5 to 10 minutes warm-up period, then aim to slowly increase your speed as you go, but never speed up to the point that your form begins to suffer.
Pay attention to your body before you speed up.
Note – Looking for the best Beginner's Guide To Running?
Then Check my Runners Blueprint System Here.
Partner Up
Just as it's more enjoyable to pound the pavement in the company of others, the same is true for treadmill running.
In fact, pairing up with a workout partner can turn long treadmill runs into a social hour—or two.
In case you couldn't find a willing partner, then, at the very least, call a friend or enlist a family member to keep you company.
Additional resource – How to combine keto and running
Visualize a Route
Another trick to help you avoid the dreadmill is to visualize an outdoor route you like running on.
Imagine your favorite outdoor route and pretend that you are on it, running by certain landmarks, and play with the incline to simulate elevation change.
Your brain already has storage of good running memories, and by using active visualization, you're tapping into that valuable resource and using it to your advantage.
If you have difficulties visualizing, look for pictures on Google images for pristine running routes and imagine yourself tackling them.
Listen to Music
Think of running with music as a dissociative strategy.
It helps take your focus off of what's ahead.
Also, listening to music while exercising can reduce the perception of exertion and boost endurance by up to 10 to 15 percent.
Pick a playlist with a nice uplifting beat—shoot for the 120-160 bpm range.
Not a fan of music?
Then turn to audiobooks or podcasts.
Some of my current favorites include The Joe Rogan Experience, Embedded, The Rubin Report, etc.
Watch TV
Visual is always the best distraction.
This is why when you run.
n with TV on, it's more fun and hassle-free
Go for shows you don't have to be too involved in and would rarely let yourself sit around and watch.
I won't watch the walking dead finale on the treadmill.
Need some good ideas?
Here's a list of my favorite shows:
How I met Your Mother
It's Always Sunny in Philadelphia
Casa De Papel
Stranger Things
Daredevil
Into the Badlands
Preacher
Supernatural
Additional resource – Here's your guide to buying a second hand treadmill.
Treadmill Running Apps For beginners
No matter your running goals are, there's probably an app for that.
You can find plenty of cheap apps for different running goals that you can download to make your training more exciting.
Need distraction? There's an app for that!
Need motivation? There's an app for that!
Need inspiration? There's an app for that!
Need more structure for your training?
There's an app for that.
See, there's an app for almost any running goal or desire.
My best recommendation?
The following:
Nike + Run Club. This app provides you with more than 50 guided runs, with over six sessions specifically tailored for the treadmill. The running sessions are roughly 20 to 30 minutes in length and come with audio instructions.
Treadmill Trails. If you dread indoor running, then feel free to head outside in the virtual world with this app. Treadmill trails routes take you everywhere from Central Park in New York to Mt. Kilimanjaro.
Peloton Digital. In this app, you can choose from more than 170 Tread Studio live and on-demand running classes that can go from 15 to 60 minutes in duration and cover everything from speedwork to race pace training.
Studio. Another great app that offers treadmill classes that can last 15 to 60 minutes and work great for beginners runners as well as those training for the 11th
Couch to 5K. Are you a complete running beginner? This app is for you. The Couch to 5K provides you with the exact training plan you need to go from a complete newbie to being able to run a 5K in 8 weeks or less. Pretty amazing!
Zombies Run! You can turn you run into a virtual game with the app Zombies, Run!. This app turns your treadmill workout into a story about surviving a zombie attack.
Additional resource – How to start running at 50
Treadmill Running Form
Treadmill running form is essential.
Bad form hinders performance and leads to injury.
Keep your treadmill running technique in check by doing the following:
Run tall and look straight ahead as if gazing to the horizon.
Aim to run with your natural gait, and avoid taking short and quick strides as well as thumping the belt too hard. No good for your sole and ankle.
Keep your posture straight, the head should be up, back straight, and shoulders level.
Never slouch or curve your back, especially when going against an incline. Open your chest, make space for more air.
Let go of the handrails and keep pumping your arms the same way you do when running outside.
how to start running on a treadmill – 6 Treadmill Workouts For
Beginners
Now that know the basics of safe and efficient treadmill running for beginners, let's look at a few treadmill beginner workouts.
If you're not sure how to proceed with your next treadmill workout, here are six treadmill runs to get you started.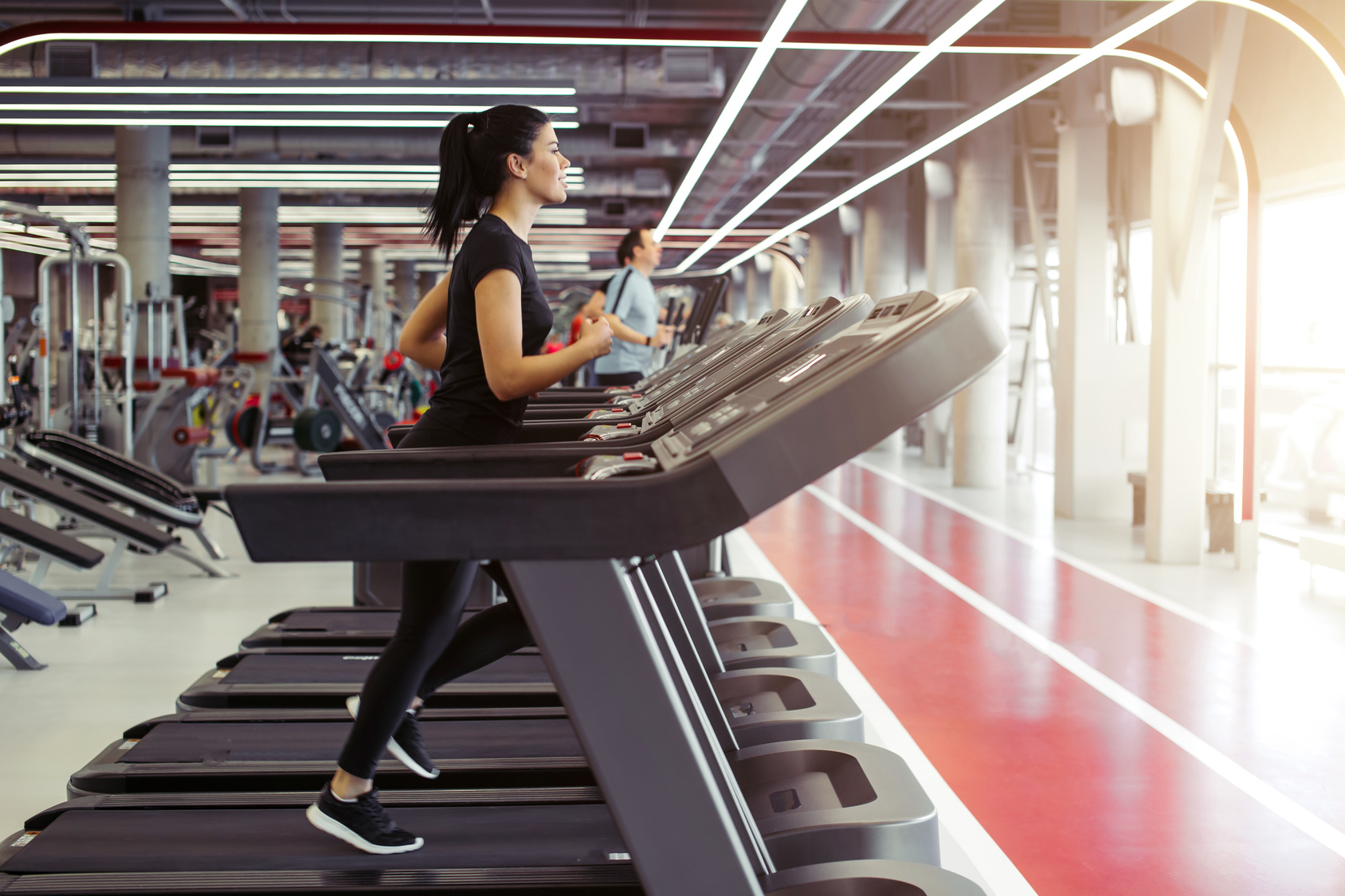 Routine I – The 30-minutes Beginner Treadmill Workout
If you're taking up running for the first time, then start with this routine.
This beginner treadmill routine will have you perform intervals of slow jogging interspersed with walking breaks for recovery.
First step –Start walking at a 1.5 to 2 mph pace and stick to it for at least 10 minutes.
Be sure to breathe deeply and visualize success all the way through.
Mental preparation is key.
Second Step – Pick up the pace and start jogging at 5 to 5.5 mph for two minutes.
This is your first interval, so you shouldn't push yourself here.
Practice good running form the entire time.
Run as tall as you can, engage your core, let go of the handrails, and swing your arms by the sides.
Keep your form aerodynamic,
Third Step – This is your first two minutes break, so make the most out of it.
Breathe deeply, towel off, and hydrate.
Fourth Step – Repeat the jogging/walking cycle for five times.
If it feels too much, pace yourself and slow it down, especially when your form starts to suffer.
Fifth Step –Slowly decrease your jogging pace and start walking at 2 mph for five minutes and cool down properly.
Breathe deeply and release all tension.
Make sure to also check in with your body and see how you feel.
Try to perform this workout at least three times per week during the first few weeks.
Then, as you get fitter and stronger, increase the time you spend jogging and less for recovery until you can run at a comfortable pace for 30 minutes without gasping for air.
Want more structure? Try my Couch to 5K treadmill Plan.
Routine II – The 30-minute Interval treadmill workout
Already a runner?
Then try this more challenging routine.
First Step – Warm-up for 5-minute by jogging slowly and taking deep breaths.
Skipping on the warm-up leads to premature fatigue, or even worse, injury.
Second Step – Run at your 5K pace (it should feel hard) for one to two minutes, depending on your fitness level.
Third Step – Recover by jogging slowly for one full minute.
Fourth Step – Repeat "Second Step" and "Third Step" five to eight times, depending on your fitness experience and training goals.
Fifth Step – End your workout a 5-minute slow jog to cool down.
Stretch gently afterward.
A proper cool-down will help you avoid dizziness and might reduce muscle soreness for the following day.
Additional Resource- Your guide to curved treadmills
Routine III – The Incline Treadmill Workout
Want to take intervals to the next level?  Do them on an incline.
This helps simulate outdoor hill running, which boosts endurance and builds killer lower-body strength.
First Step – Warm-up for 10 minutes.
Second Step – Increase the incline to 3 or 4 percent and run for 90-second at 80 percent of max-effort—a pace that feels moderately challenging.
Third Step (Recovery) – Jog for 60 seconds with no incline.
This is your recovery break.
Fourth Step – Raise the incline to five or seven percent and run for another 90-second at 15 seconds slower than your 10K pace.
Recover for one minute
Fifth Step – Repeat the previous step three to four times, depending on your fitness level and goals.
Choose a steeper incline for more challenge.
Sixth Step – Cool-down
Additional Resource  – When to replace a treadmill belt
Routine IV – The Beginner Tempo Treadmill Run
A treadmill tempo workout teaches your body how to efficiently adapt to increased intensity.
This type of running helps you build up a fairly high volume of intense exercise that enhances both aerobic and lactate-threshold systems.
First Step – Warm-up for 10 minutes.
Second Step – Run a mile at 20 to 30 seconds slower than your half-marathon pace—a pace that feels comfortably easy.
Third Step – Pick up the pace every mile by five to 20 seconds until you're running the final mile 20 to 30 seconds faster than your half marathon pace.
Fourth step –  Cool-down for five minutes.
Additional resource – How To run with a partner
Routine V – The Pyramid Treadmill Workout
Pyramid workouts are straightforward.
You're simply kicking off your hard interval at one-minute segments, going for to a longer running segment, and the working you're back down one minute.
It should take you at least 50 minutes to complete the routine, but that's not cast in stone.
Do what feels the best for you and remember to always stay within your fitness level.
First Step – Five minutes: The Warm-up
Start with a proper warm-up, jogging for 10 minutes at a speed of 4 to 5 mph with no incline.
Second Step –Seven minutes: 1st Ladder
Increase speed to 6.0 mph and keep it going for the next three minutes. Practice good form.
Keep your torso straight, and body relaxed from head to toe.
Next, increase speed to 7 mph and incline to three percent for four minutes.
Second Step – Two minutes: Recovery
Slow down and recover for three minutes.
Hydrate, breathe deeply, and release any built-up tension.
Third Step – Nine minutes: 2nd Ladder Interval
Increase the speed to 7 mph and incline to three percent for four minutes.
Next, increase the speed again to 8 mph and incline to five percent for five minutes.
Fourth Step – Two Minutes: Recovery
Slow down to 4 mph with two percent incline.
Fifth Step – Nine minutes: 3rd Ladder
Increase speed to 7 to 7.5 mph and incline to five percent and keep running strong for a full five minutes.
For the upcoming four-minute, keep the same speed, but lower the incline to three percent.
Sixth Step – Two minutes: Recovery
Slow down to 4 mph and recover.
Seventh Step – Six minutes: Ladder No 4
Speed it up to 8 mph and raise the incline to three percent.
Then, for the next two minutes, keep the same speed but raise the incline to five percent for the last interval of this pyramid workout.
Eighth Step – Five minutes: The cool-down
Jog slowly for ten minutes at a speed of 4 mph with no incline.
Additional resource – How to become a morning a runner
Routine VI –

The Beginner Hybrid Treadmill Workout
Mixing treadmill training with bodyweight exercises can help you burn more fat, improve performance, and bust treadmill boredom.
Here is a CrossFit-Running treadmill workout.
It's one of my favorites.
You can choose to add these bodyweight exercises into your treadmill workout any way you like.
After a proper warm-up of 5-minutes jogging and some dynamic exercises, do the following.
Sprint for 30-second
Pushups: 8-12 reps
Sprint for 30-second
Squat Jumps: 8-12 reps
Sprint for 30-second
Treadmill recovery: 90 seconds slow jogging.
Sprint for 30-second
Jumping jacks: 60 seconds
Lunge steps: 16 to 20 reps
Sprint for 30-second
Finish it off with a 5-minute slow jog as a cool down, followed by stretching.
Need more structure?
Try my beginner running plan.
For more, check my how to design your running program guide.
Bonus Workout – Treadmill "Strength Training" Exercises For Beginners
There are plenty of strength and agility exercises you can do on the treadmill that can help you get stronger, run faster, and protect your body against common running injury.
You can do lunges, side shuffles, mountain climbers, and other exercises that usually reserved for the gym floor.
Perform each exercise for 30 seconds to one full minute, then move to the next exercise with minimum rest.
Take a 1-minute recovery break between each circuit, repeating the whole circuit three to four times.
The purpose is to keep the sequence in high intensity.
Mountain Climber
Muscles Targeted: The entire core and shoulders.
With the machine set to dynamic mode, assume a plank position with hands firmly on the floor and feet set about in the middle of the treadmill.
Keep your arms straight and core engaged the entire time.
Next, grip the belt with your toes, then slowly start running with your legs, pushing the treadmill belt away from you in a mountain climbing motion (by driving one to your chest as your other leg extends backward).
Do this for one full minute then move to the next exercise.
Treadmill Walking Lunges
Muscle Targeted: Glutes, quads, and calves.
Set the treadmill at a speed of 1.5 to 2.0 mph, then while holding the side raise for balance, take an exaggerated step forward with your right leg, bending both knees to a 90-degree angle.
Then rise up, and bring your left leg forward and continue doing lunges for one full minute then move to the next exercise.
Make sure to keep your body centered between your legs, back flat, and chest up throughout the exercise.
Additional Resource  – Your guide to anti-gravity treadmills
Treadmill Side Shuffles
Muscle Targeted: Inner and outer thighs, and calves.
Begin by standing sideways on the treadmill with your back straight and knees slightly bent.
while holding onto the railings if you need more support, set the speed to 3.0 to 4.0 mph and start performing rapid and quick side shuffles, landing on the balls of your feet the entire time.
Continue for one minute, then switch sides and repeat on the other side.
Walking Plank
Muscles Targeted: The entire core, and the shoulders.
Start by setting the treadmill to 1 to 2 mph, then get behind the machine and assume a plank position, with core engaged and legs stretched behind you with the hands, palms down, on the sides of the treadmill base.
Next, once you are set, place your hands onto the moving belt and start walking your hands while keeping the plank position.
Continue "walking" with your hand for one full minute, then move to the next exercise of the circuit.
Low Squat Side Shuffles
Muscles Targeted: The glutes, quads, hamstrings, glutes, and the core.
Just like side shuffle exercise, but this time assume a quarter-squat position, keeping your back flat, core engaged, and chest up the entire time.
Next, opt for a speed of 2.0 to 3.0 mph, then while staying in the quarter squat position, start performing quick side shuffles without bringing feet closer than hip-width distance.
Continue for one minute, then switch sides.
Treadmill Bear Crawl
Muscles Targeted: The core, shoulders, and legs.
Set the treadmill at a speed of 1.0 to 2.0 mph, then assume a pike position with most of your weight on your hands, feet on the sides of the treadmill base.
While being extra careful, step your feet onto the moving belt and start walking your feet towards you.
Continue bear walking for one minute, then stop, rest for one minute to two minutes, then repeat the whole circuit two to three times.
Bonus Tip: How Do I Become a Better Runner?
The answer to that question lies within my Runners Blueprint System.
Why?
My system was specially designed for beginners who either want to start running or take their training to the next level, but have little clue on how to do it.
And don't worry, my ebook is written in a conversational, jargon-free, style. All you need to do is download it, follow the simple instructions, then start seeing results ASAP.
Here's what it includes :
How to quickly and easily get started running (it's indeed is easier than you'd think!)
How fast (or slow) should you go on your first sessions
The exact 13 questions you need to answer before you a buy a running shoe
The seven most common running injuries….how to deal with them before they progress into major ones!
The quick standing stretching routine that keeps you flexible even if you're busy as hell
The 10-minute warm-up you must do before any session to get the most of your training
And much, much more.
Click HERE to get started with The Runners Blueprint System today!
Conclusion
Still wondering how to start running on a treadmill? Then I believe today's post has you covered.
The above simple training guidelines are all you need start treadmill running.
The rest is really up to you.
Please feel free to leave your comments and questions in the section below.
And please if you have any treadmill workouts for beginners, please share.
In the meantime, thank you for reading my post.
Keep running strong.
David D.