Protein is an integral part of a healthy diet whether you're looking to build muscle, lose weight, or improve your overall fitness.
The macronutrient is the building block for your muscles, bone, skin, and hair.
It also aids in weight loss by helping regulate appetite and increase metabolism.
I can go on and one about the importance of protein, but that's another subject for another day.
For these reasons, you got to meet your daily recommended intake of protein at breakfast, lunch, and dinner, and everything in between.
9 High-Protein Dessert Recipes That Taste Delicious
It's easy to think that desserts and protein never mix, given that most baked sweets are incredibly lacking in protein—while being chock-full of sugars, unhealthy fats, and flour.
That said, think again.
In fact, in today you're going to learn that it does not have to be always the case.
In this post, I'll share with you eight of my favorite high-protein dessert recipes. Some of these may prove just as delicious—or even more so—than their carb-rich counterparts.
So, whether you're on keto, looking to lose weight, or just want to eat less sugar, there is at least one tasty recipe on this list for you!
1. Chocolate Almond Protein Bars
Chocolate almond bars are incredibly crunchy, moist, and super delicious inside and out.
In fact, these are the best homemade protein bars you can ever make.
Plus, they're also so easy to make and only use five ingredients.
Not only are these bars chewy and sweat, but you can also add a bit of salt and/or cinnamon for flavor—but that's your choice.
Ingredients
Raw almonds
Dairy-free chocolate chips
Maple syrup
Rolled oats
Vanilla protein powder
Salt and cinnamon for taste.
2. Almond Fudge Protein Bars
Another great way to consume more protein is to serve it in the form of fudge.
Standard fudge is loaded with sugars, condensed milk, butter, and artificial additives.
But, the following dessert is made with whole ingredients, making it  healthier than most of the junk-loaded bars you buy in stores.
Since the bars are made with no sugar, flour, butter, or oil, they're naturally vegan, gluten-free, dairy-free, keto, paleo, you name it!
The bars are also fantastic for those with peanut allergies, or those who do not want to spend long hours in the kitchen.
It shouldn't take you more than 10 minutes to mix up the almond butter, oats, and the rest of the ingredients.
To make cutting them a bit easier, store the bars in the fridge for a bit before serving them.
Ingredients
Almond butter
Oats—ground into a flour
Cereal
Honey
Vanilla extract
Quick oats
Chocolate chips for melting—optional.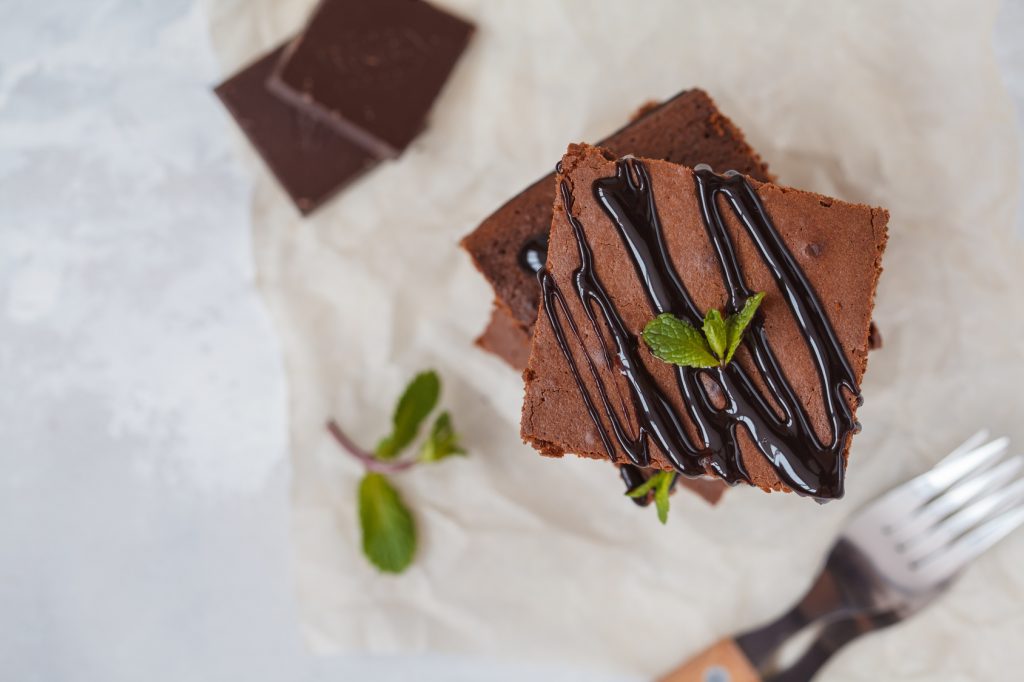 3. Vanilla Shake
Vanilla shake smoothie tastes like a delicious vanilla milkshake, yet it packs in less than 200 calories.
This dessert is low-carb, but also loaded with protein to keep you sated for hours.
Ingredients
Vanilla protein powder
Vanilla extract
Cinnamon
Sugar-free vanilla pudding
Ice
Butter flavor extract
Water
4. High Protein Cinnamon Cake Bars
Packing 20 or more grams of the macronutrient per serving, this is one of the most protein-rich recipes I've ever tried.
These bars taste just like coffee cake but are also low in carbs, high in protein, and devoid of any artificial additives.
What's more? These also take only a half an hour to make.
Ingredients
Oat Flour
Buckwheat flour
Baking powder
Vanilla whey protein powder
Egg
Almond milk
Unsweetened applesauce
Vanilla extract
Plain Greek yogurt
Turbinado sugar
Salt
Cinnamon and stevia, set aside.
5. Chia Protein Pudding
Chia seeds are a true nutrition powerhouse.
They pack in more calcium than milk, more omega-3 fats than Salmon, more antioxidants than blueberries. I can go on and on.
And they're also the makings of a great high-protein dessert.
The following recipe is a delicious and simple way to get the benefits of chia seeds in a dessert form.
Chia Protein Pudding is gluten-free and so easy to make.
Simply blend your protein powder, chia seeds, banana, and milk, and you're good to go.
It's also the perfect on-the-go breakfast option, as well as a fantastic afternoon snack.
For more flavor, be sure to top it up with a few frozen berries and some crunchy almonds.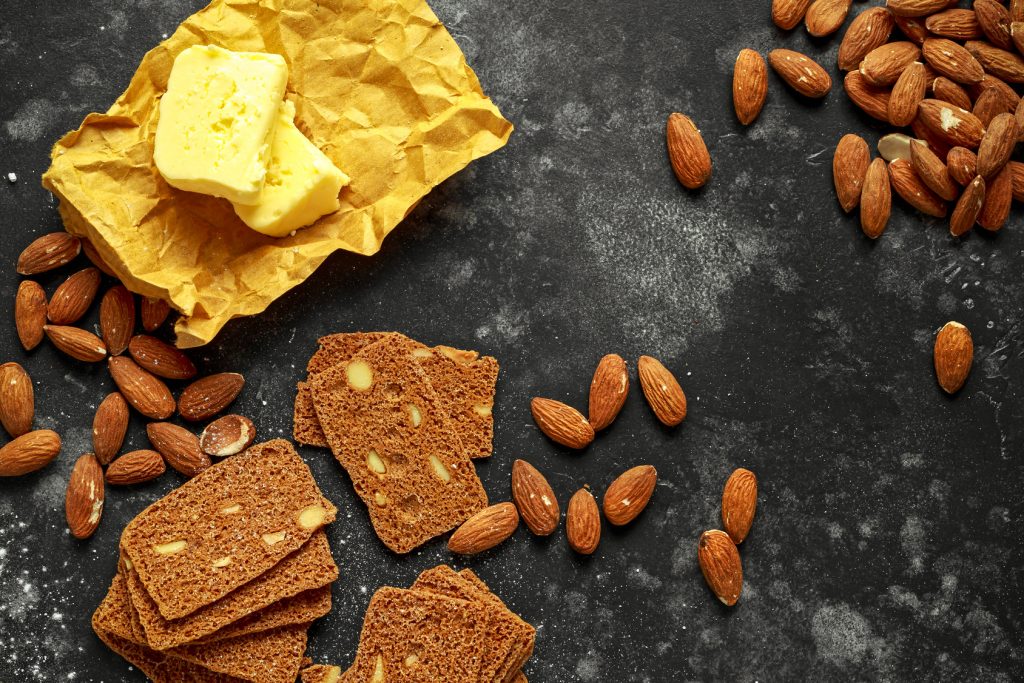 Ingredients
Cocoa powder
Protein powder
Vanilla
Chia seeds
Ripe banana
Unsweetened almond milk
Chopped almonds and frozen berries—optional toppings.
6. High Protein Oatmeal Cookies
Craving cookies on the low carb diet?
Then try the following recipe.
High Protein Oatmeal Cookies are incredibly delicious. Just try them for yourself and see!
The following dessert taste just like regular oatmeal raisin cookies but with the benefit of added protein.
Plus, the recipe contains no processed flour or sugar, mainly the natural kind found in fruits.
It's also made with wholesome ingredients that not only make them delicious but also provide lots of nutrients.
Ingredients
Rolled oats
Vanilla protein powder
Baking soda
Baking powder
Unsweetened applesauce
Egg white
Raisins
Chopped walnuts
Dried cranberries
Nutmeg
Salt and cinnamon for taste.
7. Grain-Free Protein Peanut Butter Cookies
The following recipe is full of protein and fiber, with a just a tiny amount of sugar.
Plus, peanut butter cookies are dairy free, gluten free, and easy to make—can be ready in 15 minutes or less from start to finish.
Feel free to add dried fruit or chocolate chips to the recipe.
Ingredients
Peanut butter
Maple syrup
Egg
Coconut flour
Baking soda
Salt
8. Flourless Almond Butter Chip Cookies
Who doesn't love a simple cookie?
Not me!
Calling for five ingredients, and no more than 10 minutes of prep time, the following recipe is almost impossible to beat. Ditch the flour. Ditch the butter.
These flourless cookies are so tender that they melt in your mouth.
Don't trust my words. Give'em a whirl!
Ingredients
Creamy almond butter
Brow sugar
Large egg
Vanilla extract
Chocolate chips
Dark brown sugar
Sea salt—for taste.
9. Flourless Protein Brownies
Last, but not least, one of my favorite desserts are the flourless protein brownies.
The following recipe bakes up into incredibly decadent, healthy, and super delicious brownies.
They're also quick, gluten-free, vegan, paleo, easy, and so scrumptious.
You can make these as a pre-workout fuel, after dinner, a post-workout treat, you choose. They're perfect anytime.
Ingredients
Extra ripe banana
Chocolate protein powder
Unsweetened cocoa powder
Almond butter
New to Running? Start Here…
If you're serious about running, getting fit, and staying injury free, then make sure to download my Runners Blueprint Guide!
Inside this guide, you'll learn how to start running and lose weight weight the easy and painless way. This is, in fact, your ultimate manifesto to becoming a faster and a stronger runner. And you want that, don't you?
 Click HERE to check out my Runners Blueprint System today!
Don't miss out! My awesome running plan is just one click away.