So, you have you decided to give the ketogenic diet a whirl.
Well done.
Keep it up!
But unless you don't mind eating eggs and bacon every day, you'll need a few recipes to help you stick to the keto lifestyle.
But, fret no more. Today I got you covered.
The following collection of mouth-watering, keto lunch recipes is exactly what you need.
What's more?
Relying primarily on healthy fats and low-carb vegetables, these ten recipes are packed with flavor and nutrients, and range between 5 and 10 grams of carbs per serving.
So, are you excited?
Then here we go.
The Ketogenic Diet Explained
First things first, what's the keto diet?
Keto, or ketogenic, diet is a high-fat, moderate protein, strict low carb diet.
Typically, it preaches eating 70 to 80 percent fat, 10 to 20 percent protein, and under 10 percent carbohydrates.
The keto diet can help you lose weight, improve brain function, increase performance, improve health, etc., research shows.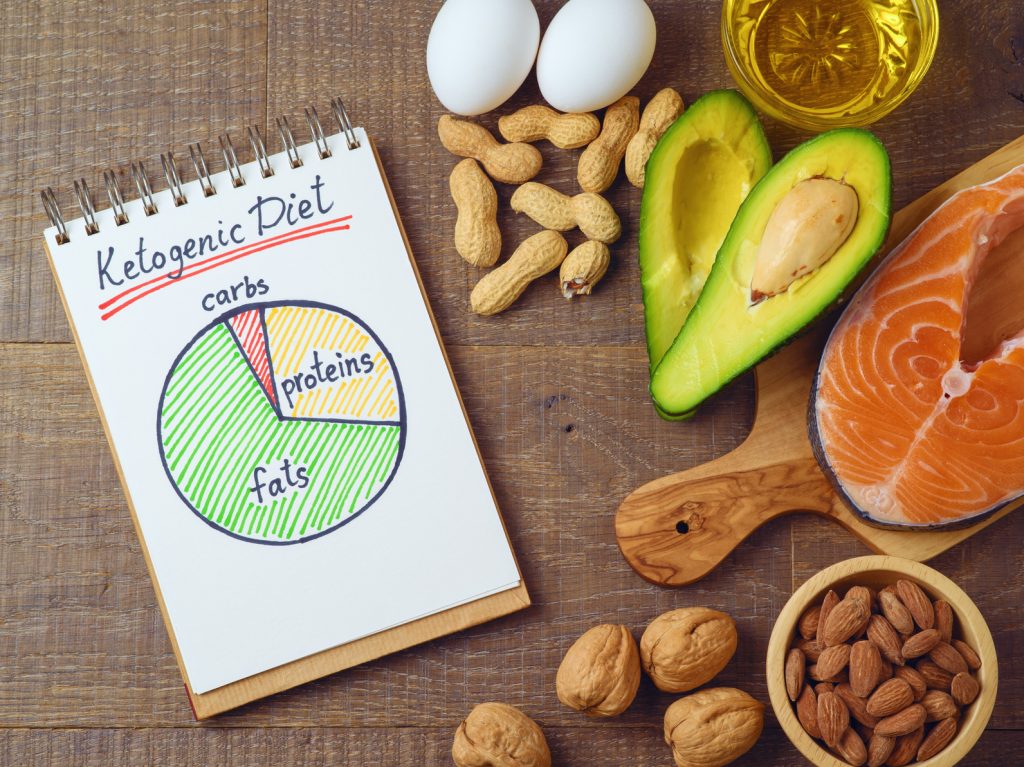 For the full guide to the ketogenic diet, check my post here.
1. Salad with Roasted Cauliflower
The Salad with Roasted Cauliflower is a great low-carb dish with its refreshing flavors and lemon dressing, but not too spicy—unless you want it to be.
This recipe is especially helpful if you're a vegan on the keto diet. In fact, recipes like this one prove that it's possible to be a vegan on the ketogenic diet.
Further, since avocados, nuts, and olive oils are the main ingredients, the dish scores high on healthy fats—what's the keto diet is all about anyway.
For a pleasant twist, top this dish with fresh thyme and a low carb crumb.
Ingredients
Large head cauliflower
Garlic cloves
Olive oil
Lemon
Nuts
Garnish green onion
Salt and pepper
2. Zucchini Crust Grilled Cheese
The following recipe is bread free zucchini grilled cheese that is low carb and gluten-free.
The zucchini "bread" is made of shredded zucchini, Parmesan, mozzarella, and seasoning.
Plus, these grilled cheese sandwiches pack in fewer carbs and are healthier than traditional, junk, options.
Ingredients
Grated zucchini
Egg
Green onion
Grated parmesan
Shredded cheddar
Cornstarch
Salt and pepper
Vegetable oil—for cookin
3. Keto Eggplant Burgers
Craving burgers, but don't want to derail from keto eating?
The following recipe is precisely what you need.
How come?
The following recipe uses eggplant slices as the buns since these hold together nicely once they're cooked.
Keto eggplant burgers make a great snack or side dish.
For meat, use whatever ground option you prefer, but I strongly encourage you to prepare the dipping described below.
Ingredient
Japanese eggplant
Ground pork
Green onion
Black pepper
Ginger
The dipping sauce
Tamari sauce
Garlic cloves
Apple cider vinegar
Sesame oil
Salt and pepper
4. Creamy Meatballs
Here is another excellent recipe for a lip-smacking and healthy meal for the whole family.
Ketogenic meatballs are so juicy, incredibly delicious, and smothered with a creamy, rich queso sauce.
These can be served as a Ketogenic appetizer or as a meal over cauliflower rice, zucchini noodles, you choose.
Plus, you can prepare and sear them in roughly 30 minutes, then simply put everything into the slower cooker.
Ingredients
Ground beef
Yellow onion
Egg
Garlic powder
Black pepper
Cream cheese
Butter
Cream sauce
Cream cheese
Heavy whipping cream
Tamari soy sauce
Salt and pepper
5. Spicy Shrimp and Avocado Salad
I love avocado and shrimp, and I know I'm the only one.
That's why I wanted to share with you this awesome recipe.
Spicy Shrimp and avocado salad pack plenty of fresh ingredients to overwhelm your taste buds with every bite.
What's more?
The recipe does not take long to make, and it's very portable.
All you have to do is sear the shrimp in butter, then dice some veggies, mix up a dressing, and you're done.
Ingredients
Baby kale and baby spinach mix
Shrimp
Avocado
Cilantro
Olive oil
cucumber
Lime juice
Garlic
Cumin
Salt and pepper to taste
6. Low-carb Cheese Taco Shells
Mexican food is my favorite—especially tacos.
But thanks to its high carb intake, regular keto is a no-no on the keto diet.
That said, here is a recipe that can help you get all the best things about a taco minus the carbs.
Made from baked cheddar cheese then shaped into a taco, these low-carb shells are so easy to make (in a matter of minutes!), gluten-free, and very keto friendly.
Not only that, but these are also delicious, crunchy and taste almost as good as the real thing.
For fillings, go for whatever satisfies your senses. My favorites include grated cheese, ground meat, diced onion, sour salsa, shredded lettuce, chopped peppers, etc.
Ingredients
Shredded Cheese
Ground cumin
7. Egg Salad Stuffed Avocados
Both eggs and avocados are excellent sources of healthy fats, which makes them a staple in ketogenic eating.
Eggs are also loaded with complete protein that keeps you full throughout the day.
For these reasons, this dish is must for any serious keto'an.
The dish would also make a very delicious lunch that's simple to make, and quite satisfying.
Ingredients
Hard-boiled eggs
Celery
Lime juice
Avocado
Hot Sause
Cumin
Salt and pepper
8. Salmon and Avocado Nori Rolls
Sushi is a famous Japanese dish that's available in almost every city around the globe.
But since traditional sushi is prepared with vinegar rice, it's off the Keto menu.
That said, here is an easy method to make sushi without rice that happens to yield a delicious dish.
For this recipe, you'll be using riced cauliflower as a substitute for regular rice.
What's more? The following low carb sushi recipe requires only five ingredients and 20 minutes.
Ingredients
Sliced smoked salmon
Cream cheese
Chopped pickled ginger
Nori sheets
Avocado
9. Fish Sticks
I have always loved fish sticks, but once I adopted a healthier way of eating, I knew that I had to figure out a better way of eating them, and it took me a while to find the following recipe..
Keto fish sticks  could be made as regular breaded fish or as fish nuggets—your choice. These aslo take very little time to make.
Ingredients
Pork rinds
Eggs
Alaskan cod filet
Coconut flour
Grated parmesan
Garlic powder
Cooking spray
Salt and pepper
New to Running? Start Here…
If you're serious about running, getting fit, and staying injury free, then make sure to download my Runners Blueprint Guide!
Inside this guide, you'll learn how to start running and lose weight weight the easy and painless way. This is, in fact, your ultimate manifesto to becoming a faster and a stronger runner. And you want that, don't you?
 Click HERE to check out my Runners Blueprint System today!
Don't miss out! My awesome running plan is just one click away.