So, you're giving the ketogenic diet a try?
Well, congratulations!
I have been on the ketogenic diet for the last four months, and I got to say, what a wonderful eating plan.
My productivity levels have soared through the roof, and honest to God, I've never felt this good in a long time.
Also, I lost a few pounds—although I was already in the best shape of my life.
So, What's the Keto?
In short, keto eating involves mostly fat, some protein, and few carbs.
Eating this way can be hard to adjust to, but as my limited keto experience has shown me, it's worth the effort.
For the full guide on the ketogenic diet, check my post here.
"Breakfasting" on Keto is No Easy Thing
As a runner and very active athlete, one thing I struggled with first time I tried going keto was breakfast—specifically, saying no to whole-wheat bread.
And truth be told, breakfast is my favorite meal of the day.
Well, I don't know about you though, but it's actually for me.
A good breakfast does make all the difference in the world. It keeps energized and going strong for the rest of the day.
But, breakfast was the chink in my keto armor for the first two weeks as I was eating nothing but eggs and eggs.
Don't get me wrong. I love eggs, but try having them every day—same recipe day-in-day-out—not the makings of sustainable long-term healthy eating.
So, I set out to experiment with different breakfast ideas.
And after a few weeks of trials and tribulations, I uncovered some of the tastiest, and most convenient, keto breakfast recipes.
The 8 Best Low-Carb Keto Breakfast Recipes You Can Make In No Time
So, without further ado, here are some of my favorite low-carb breakfast recipes to make in the morning that also happen to be delicious.
Enjoy!
1. Keto Coffee
As a diehard lover of coffee, I cannot start my day without my cup of joe.
Luckily, the following recipe is something you're going to love.
Also known as butter coffee, this is way healthier than the standard breakfast.
It can provide you with plenty of energy, as well as keeping you satisfied for the whole morning.
If you're feeling ravenous in the a.m., consider adding a teaspoon of full-fat coconut oil or coconut milk. This also helps you elevate your ketone levels.
Just whatever you do, make sure to opt for the freshest beans you can—most of coffee flavors dissolve after roasting.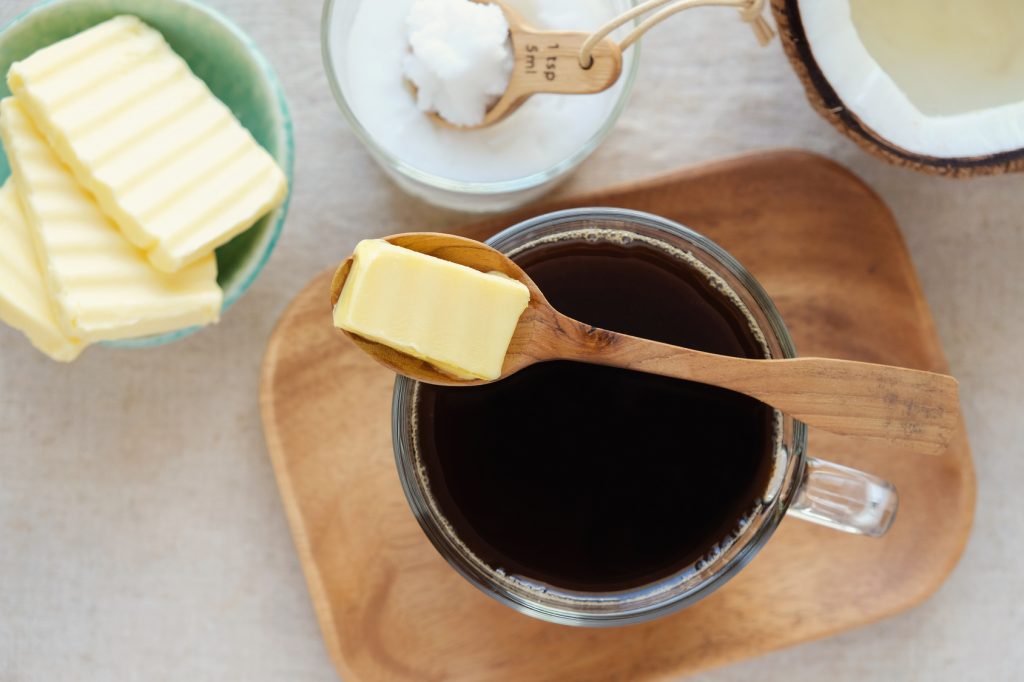 Ingredients
One cup brewed coffee
One tbsp. extra virgin coconut oil
Two egg yolks
Two tbsp. heavy whipping cream
One tablespoon unsalted grass-fed butter or ghee
Pinch of cinnamon
Pinch of vanilla or 3 drops of stevia.
Then follow through as shown in this YouTube tutorial
2. Skillet-Baked Eggs with Chili Oil, Spinach, and Yogurt
Eggs are a staple in keto eating. In fact, they're one of the healthiest foods on the planet.
One large egg contains five gram of fats, six grams of protein, and less than one gram of carbs, making it an ideal item for a ketogenic lifestyle.
Eggs are also ideal for improving satiety and feelings fulness.
The Recipe
The following recipe has turned recently into one of my favorite ways to create a delicious breakfast in no time.
The recipe is minimal while also allowing for room for versatility and creativity.
It's also easy to make.
Ingredients
Large eggs
Greek yogurt
Fresh lemon juice
Garlic
Kosher salt
Olive oil
Unsalted butter
Chopped scallion
Chopped Leek
Fresh Spinach
Chili powder
3. Almond Flour Low Carb Waffles
When you get on the keto diet, you'll discover that almond flour is a crucial ingredient in many recipes.
Almond flour is a rich source of fats, protein, and fiber; it's also very low in carbohydrates than conventional wheat and rice flours.
Not only that, but it also has more nutrients, such as iron, niacin, magnesium, potassium, and calcium, making it the best grain-free alternative to regular flour.
For all of these reasons (and some more), almond flour is a staple item for everyone following a ketogenic diet.
I use it to make all types of keto-friendly foods, such as bread, tarts, pancakes, waffles, muffins, cookies, cakes, and more.
The Recipe
The following waffle recipe is so simple since it requires just a handful of ingredients, making the perfect on-the-go breakfast.
What's more?
These almond flour waffles recipe is also low-carb, paleo, loaded with protein, gluten-free, and so delicious.
Plus, they are so easy to make.
Just mix up the ingredients in a blender, then cook them in a Belgian waffle maker.
If you don't have the latter, then feel free to use frying pan like a pancake.
Ingredients
Eggs Whites
Whole eggs
Almond flour
Coconut flour
Baking soda
Stevia
Coconut butter, to top.
4. Eggs & Vegetables, Fried in Coconut Oil
Before getting on the keto path, I'd have never considered cooking eggs in coconut oil, but I give it a try, and I was quite surprised—pleasantly surprised.
Coconut oil has a plethora of unique properties that make it one of the world's healthiest fats.
More importantly, coconut oil is an excellent source of medium-chain triglycerides (MCTs), which is a form of saturated fatty acid that many health benefits, ranging from better weight management to improved brain function.
The Recipe
This is what I had for breakfast two days ago, and I'm seriously considering making a regular part of my weekly breakfast schedule (yes I have a schedule!).
This keto-friendly breakfast is high fat, high protein, low sodium, and low sugar—which is fantastic if you ask me.
What's more?
It also happens to be delicious and a new exciting way to cook eggs—my favorite source of protein healthy fats on the keto diet.
Ingredients
Whole eggs
Spinach
Coconut oil
Mixed vegetables (carrots, broccoli, cauliflower, green beans, etc.).
Spices or paprika
5. New Take on Eggs & Bacon
What I really love about the keto diet is that I get to eat lots of eggs and fatty meats as much as I'd like to.
In fact, eggs and bacon are a staple for many people on the keto diet, so I figured I'd add this recipe here to help you make eggs and bacon more exciting.
This is especially the case if you're looking to increase your total fat intake while keeping your macros does.
Just make sure not to overcook the eggs—that's the tricky part—and be sure to add more richness to them, when needed. Also, the bacon must be high quality, too.
Look for pastured-heritage pork sources that is nutritious.
Ingredients
Eggs
Bacon
Full fat cream cheese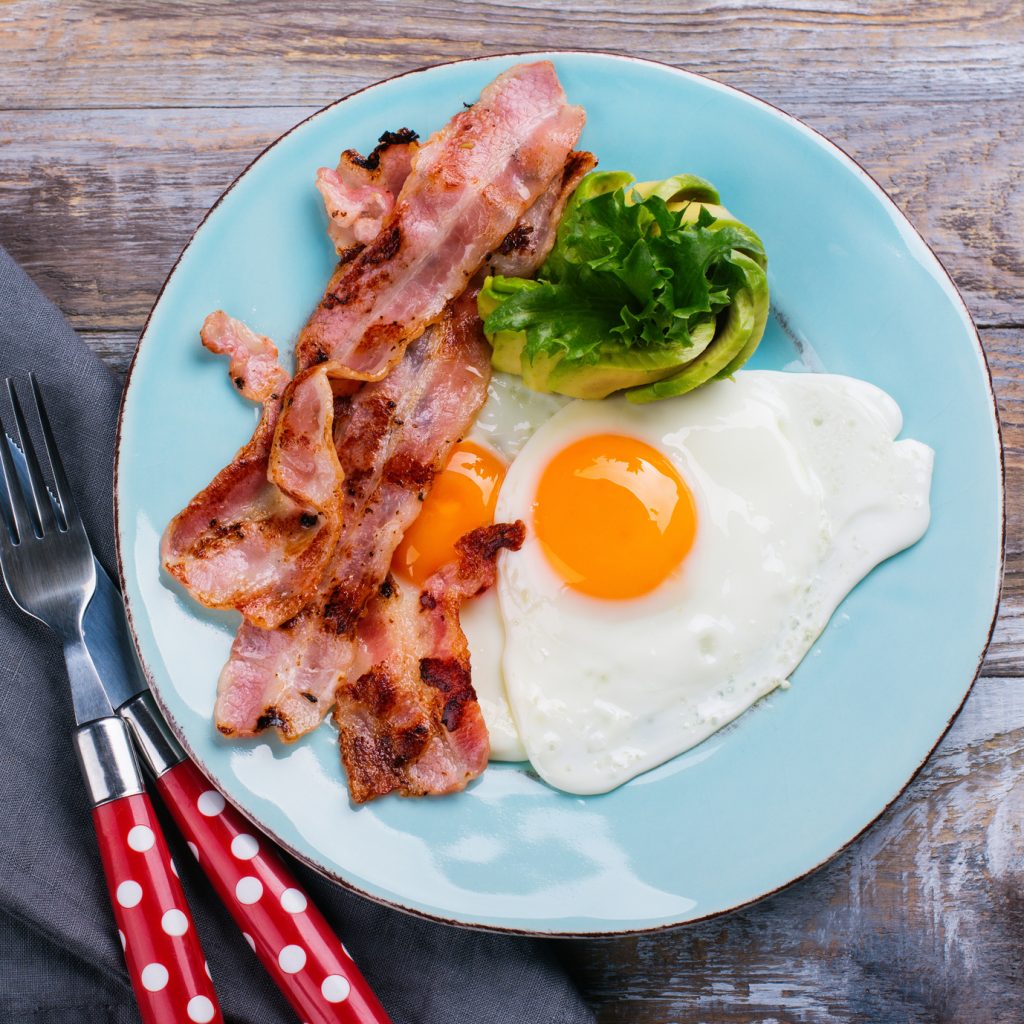 6. Eggs, Bacon, Avocado, and Tomato Salad
Avocados are a nutrition powerhouse.
With over 30 grams of healthy fats and less than two net carbs in a medium-size avocado, this fruit is a must on the list of acceptable foods on a ketogenic diet.
The creamy, alligator fruit is a rich source of prebiotic fiber, potassium, folate, Vitamin E, Vitamin C, zinc, and magnesium—just to name a few.
Personally, avocados are a staple in my eating menu every day. I typically have an avocado—or two—every day—either as a simple snack with a nip of salt or a part of the complete meal, just like the following recipe.
The Recipe
The recipe is so tasty, and so easy to make, taking no more than a few minutes to prepare and serve.
Ingredients
Eggs
Bacon
Avocadoes
Tomatoes
7. Flourless Egg & Cottage Cheese Muffins
Cheese is both satisfying and nutritious on so many levels.
Most types of cheese are high in fat but low in carbs, making them the perfect food for providing your body with plenty of energy on the ketogenic diet.
For instance, 100 grams of cheddar cheese (my favorite) contains 33 grams of fat, 24 grams of protein, and less than 2 grams of net carbs!
The Recipe
These muffins can also be baked ahead of time –making them ideal for people leading hectic schedules.
Plus, these are way healthier of an alternative to the high-carb junk breakfast sandwiches most people consume daily.
Ingredients
Eggs
Cottage cheese
Onion
Parmesan cheese
Almond flour
Yeast flakes
Hemp seeds
Salt
8. Nothing—Zero—Nada
The recipe is the easiest of them all as it requires no ingredients, no prep time, nothing at all.
It also costs you nothing.
What's the secret? Skip breakfast altogether.
Skipping breakfast is an intermittent fasting method —the act of deliberately omitting meals—is that can help you regulate blood sugar levels, and jumpstart your fat loss efforts. Highly recommended.
In fact, practicing intermittent fasting is encouraged on the keto diet since it can help you increase the production of ketones in the body.
I did this for the last week, and I felt just fine—of course, I already have tried intermittent fasting protocols in the past many, many times.
Plus, I started intermittent fasting only after I was sure that I have become fully keto-adapted.
By that point in time, eating low carb has helped curb my appetite and felt confident enough to be able to go on long stretches of time without any food intake, which is something apparently you can once you're deep in keto territory.
Just keep your calorie intake under control within the feeding window—do not try to overcompensate and make sure to stick only keto-friendly foods.
So, toss aside the conventional advice that "breakfast is the most important meal of the day" and that "skipping breakfast slows down metabolism," and give intermittent fasting a try—at least for a couple of times per week.
New to Running? Start Here…
If you're serious about running, getting fit, and staying injury free, then make sure to download my Runners Blueprint Guide!
Inside this guide, you'll learn how to start running and lose weight weight the easy and painless way. This is, in fact, your ultimate manifesto to becoming a faster and a stronger runner. And you want that, don't you?
 Click HERE to check out my Runners Blueprint System today!
Don't miss out! My awesome running plan is just one click away.