Running is one of the most convenient and low- maintenance exercises out there. That said, once you take up this sport, you need to pay attention to running wardrobe.
In fact, the right running clothing can make the difference between an enjoyable run and an hour of complete misery.
Proper running clothing can increase your motivation, improve your training performance, show your fashion sense, and give you a little confidence boost—all of which can increases your chances of success.
The Essentials
Let's talk about the must-have items.
First, you need a pair of proper running shoes—something that feels comfortable to run in. Good shoes will provide your feet with ample support, which can reduce the risks of injuries and help you run longer.
For the full guide on how to find the right sneakers, check my full post here.
Secondly, you'll need the right clothing for the job (the purpose of this post), and that includes shirts, shorts, tights, and, for women, a good high-impact sports bra.
That's it. If you want to be Spartan about it. Everything else is gravy.
As a result, today, dear reader, I'm sharing with you the six key pieces of running clothing items you need to make your runs safer and more comfortable. I'm also including a few running clothing tips and guidelines to help dress and run comfortably, regardless of outdoor conditions.
So, are you excited? Then here we go
Say No to Cotton
Let me start with the most important workout clothing tip—never, under any circumstance, wear cotton while running.
Cotton is comfortable when it's dry, but once it gets wet, it stays wet, turning heavy and scratchy. This can chafe the skin, leading to painful blisters.
What's more, cotton does not also allow for your body to properly regulate its temperature. You'll overheat in the summer and freeze in the winter. And you don't want that.
The Importance of High Tech Materials
Here is the cardinal rule: your workout clothes, including your socks, SHOULD be made of high-performance, stretchy, technical fabrics.
These fabrics wick moisture away from your body in the same way a candle absorbs liquid, then the moisture is transferred to the outer surface of the clothing, where it evaporates much more quickly.
High-tech fabrics can help you regulate your body heat—even in weather extremes. This works by retaining heat during winter training and dissipating it during hot summer days.
For more icing on the cake, high-performance clothing dries faster, a good thing regardless of the temperature.
The best fabrics are usually made from high-performance synthetic materials such as polyester, Coolmax nylon or Lycra.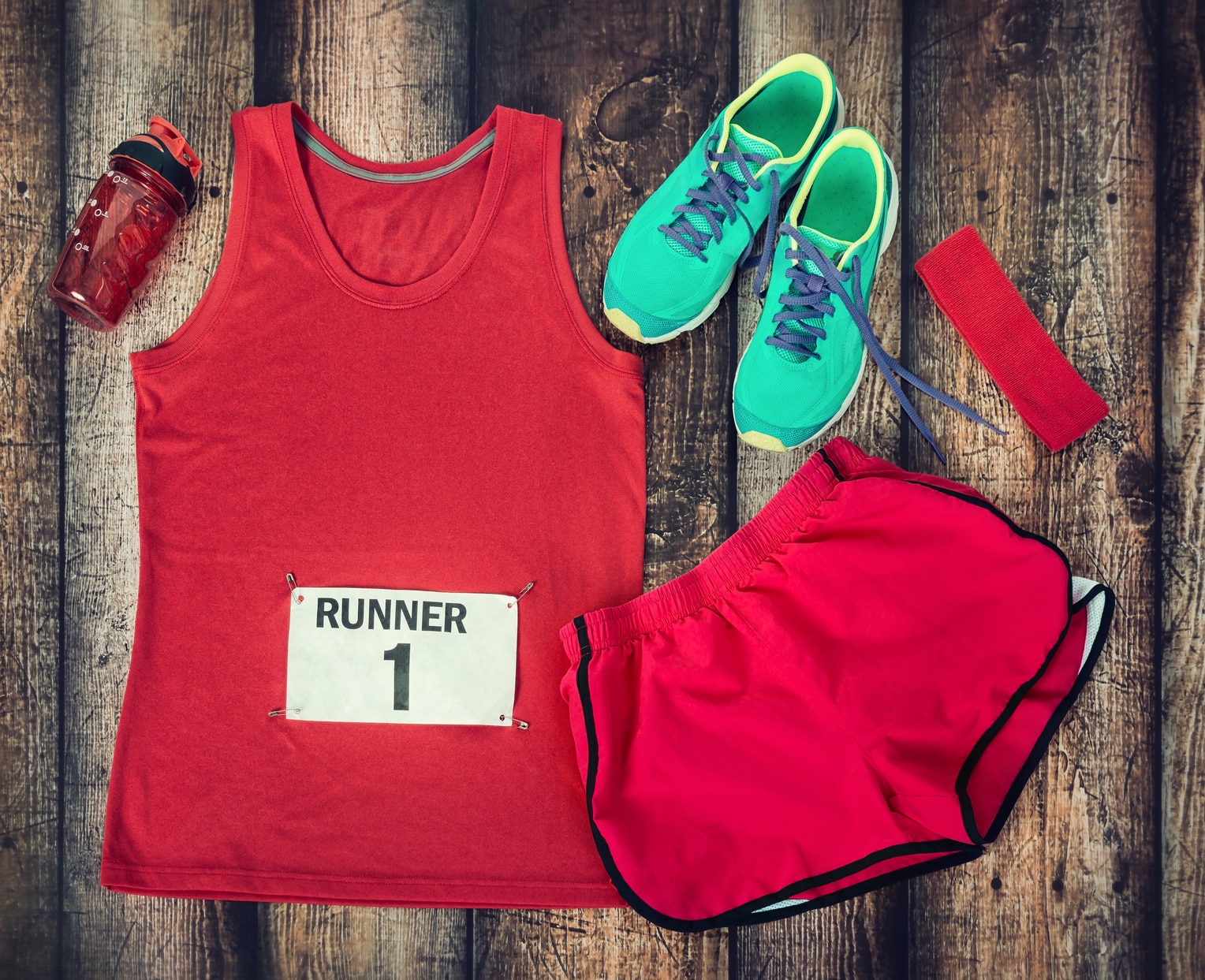 1. Shirt
Your shirt choice depends on the weather.
That's why you will need shirts for different seasons and in a variety of weights and fabrics. These include light shirts, sleeved shirts, thick turtleneck, etc.
Make sure that your running shirt fits nicely and loosely, so it won't bother you while exercising.
To regulate your body temperature and provide with a little of rapid cooling, consider getting a shirt with a mesh panel covering high heat areas such as the back, underarms, and sides.
A good running T-shirt is typically made from nylon, or brand names like Dri-Fit, Climalite or Coolmax.
Expect to pay $20 to $50
Leg Attire
When you're running, you'll require leg attire that can move as you move, protecting you against the elements, and offering a lightweight construction that does not hinder your running gait.
The two options I recommend are running shorts and running tights. These can be used for both road and trail running.
2. The Shorts
Running shorts are an integral part of your workout wardrobe.
As a rule of thumb, your running shorts should provide you with enough support, comfort, and practicality.
Make sure your shorts have a non-restrictive feel. They should provide you with a maximum range of motion for you to run at your best and unleash your full potential.
Also, consider getting shorts with an inner brief to provide with excellent internal support that acts as underwear, and a zip pocket or additional pockets for carrying your phone, keys, and/or gels during long training sessions and races.
Expect to pay $20 to $50
3. The Tights
Running tights come in a variety of different lengths, from knickers to 2/4-length to full-length. So, choose whatever works the best for you.
Proper tights can help cut the risks of chafing in the inner thighs and are ideal to wear on colder days.
Tights work well for the overweight beginner as they often protect against chafing and painful irritation in the inner thighs. Longer shorts are also an option here.
Proper tights are typically made from synthetic stretchy fabrics, such as Supplex or Polyester to provide with a flexible and stretchy fit.
Expect to pay $20 to $70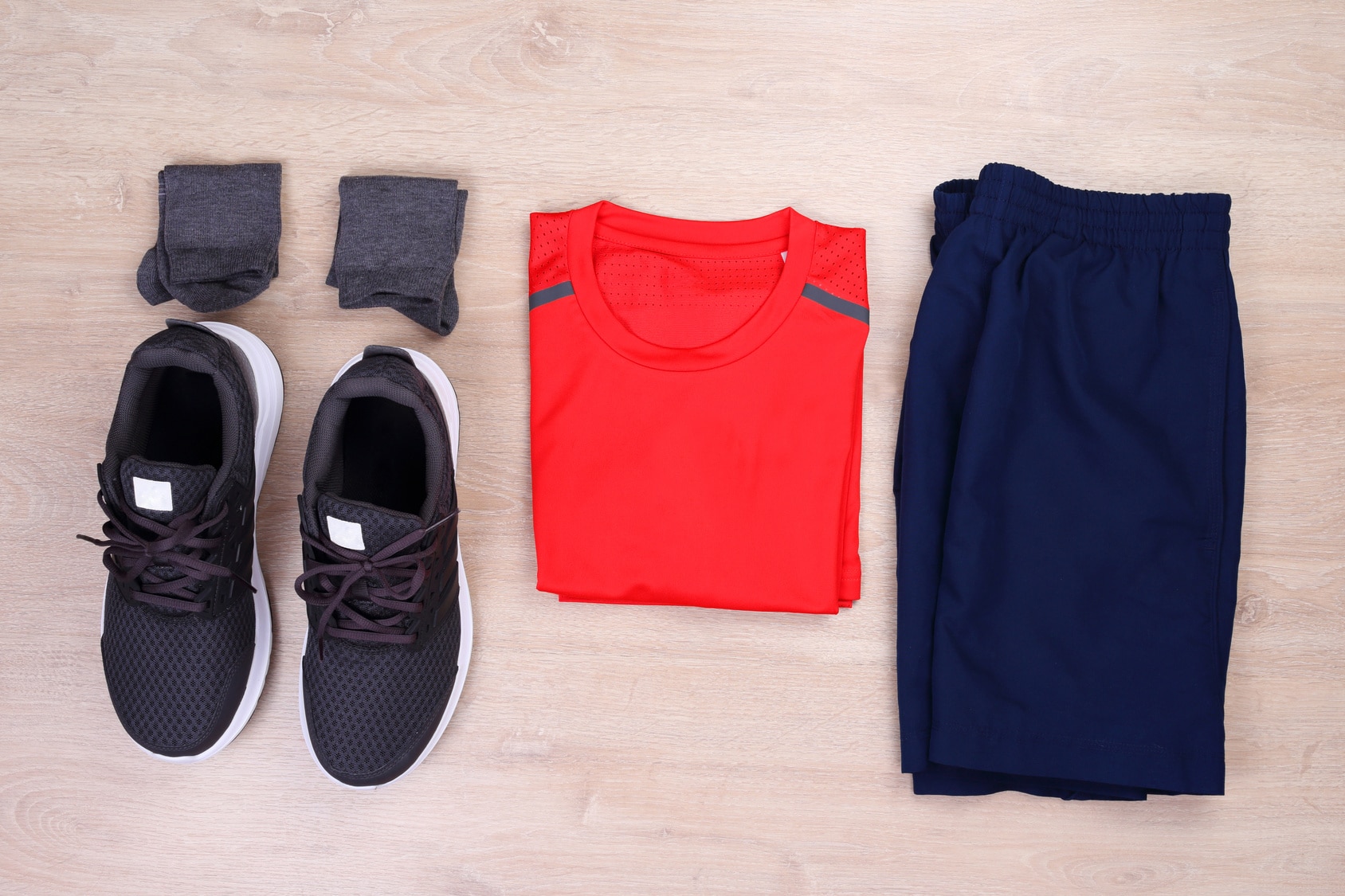 4. Running Socks
The fit of your running socks can make a huge difference in your running comfort and experience. Thus, do not run in socks that suck.
First, your running socks should be constructed with high-performance technical materials. These will keep your feet dry and cool, which can reduce the risks of blisters.
In fact, some high-performance socks include a mesh venting system for more breathability and comfort.
Secondly, make sure your socks are a good fit, especially under the arch of the foot and around the heel.
Avoid socks that slide off your feet or bunch up inside of your shoes. These will irritate you while running, leading to horrid blisters.
If you are blister prone, opt for thicker socks, or double up. For more protection, look for socks that provide extra padding in the heel and the rear of the foot.
Expect to pay: $10 to $30
5. Your Underwear
Last but not least, you'll also want to wear underwear with leg attire. A proper pair of running underwear should provide you with a good layer of support and insulation, particularly during winter.
Go for whatever works the best for you. As long it's comfortable, you're good to go.
Expect to pay: $5 to $20
For Female Runners : Sports Bras
Listen up, ladies, a proper, high-impact, sports bra is non-negotiable for running—especially if you are serious about the sport.
An improper sports bra won't provide you with enough support to reduce breast movement while running.
This bouncing action is not only uncomfortable but can also stretch the ligament around the breast, which is an irreversible damage in most cases. And any permanent stretching of these supporting ligaments can cause the breast to droop.
Here is the good news. A proper sports bra can drastically reduce that unwanted movement—by up to 50 to 60 percent according to experts.
So, whatever you end up getting, make sure it's comfortable and has been designed for high impact activities.
Expect to pay $20 to $50.
Find the Right Mixes
Many factors determine what mixes of clothing items needed to stay comfortable while running. These include the time of day you train, your training intensity, workout lengths, climate conditions, outdoor temperatures, and your personal preferences.
As a rule of thumb, your running wardrobe should be versatile and adaptable, carrying you from the coldest months for the hottest months—especially if you run most of the time outdoors.
Here are a few tips to help you dress right whenever you're heading out for a run.
Hot Weather Running
During extreme weather, you'll want workout gear that pulls moisture away from your skin, while shielding you from the sun. This will keep you both well-hydrated and comfortable.
Dress in Layers—Winter Running
During the cold season, you need to dress warmly, but bear in mind that running will increase your heart rate and body temperature. So, don't overdress.
The simple solution is to dress in layers of light, breathable clothing items. So, for instance, if halfway through the session you feel too warm, you can remove the extra layers.
The Main Layers
Start with a base layer of the close-fitting and moisture-wicking dry layer, such as a tank top, or a technical T-shirt.
Next, put on a looser fitting, warmer layer, such as a long sleeve shirt, or a fleece pullover on top.
Last up, the last layer (or the outer shell) should be a wind- and water-proof layer, such as a nylon shell or a windbreaker.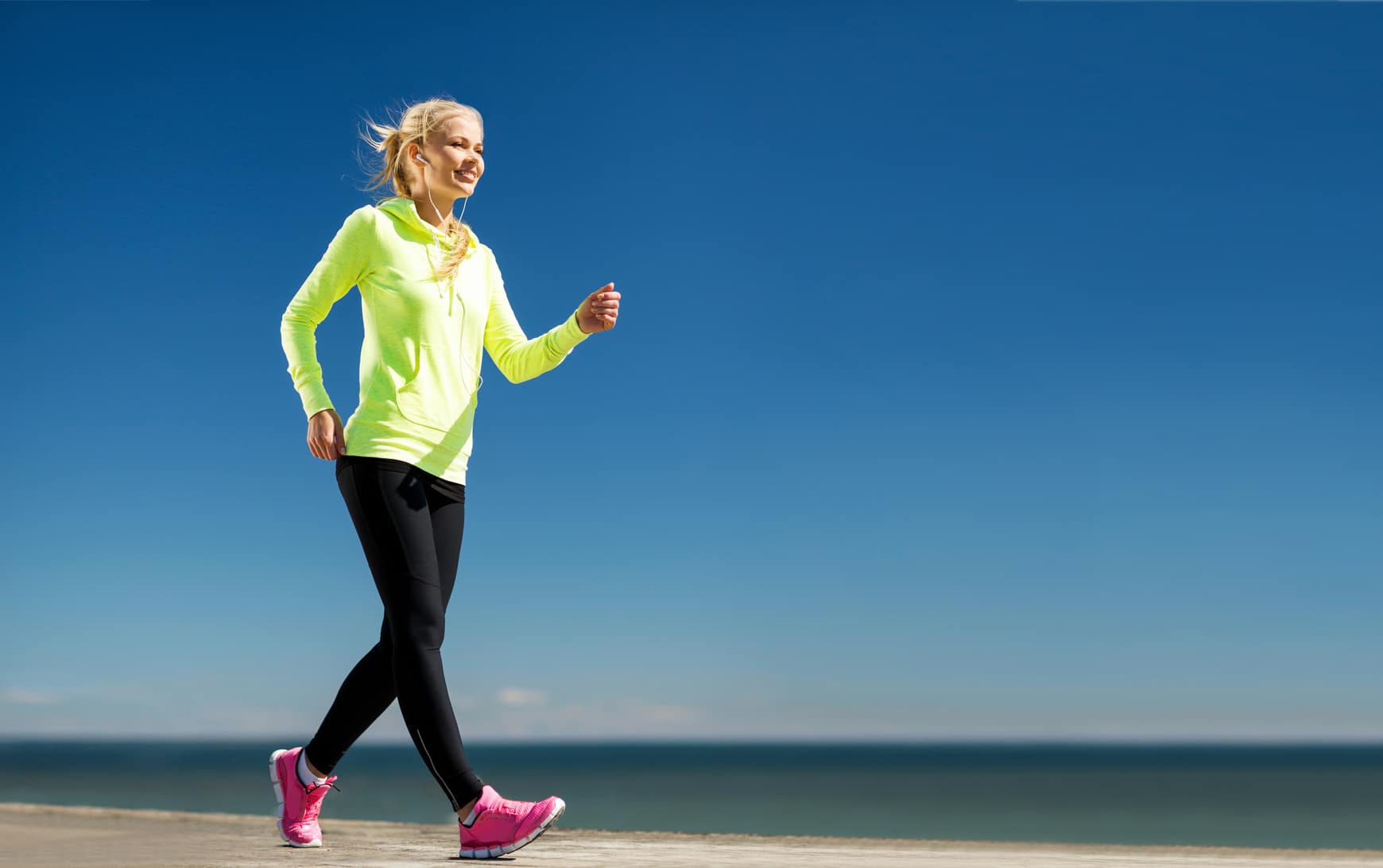 More Gear
You'll also need headwear for different weather conditions—mainly a face mask, or balaclava for cold and win, a stocking for cold, and a cap with a visor to protect you from the sun, blinding headlights and rain.
For rainy days, opt for waterproof pants, wind-resistant jackets and sweatpants to keep you running dry and comfortable.
New to Running? Start Here…
If you're serious about running, getting fit, and staying injury free, then make sure to download my Runners Blueprint Guide!
Inside this guide, you'll learn how to start running and lose weight weight the easy and painless way. This is, in fact, your ultimate manifesto to becoming a faster and a stronger runner. And you want that, don't you?
 Click HERE to check out my Runners Blueprint System today!
Don't miss out! My awesome running plan is just one click away.
Conclusion
If you are a complete beginner (or on a tight budget), then feel free to get started with any type of workout clothing you have in your closet.
In a nutshell, start out with a single pair of running shoes and two simple running items—shirt and short.
Once you're certain that running is for you, then invest some of your hard-earned money in some technical running gear and gadget.
Just whatever you do, go for clothes you would feel comfortable running in. No need to reinvent the wheel. It's simple—once you know what you are looking for.