Here is your ultimate guide to Achilles tendonitis. Inside this blog post, you are going to learn all you need to know about its signs, symptoms and the right ways for treating Achilles tendinitis and preventing it forever.
But before I delve into the ins and outs of the condition, let's first gloss over a quick anatomy lesson and learn more about the importance of the Achilles tendon—where the trouble takes place.
Basic Anatomy & Functions
The Achilles is the largest tendon in the body. Located just behind and above the heel, this vital band of tissues connects the two major calf muscles—the gastrocnemius and soleus—to the back of the heel bone(calcaneum), and it's used whenever you perform any act of walking, running, and jumping.
The Achilles' tendon is able to endure some significant force. In fact, this tendon can hold the pressure of more than a 1,000 lbs, according to the American Orthopedic Foot and Ankle Society—but it does not mean that it's bulletproof to injury.
In fact, Achilles tendon troubles are very common among runners and those who perform other high impact exercises.
Trouble with The Achilles Tendon
Achilles' tendon is mainly caused by repeated small injuries— or what's known as microtrauma— leading to inflammation in this large tendon.
This inflammation takes place because it's body's natural response to disease or injury, usually lead to irritation, swelling and pain
This can happen for many reasons, but the most common root cause of this condition is the overuse of the tendon.
This painful condition causes soreness, swelling, weakness, and stiffness of the Achilles tendon.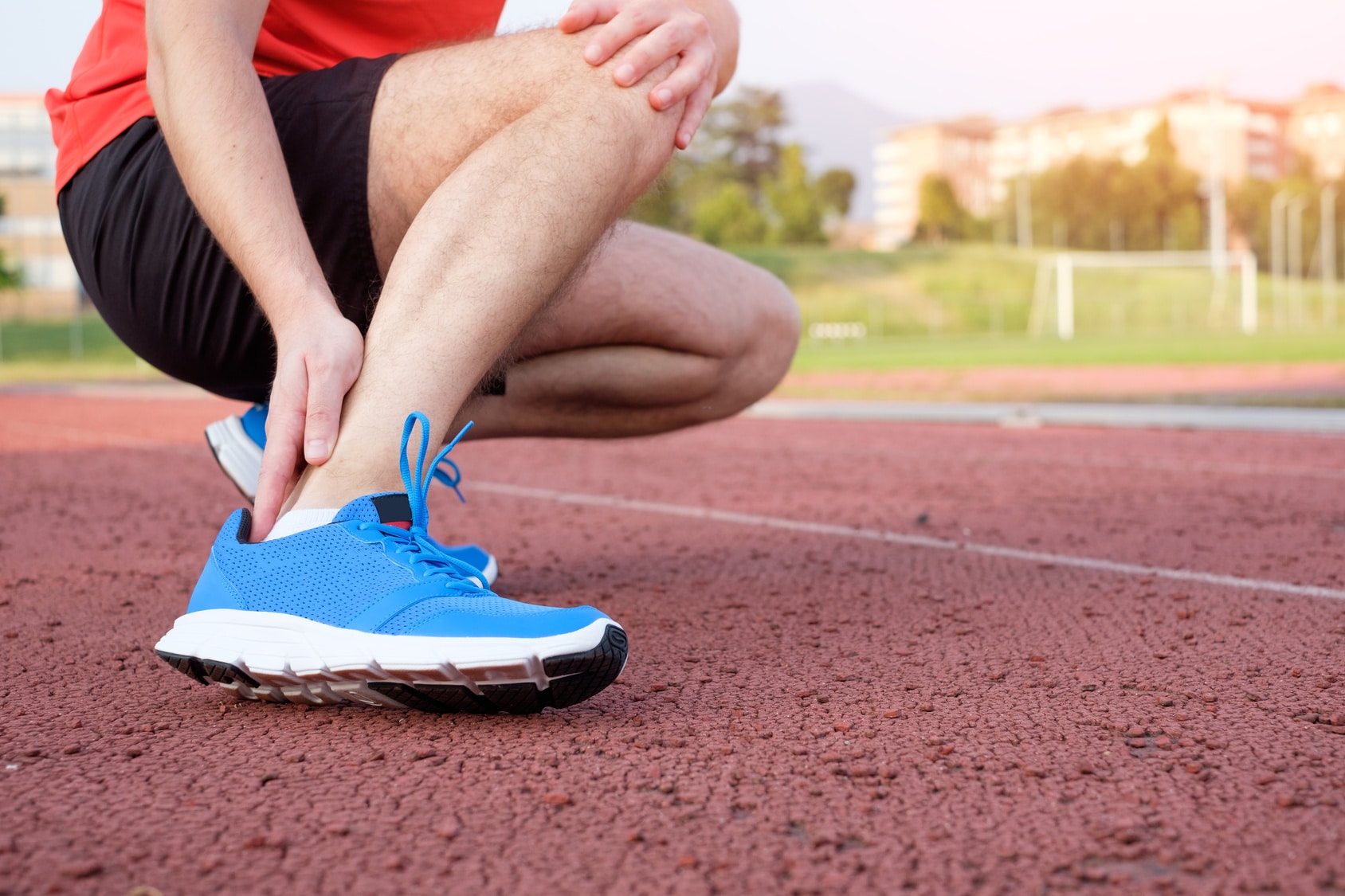 The Causes Of Achilles Tendinitis:
Here are the main factors that contribute that can lead to the onset of Achilles Tendinitis:
Putting too much stress on the Achilles' tendon too quickly. As a runner, this usually happens when you overtrain or do too much too soon—the classic beginner's mistake.
Excessive hill running can also put too much stress on the tendon.
Starting too fast after a break from training.
Lack of a stretching routine.
Tight muscles in the calf, which forces the muscles to shorten, creating more tension in the tendon.
Wearing improper running shoes
Running on hard or sloped surfaces.
The Early Signs of Achilles Tendinitis
In most cases, the pain linked with Achilles Tendinitis starts off as a mild ache above the heel or in the back of the leg either during or immediately following a workout.
Here are the main symptoms of Achilles tendinitis:
Heel pain that is worse when running.
Heel pain after running.
Swelling in the back of the heel or in the Achilles tendon itself.
Pain and stiffness in your Achilles, especially in the morning.
A crackling sound when you move your Achilles' tendon.
How to Treat Achilles Tendonitis
Speaking to you as a runner, this condition is a nightmare. It stops you from running, and it's a real torture.
The Road to Recovery
If you caught this condition early on, Achilles tendonitis might heal on its own with some simple treatment measures at home.
Even so, if you ignore the early signs and kept on going, full recovery might take much longer. In fact, it may take at least three months or more, for the pain to fully go away, according to The American Academy of Orthopedic Surgeons.
That's why the sooner you start treatment, the better off you'll be…
If you keep ignoring Achilles tendinitis, then you are running the risks of tearing or even rupturing the whole tendon, and therefore it is important that you seek the necessary treatment as soon as you take notice of the symptoms.
Here are two simple steps to treating Achilles tendinitis when you first notice its early signs.
Step 1: Rest
Taking a step back from running—or any other high impact activity you are doing—should be your first step toward complete Achilles tendinitis recovery.
Nevertheless, this condition is not an excuse to get out of shape: relative rest is the way to go.
Here is what to do…
During your relative rest period, opt for other sports—mainly non-impact sports, such as swimming, upper body weight lifting, yoga, and cycling.
The rest period can last from one full week to up to three weeks or more—depending on how severe your condition is.
Once the pain starts to subside, then gradually get back to the running track. But be careful and listen to your body both during and after your workouts.
Step 2: Ice
Ice therapy lessens the pain and the swelling. Therefore, apply ice to the Achilles' tendon for no more than 15 minutes several times per day. Less than 10 minutes has little effect, and over-icing (more than 30 minutes) may damage the skin.
In case you've intense pain, you could always take Nonsteroidal anti-inflammatory such as ibuprofen to help with the pain and the swelling.
However, be careful of these anti-inflammatory drugs since they only cover the problem, which will likely lead to the condition getting worse.
Preventing Achilles Tendinitis
When it comes to running injuries—or any other type of athletic injury—taking concrete prevention measures is far more important than knowing how to treat a condition.
Here a few simples ways to help you avoid this painful condition
Three Achilles Tendon Exercises
Working on stretching and strengthening your Achilles can help you prevent (re-)injury.
Treat these exercises the same way you do with your long runs, gym sessions. They are powerful and can help you ward off much of the trouble.
Do the strength exercises (3 sets of 15 reps, ) at least four times per week. Opt for the two stretch moves as part of your post-run routine. You should always stretch after a run, and if you don't know how, read my post on 'The 7 Stretches Every Runner Should Do.
1. Calf Raises
Stand tall on both fee
While using a wall or a chair for support, slowly raise up on to your tiptoes
Hold for a moment
Then slowly drive your heels to the ground.
During this exercise, focus on the eccentric rather the concentric part of the exercise (e.g. the calf lowering rather than the calf raising). Start off by using your bodyweight doing four sets of 12 or 15 reps each day. For more challenge, use the calf raise machine in the gym.
2. The Seated Calf Stretch
Sit up straight on the floor or an exercise mat.
Bend your left knee, and straighten the the right knee while flexing.
Wrap a towel or a long piece of elastic around the ball of your right foot, then pull your toes towards you, keeping the knee straight.
Hold it for 30 seconds, then switch sides. Make sure that your back is straight throughout the stretch.
 3. The Calf Runners Stretch
Put both hand on the wall, feet a little apart, with one foot in front of the other.
 Bend your front knee but keep your back knee straight, then lean in towards the wall and press through your back heel until you start feeling a stretch in your back calf.
 Hold for 30-seconds and switch sides.
Wear Proper Shoes
As I have mentioned earlier, running in improper running shoes can cause Achilles tendinitis. That's why you would need to solidify your defense line, back your prevention strategy by opting for the right running shoes.
An improper running shoe causes a myriad of injury—not just the painful Achilles tendinitis. So by investing in a proper shoe, you'll save yourself a lot of pain and frustration. So do yourself a solid and get proper running shoes.
Stick to the 10 Percent Rule
 A major root-cause of the condition is doing too much too soon. Again the classic beginner mistake. Therefore, make sure to stick with the 10 percent rule when it comes to increasing your running mileage. In other words, do not increase your running mileage (or time) by no more than 10 percent from one week to the next.
And if you are complete new comer to running, then forget about the 10 percent rule and only focus on building enough cardiovascular power to run continuously for 30 minutes without much huffing puffing. Your goal should be to get fit without getting hurt.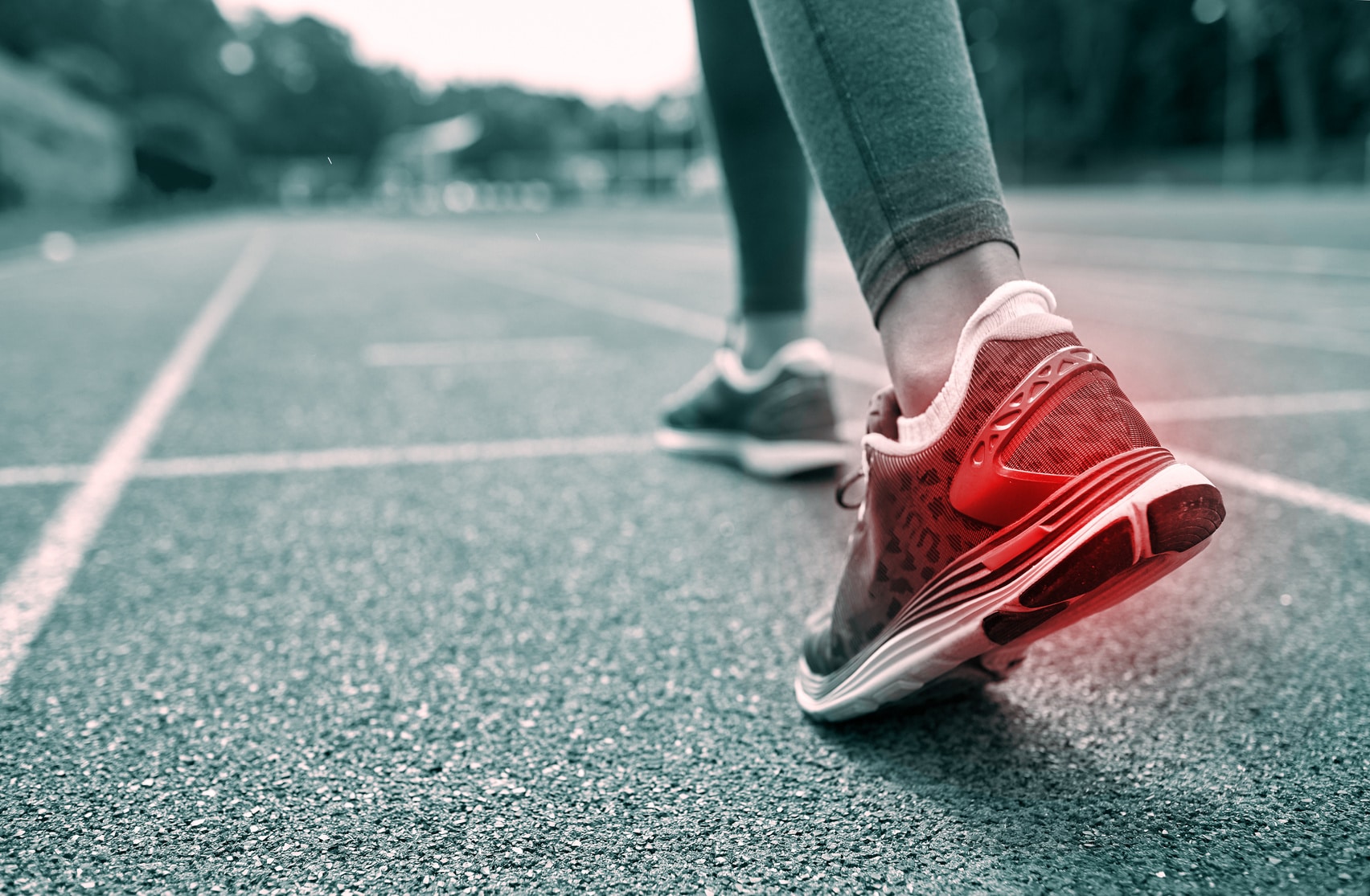 Proper Warm-up & Cool Down
Also, jumping into your running session with too much gusto can severely hurt your Achilles tendon. That's why you ought to start off your runs with a proper warm-up. An ideal warm-up consist of 5-minute of brisk walking, some light stretching , then you could steadily break into your normal running pace.
Last up, don't stop running on the spot. Instead, gradually bring your running pace down—the cool-down—until you are walking with ease and your heart rate is back down to normal. Stretch your muscles—especially your calves, and ice if you have any pain.
The Runners' Blueprint For Treating and Staying Free From Achilles Tendinitis Forever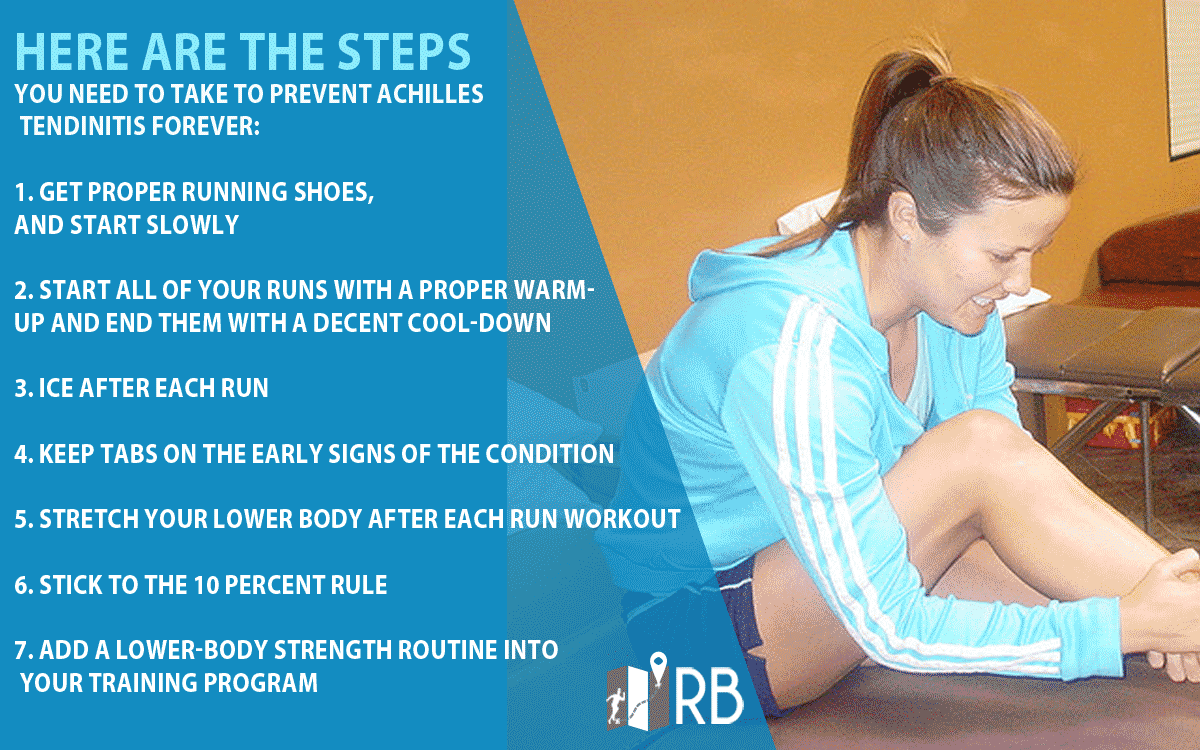 New to Running? Start Here…
If you're serious about running, getting fit, and staying injury free, then make sure to download my Runners Blueprint Guide!
Inside this guide, you'll learn how to start running and lose weight weight the easy and painless way. This is, in fact, your ultimate manifesto to becoming a faster and a stronger runner. And you want that, don't you?
 Click HERE to check out my Runners Blueprint System today!
Don't miss out! My awesome running plan is just one click away.
 Photo Credit: Logan Osland Via Flickr
Enregistrer
Enregistrer