What I love the most about running is that you don't need to invest in lots of equipment to get started.  It's such a low-maintenance sport. All you need is a few essentials, and off you go.
But what are these essentials? How can you tell what you need from what you don't? That's where today's post comes in handy.
In essence, a basic running kit includes proper running shoes, T-shirt, shorts, socks, and a sports bra for female runners. If you already have these in your wardrobe, then you got 90 percent of the must-have gear.
In today's post, you'll learn how to choose the basic running items you need to keep training safely and comfortably.
Are you excited?
Here we go.
Get The Right Running Shoes
The feet are complex pieces of machinery. Each foot is made up of 26 bones, 32 joints, hundreds of nerve endings, and four layers of muscle that fit between the sole and the top of the foot. Feet also come in all shapes and sizes.
What's more? When you run, or perform any high impact activity, your feet, as well as the rest of your body, can take quite of a beating.
Therefore, to protect them from this continuous stress, you need the right shoes for the job. More specifically, you'll need real running shoes, designed for running—and preferably used only when running.
Getting proper trainers helps keep you running year after year on uncomplaining knees. Run in the wrong shoes, and you'll be setting yourself up for debilitated joints, muscle soreness, and even injury. You want none of that.
That's why I strongly urge you to invest your time and money looking for the right sole-mate. Don't try to save a few bucks on proper shoes when a visit to the podiatrist or a doctor will cost a lot more.
What To Look For?
Getting the proper trainers is easier said than done. With the host of price points, shoe types, a confusing range of brands and styles, finding the so-called right sole-mate can be unnerving.
Here's my best advice. Head to a local specialty running store instead of a wholesale sporting goods store or online. The pro staff will examine your foot type and assess your running gait on a treadmill. After that, they should be able to help fit you with the best running shoe for your needs.
Not All Feat Are Created Equal
Your right foot and left foot are of slightly different sizes and shapes, with one foot—usually the dominant side—being larger than the other. Moreover, foot size changes over time and one model can be drastically different from another.
For these reasons, make sure to measure the length and width of both your feet whenever you're getting a new pair.
Buy Quality
Sure, the most expensive pair in the store is not inherently the best, but, at least, don't skimp. You can always go for a low-priced pair, but often than not, these are made with rock-bottom, non-durable materials, which provide little to no protection. However, a mid-range shoe—80 to $120—usually has excellent cushioning and stability properties.
If you still want to save off a few bucks then go for last year's version of a mid or top-range shoe. The differences won't be that significant, but you'll, at least, get a top-shelf pair for a fraction of the price.
Expect to pay: $60 to $140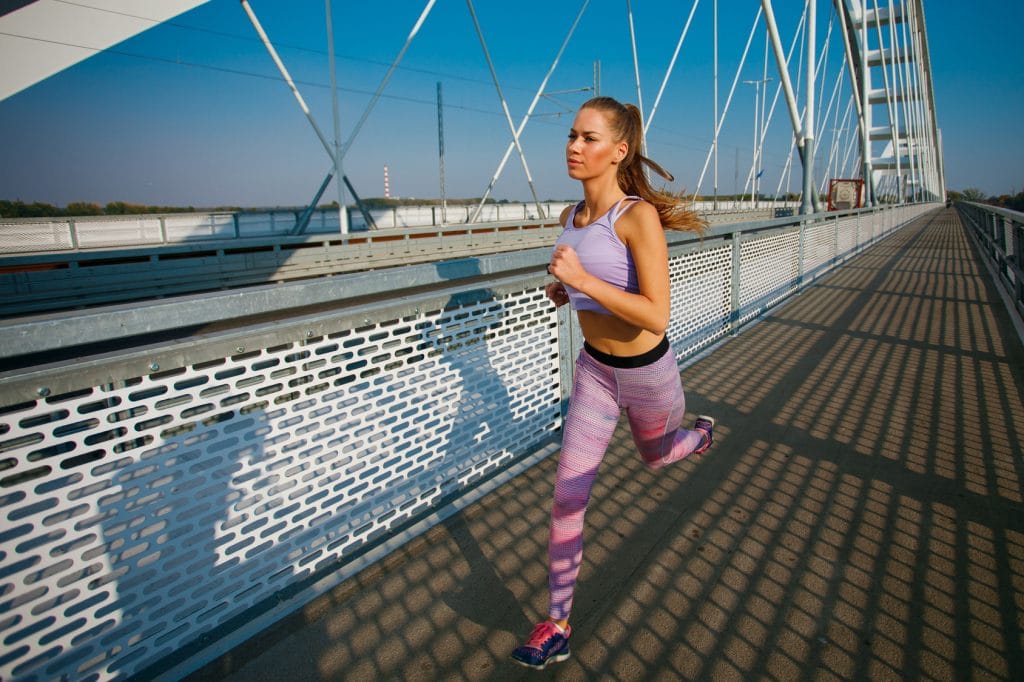 Clothing
Although they're the most critical, shoes are not the only thing that makes your running comfortable and more enjoyable. Clothing also matters.
Having the right running outfit can make the difference between an enjoyable run and complete misery. It may increase your motivation, improve your training performance, show your fashion sense, and give you a little confidence boost.
Chill out. You don't need to get a whole new wardrobe of running clothing when you're just a beginner runner—unless you can afford it, of course. All you need, as previously stated, is the few essentials.
Get the Right Fabrics
Let me start with the golden rule of workout attire—never, under any circumstance, wear cotton while running.This material doesn't properly regulate body temperature. You'll feel super cold in the winter and overeat in the hot season.
What's more? Once cotton gets wet, it stays wet, turning into a scratchy material that can lead to blisters and discomfort.
Instead, you'll need gear made of high performance, technical, material. These fabrics pull sweat away from your body in the same way a candle absorbs liquid; then transfer it to the outer surface, where it evaporates. It also dries faster than cotton.
High-performance clothing can help you regulate your body temperature—even in adverse weather conditions. This is accomplished by retaining heat during the cold season and dispelling it during the summer.
Best options for synthetic fabrics, include DryFit, Thermax, Thinsulate, polypropylene, or silk options.
The Clothing Items You Need
Here's what to look for when buying running clothing.
Shirt
Shirt choice depends on the weather. Accordingly, you'd need shirts for different seasons and in a wide range of weights and fabrics. I recommend light shirts, sleeved shirts, and thick turtlenecks.
To regulate body temperature, get a shirt with a mesh panel covering high heat areas such as the back, underarms, and sides.
Whatever you end up sporting, make sure it fits nicely and loosely, so it doesn't bother you while running.
Expect to pay: $20 to $50
Leg Wear
You'll need leg attire that moves as you move while protecting you from the elements. Running shorts and running tights are the best options. These can be used both during road and off-road training.
The Shorts
Shorts are a vital item in your wardrobe. These should provide enough support, comfort, and practicality, as well as a non-restrictive feel.
I recommend short made of supple nylon. These tend to be soft, light, allow airflow, and prevent rubbing or sore spots.
Expect to pay: $20 to $50
The Tights
Running tights come in a different of lengths and sizes, depending on your personal preferences.
What I'd recommend are ones made from synthetic stretchy fabrics, such as Supplex or Polyester, providing a flexible and stretchy fit. Tights are also super useful for overweight runners as they often help prevent inner thigh chafing and irritation.
Expect to pay: $20 to $70
Sports Bras
A sports bra matters as much as running shoes for female runners. Running's bouncing motion is not only uncomfortable but can also stretch the ligament around the breast. Any stretching of these supporting ligaments forces the breasts to droop. And you don't want that.
However, once you're equipped with a proper sports bra, you can drastically reduce that unwanted movement by up to 50 to 60 percent according to experts.
That's why you need to get a good, supportive athletic bra designed for high impact sports, such as running.
I'm no expert on this subject. Check the following links on how to choose the right sports bra.
Link 1
Link 2
Link 3
Expect to pay: $20 to $50.
Running Socks
Good running socks should be made of high-performance materials, typically synthetic blends made from acrylic, polyester, Coolmax, or Teflon, which can help prevent blisters.  Secondly, the socks ought to fit well, especially around the ball of the foot and the heel.
Also, never wear 100 percent cotton socks. These, as previously stated, won't wick moisture away when your feet sweat or you step in a puddle, which can set you up for blisters and other trouble.
For the cold season, wear wool blends, such as Smart Wool, to keep your foot warm and comfortable.
Expect to pay: $10 to $30
Adding it All Up
So, how much money should you shell out on your running wardrobe?
Well, as I have already stated, there is no right or wrong answer. Really. The amount of gear you end up with is a matter of personal preference. It's mostly contingent on how fully committed, how stylishly you want to be outfitted, your technology threshold, and your budget.
The fact is that you might already have all you need in your current workout wardrobe. But, irrespective of these factors, let functionality, fit, and comfort be the main things to focus on. The rest is just gravy—distractions you don't need.
New to Running? Start Here…
If you're serious about running, getting fit, and staying injury free, then make sure to download my Runners Blueprint Guide!
Inside this guide, you'll learn how to start running and lose weight weight the easy and painless way. This is, in fact, your ultimate manifesto to becoming a faster and a stronger runner. And you want that, don't you?
 Click HERE to check out my Runners Blueprint System today!
Don't miss out! My awesome running plan is just one click away.
Conclusion
There you have it. The above consists of the must-have running gear you need to equip yourself with to ensure a comfortable and enjoyable running experience. Now it's up to you.
Please feel free to leave your comments and ideas in the section below.
In the meantime, thank you for dropping by.
Keep Running Strong.
David D.