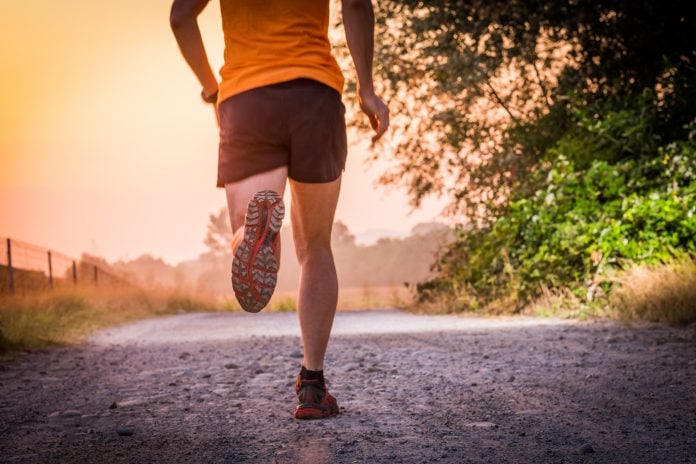 So you want to run a 1.30 half marathon? Then you've come to the right place.
Running a half marathon in under 90 minutes is a huge feat. If this is your goal, you're likely not a beginner nor an average runner. It means you have some experience and would love to push your body.
Here's the truth.
Though a half marathon is a challenging road race, it's realistic to run within 90 minutes or less.
Of course, it will take work, like a lot of work.
But it's still within reach, and you can do it if you follow a smart, specific half-marathon training plan. With the right training and mindset, your 1.30 half-marathon time goal can become a reality.
But how do you get that?
That's where today's post comes in handy.
In this article, I'll spill the beans on what it takes to run a sub-90 minutes half marathon.
More specifically, I'll look at the following:
The required pace for the 90-minute HM
The prerequisite you need to have
How to start training for the 1.30 half marathon
The EXACT workout paces you need for a 90-min half marathon
The training plan to follow
And so much more
Sounds great?
Let's get started
The Required Pace For A 1.30 Half Marathon
To run a 90-minute half marathon, you'll need to run at 06:50 minutes per mile or 4:15 per kilometer or faster. To achieve such speed, you should, at the very least,  be able to run a sub-18 5K, sub-40 10K, or a sub-3:15 marathon. More on this later.
The 1.30 Half Marathon Plan  – Who is it For?
A sub-90-minute half marathon is a target many runners strive for, but how realistic is this for the average runner?
Here's the sad truth.
Often many runners set goals without understanding how fast they need to run come race day.
The plan below is specifically designed for experienced runners looking to run a half marathon within 90 minutes or faster.
The plan, as you can see, involves a lot of running.
I hate to state the obvious and all that.
You'll be logging the miles four or five times a week, performing a mix of easy, tempo, steady runs.
Each training week includes 1-2 easy runs, one speed-based run, and one long run to build your mileage base. It also involves performing two cross-training workouts per week and one rest day.
Each week of training will include threshold and race pace runs, with targeted work on short and medium intervals.  You'll also do tempo workouts as long runs that include race pace work
To start the plan, you should have already established a mileage base—around 20 miles per week or more.  This means you're running at least three times a week and have good running technique.
BUT…
If you're a beginner runner and/or haven't finished a half marathon before, I'd recommend that you take a look at my beginner couch to half marathon plan before taking this one on.
Additional Reading – Here's the full guide to how long is a marathon.
The Requirements Of Running A 1.30 Half Marathon
For most runners, beating the 90-minute half-marathon is a big achievement.
If that's your goal, you should already have more than a few races under your belt and might have already tried a 1.30 half marathon a couple of times (but failed).
More specifically, at the very least, you should already be able to complete a half marathon in or around the 110 minutes (1 hour 45 minutes) mark.
Not sure? Then if you can run a 10K within 40 to 42 minutes, you can seriously consider running a sub-90-minutes with enough prep time.
If this describes, then chances are you, if you follow my plan, will be able to smash through your HM goal.
How Long is The HM Training Plan
As the standard, this 1.30 HM training plan is 12 weeks long—around three months.
What's so magic about 12 weeks?
Here's the truth.
Most training plans for the half marathon last between 8 to 16 weeks.
Train for less than eight weeks, and you likely won't have enough time to build a good base. Train for longer than 16 weeks, and you risk losing the motivation and drive to train.
It's all about finding the sweet spot and all that.
But what should you do if your target half-marathon race is scheduled for more than three months out in the future? Then I'd recommend that you add a sub-goal along the way. The journey is what matters—not the destination.
Be Specific in Training
If you're serious about running 06:50 minute miles for 13.1 miles, then you should be specific in your workouts by training 06:50 minute miles for shorter distances and durations during your training.
The key to running your fastest race is teaching your body to clear lactic acid faster than it builds up. That's why you should include sessions with 20 to 60 minutes at your target race pace at least once a week.
But remember that you shouldn't perform too many HM pace runs as this may increase your injury risk, and you may also risk peaking before your race. Follow the 80/20 percent rule in which three-quarters of your miles should be easy, whereas the rest should be hard.
For example, if you log around 40 miles a week, 32 of these should be easy, while the remaining 8 miles should be devoted to some form of speedwork.
Additional resource – Maintaining muscle during marathon training
The Different Runs
The plan features four different types of runs:
Easy,
Steady,
Interval
Tempo, and
The variety helps build mileage and get your body used to running at different speeds. Each workout has a specific purpose and should be done at the right pace, as described below.
Easy Runs
Most of the runs on Tuesdays, Thursdays, and sometimes Saturdays are designed to be performed at a comfortable pace.
Easy runs help give you a good aerobic base.
Don't lose sleep over how far or fast you run these sessions. They should be enjoyable and easy.
You should be able to keep a conversation going on easy runs, so they're ideal to do with friends. Can't do that? You're going too fast.
I urge you to also use a heart rate monitor to err on caution. Your target zone should be around 65 and 75 of your maximum heart rate.
Interval Training
Looking to race at a fast pace? Then you should train at your race pace (and a little bit faster) at least once a week.
That's where interval training comes into the picture.
Interval running consists of running one fast interval followed by one slow interval. Then you repeat for the duration of the session.
Interval training is the best way to improve your speed when training for a half marathon. Speedwork can also teach your body how to recruit more and more muscle fibers while running.
As a rule, and depending on length, aim to perform the fast intervals at a faster-than-goal-pace speed, whereas the slow intervals should be effortless.
My 1.30 HM training plan includes various interval work, ranging from 400-meter to 2Km intervals. The intervals should be performed as instructed in the plan.
I'd also recommend performing the 400 and 800 repeats on a track, but for longer repeats, you might want to do them on the road.
Here's how fast you should perform interval training:
400-m reps – These should be drastically faster than your HM race pace, at a roughly 6:00 per mile pace with a 60-second recovery jog. 10 mph or 16.2 km/per hour for treadmill sessions.
800-m reps – same as above, shoot for 6:20 pace per mile again with a 90-second recovery jog. 4 mph or 15.2 km/per hour for treadmill sessions.
1K intervals – Again, at slightly faster than race pace and should be at roughly 6:40 with a two-minute recovery jog. 9 mph or 14.5 km/per hour for treadmill sessions.
2K intervals – These should be performed at your goal race pace of 6:50 per mile with a two-minute recovery. 8.6 mph or 14.1 km/per hour for treadmill sessions.
Remember not to overdo it; otherwise, you risk being too overtrained for the other runs in the plan.  Overall, the total interval distance shouldn't exceed 15 to 20 percent of weekly mileage.
For more guidelines on speedwork, check the following posts:
And here's the average time to run a mile.
Tempo Runs
Tempo training is a must for any distance runner. So whether you're training for a 5K or an ultramarathon, you'll be doing some form of tempo training.
Tempo runs consist of non-stop sessions with a build-up halfway to a 10K race pace.
These have a lot to offer. Tempo runs are fantastic strength builders and are a must, especially when training for a half marathon. They also help keep pace without building too much lactate in your muscles, which eventually helps keep a faster pace for a longer period.
The typical tempo runs would start with 10 to 15 minutes of easy running, then speed up gradually for 20 to 30 minutes near the midpoint, then 5 to 10 minutes easy as a cool-down toward the end.
That's all.
I'd also recommend performing your tempo workouts at your target half-marathon pace, which is 5:50 per mile. Build up the speed gradually, not suddenly.
If this is your first time doing tempo training, start with tempo intervals of 2 to 5 minutes at a tempo pace with 1 to 2 minutes of easy running as recovery in between. Shoot for about 20 minutes at a tempo pace.
Increase the distance until you can finish five or six miles at a tempo pace a couple of weeks before race day.
Additional resource – How long is a half marathon
Long Runs
Taking on the 90-minute half marathon means that you likely already do a long run of roughly 90 minutes or longer every weekend.
If it's the case, then I'm not surprised.
Long runs are the bread and butter of endurance training.
They're the best for building aerobic endurance.
But how do you increase distance without incurring injury?
The key is to do it gradually. As a rule, build up the distance of your long runs gradually. Following the 10 percent rule is the best way to go.
During the program, you'll add 1-2 miles to your long run every 1-2 weeks. You'll also be taking a recovery week every 4 to 5 weeks in which you reduce long run distance by 30 percent.
To complete a sub-90-minute half marathon, you'll want to run more than 13.1 miles during your peak long runs—4 to 6 weeks before race day.
Don't try to run these sessions too fast.
Forget about how fast or far you're going. Focus on spending more time on your feet. Time over distance.
Many runners often complete long runs too fast, but even a mild effort can benefit your half-marathon performance.
Start your long runs at a super easy pace, then work up to a mild effort—around 7:50 per mile pace is good. Then, as race day approaches, throw in a few miles at the end at your race goal pace. But don't overdo it.
Stick to a comfortable, conversational pace, except when a 3/1 long is prescribed. This is a session where you run to cover the first two-thirds of the run at a conversational pace, then speed up near your goal HM pace over the last one-third of the run.
Overall, you should be feeling refreshed, not exhausted, at the end of the run
Warm Up
Warming up is key.
It's, in fact, the foundation of an efficient run. This is especially the case during your speed workouts and races.
My go-to warm-up depends on what type of run I've on schedule.
I recommend jogging for at least 10 to 15 minutes for speed workouts and then performing dynamic movements to get your muscles ready.
I'd also throw in a few strides (100 meters at near maximum speed) to get the body firing at all cylinders.
You'll warm up on the go for long runs if you start the first few miles at a very slow pace. But I'd always at least recommend a 10-minute brisk walk followed by a few dynamic exercises.
Additional Reading – Half marathon pace chart
Stretch And Strength
Although most HM training plans focus mainly on running, I still believe in the importance of cross-training for improving performance and preventing injury.
Non-running workouts help you improve your overall cardiovascular health and condition without subjecting your body to more running-related stress.
For example, strength training, the right way, can help build strength in some of the muscles weakened through running.
I've already explained muscle imbalances in runners in this post.
Go check it out.
The ideal strength routine for endurance runners would consist of push-ups, pull-ups, lunges, bench presses, planks, and other compound movements to build overall body strength and endurance.
What's more?
I'd also recommend stretching regularly after your runs. Static stretching helps release tight muscles and as well improves overall mobility.
Just keep in mind that these are, in fact, easy days, so don't overdo them. Keep it light. Keep it easy.
Rest
Proper recovery is key to achieving your 90-min half marathon. By incorporating proper recovery practices, you'll get the most out of your runs while limiting your risk of injury.
Pay attention to your fatigue level, especially as race day nears—and don't lose sleep over taking a day or two off.
Weekly Mileage For Running A Sub 90 Minutes Half Marathon
So how many miles should you run weekly to beat the 90-minute half marathon? That's a common question I don't have the exact answer to.
Most runners will start their half marathon training under 20 miles per week and slowly increase weekly mileage to around 35 or more per week.
If you got the genetics, you might not need that many. But most runners will need to put in more work. I ran my HM while steadily running 40 miles a week.
Running currently around 20 miles per week? Then aim to slowly build your base up to roughly 40 miles per week throughout the early weeks of training.
The more often you run, the better your endurance base and the faster you run.  You'll be better able to manage your energy output and endurance if you're used to running at least 6-8 miles a few times a week, in addition to a long run, on race day.
What's more?
You should also keep your long run mileage at around 25 to 35 percent of your weekly volume.
For example, if you're logging 13 miles long runs and your weekly mileage is only 26, that's around half of your weekly volume in one run. That's how runners get injured.
Your odds are better if you can go from 30 miles a week to 45 miles a week in a slow and gradual manner.
Additional Resource – Here's your guide to the Yasso 800 Workout
The 1.30 Half Marathon Training Plan
Here's the half marathon training that can help you achieve the 90-minute mark. Keep in mind it's only a guide, not a bible. Feel free to adjust the plan to suit your schedule and needs.
Feel free to adjust the plan to suit your work and family schedule. Practice makes perfect and all that.
Week – 1
Monday – Rest Day or Cross train
Tuesday – Easy Run: 4 miles
Wednesday—Speedwork: 6 X 800M
Thursday– Easy Run: 4 miles
Friday—Rest Day or Cross train
Saturday– Steady Run: 4 miles
Sunday – Long Run: 10 miles
Week – 2
Monday – Rest Day or Cross train
Tuesday – Easy Run: 5 miles
Wednesday—Speedwork: 10 X 400M
Thursday– Easy Run: 5 miles
Friday—Rest Day or Cross train
Saturday– Steady Run: 6 miles
Sunday – Long Run: 10 miles
Week – 3
Monday – Rest Day or Cross train
Tuesday – Easy Run: 5 miles
Wednesday—Speedwork: 5 X 1K
Thursday– Easy Run: 6 miles
Friday—Rest Day or Cross train
Saturday– Steady Run: 4 miles on hills
Sunday – Long Run: 11 miles
Week – 4
Monday – Rest Day or Cross train
Tuesday – Easy Run: 6 miles
Wednesday—Speedwork: 4 X 2K
Thursday– Easy Run: 4 miles
Friday—Rest Day or Cross train
Saturday– Tempo Run: 4 miles
Sunday – Long Run: 12 miles
Week – 5
Monday – Rest Day or Cross train
Tuesday – Easy Run: 7 miles
Wednesday—Speedwork: 12 X 400M
Thursday– Easy Run: 5 miles
Friday—Rest Day or Cross train
Saturday– Steady Run: 6 miles
Sunday – Long Run: 13 miles
Week – 6
Monday – Rest Day or Cross train
Tuesday – Easy Run: 7 miles
Wednesday—tempo run: 5 miles
Thursday– Easy Run: 5 miles
Friday—Rest Day or Cross train
Saturday– Steady Run: 7 miles
Sunday – Long Run: 13 miles
Week – 7
Monday – Rest Day or Cross train
Tuesday – Easy Run: 7 miles
Wednesday—Speedwork: 8 X 800M
Thursday– Easy Run: 6 miles
Friday—Rest Day or Cross train
Saturday– tempo Run: 6 miles
Sunday – Long Run: 14 miles
Week – 8
Monday – Rest Day or Cross train
Tuesday – Easy Run: 7 miles
Wednesday—Speedwork: 8 X 1K
Thursday– Easy Run: 7 miles
Friday—Rest Day or Cross train
Saturday– Tempo Run: 6 miles
Sunday – Long Run: 14 miles
Week – 9
Monday – Rest Day or Cross train
Tuesday – Easy Run: 7 miles
Wednesday—Speedwork: 5 X 2K
Thursday– Easy Run: 8 miles
Friday—Rest Day or Cross train
Saturday– Tempo Run: 7 miles
Sunday – Long Run: 15 miles
Week – 10
Monday – Rest Day or Cross train
Tuesday – Easy Run: 7 miles
Wednesday—Speedwork: 12 X 400M
Thursday– Easy Run: 7 miles
Friday—Rest Day or Cross train
Saturday– Steady Run: 7 miles
Sunday – Long Run: 15 miles
Week – 11
Monday – Rest Day or Cross train
Tuesday – Easy Run: 5 miles
Wednesday—Speedwork: 10 X 1K
Thursday– Easy Run: 6 miles
Friday—Rest Day or Cross train
Saturday– Tempo Run: 6 miles
Sunday – Long Run: 10 miles
Week – 12
Monday – Rest Day or Cross train
Tuesday – Easy Run: 4 miles
Wednesday—Speedwork: 8 X 400M
Thursday– Easy Run: 3 miles
Friday—Rest Day or Cross train
Saturday– Steady Run: 3 miles
Sunday – Half Marathon Race Day
Additional Resource – Your Guide To Running Heart Rate Zones