Whether your upcoming vacation involves hiking through the woods or getting a tan at your favorite beach, you may be thinking about putting your trainers away for the duration. If so, then read on.
First things first, let me tell you a little bit about myself.
I love traveling and exploring the world.
Although my current job does not allow me to travel as often or as far as I'd like, I do my best to spend all of my vacations overseas. For this summer, I'm planning to go on a three-month workation through Southeast Asia. (I'll keep you updated on that.)
But here's the kicker. For a long time, traveling has interrupted my running schedule. In fact, it wasn't until recently that running became part of my to-do list for my vacation plans.
After doing some research on how to keep training while on the road and adding a few preparatory measures, I was able to turn my running into a part of my vacation time. If you'd like to do the same, today's post will come in handy.
5 Ways to Keep Up Your Running While on Vacation
Here are some of the things I do to keep my running routine going strong while I'm on vacation. I hope these simple steps help you to do the same.
1. Have a Plan
One of the biggest challenges of running while traveling is knowing where to go. Gone are your familiar trails and habitual streets.
The solution is quite simple: plan ahead for your runs.
When you're planning a vacation, a big part of the fun lies in doing research on the best things to do in town: what landmarks to see, the best restaurants, and shopping, the events that may be going on during your visit. At the same time that you're looking into all of this, you can also check out the best running trails in the area and map out some routes for your own runs.
Websites like MapMyRun and Waljogrun.net can help you identify and map out running routes for travel and vacation, and wherever you're headed there are probably running groups or even a helpful desk clerk at a hotel who will be happy to point you in the right direction.
Not only will sticking with your running schedule make you feel better about the vacation eating you're doing, but it will also give you a whole new way to see the town that you're visiting.
The most important advice I can give you is to make running a priority on your to-do list while on vacation. If you don't prioritize your running, you'll definitely succumb to excuses that may turn into a complete collapse of your exercise routine once you return home.
2. Race
If you can find a race that's suitable for your trip, then, by all means, go for it. Racing on vacation can be a great way to keep you motivated and help you avoid falling off the training wagon.
During my stay in Yogyakarta (Indonesia) last year I discovered that a fun race was about to take place. The race caught me completely by surprise. I found out about it because was lucky enough to meet up with a local girl who happened to be a runner.
Instead of logging my planned three-miler, I jumped into that local event and made it a training run.
3. Connect With the Local Running Community
Feeling intimidated by your new environment? Partner up.
Look online for other runners and like-minded individuals, and perhaps they'll have a group run going on while you're in town. I always find it fun and exciting to meet new people who like to run just as much as I do—despite being an introvert who usually prefers to run solo.
One way to meet local runners is to drop by a running specialty store such as Lululemon or Niketown, then join a fun run. That's how I ended up on a running tour of Istanbul this past winter. These stores often hold group runs that welcome visitors too. They're also the best people to ask about favorite paths, trails, and venues in general.
4. Pack Your Gear
I hate to sound like a broken record, but planning is key for a successful running experience while on vacation. I cannot emphasize this enough.
The first thing I do when packing for vacation is to pack relatively modest running clothing. These include my favorite T-shirt, two pairs of running shorts, and running socks. Running gear can take up room in your suitcase, but being prepared for various weather conditions will help you avoid succumbing to excuses for missing a run.
To make sure your everyday clothes don't smell funny, put your running shoes in a bag and stuff them with a dryer sheet. My bag has a separate pocket where I usually store all my dirty clothes and running shoes.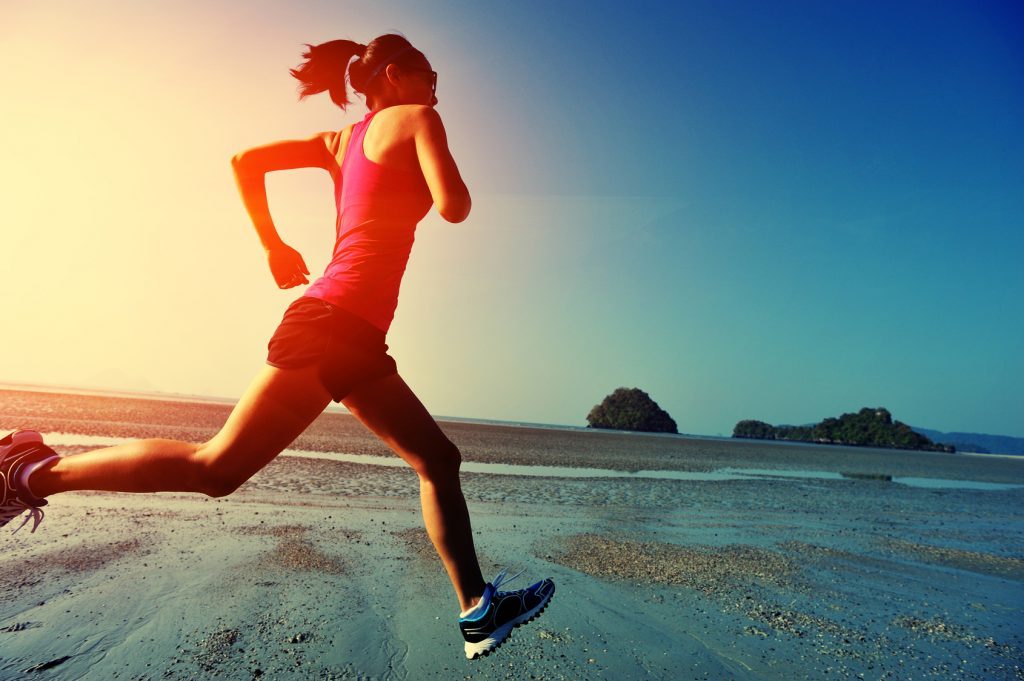 5. Stay Safe
Whether you're vacationing in a neighboring city or halfway around the globe, whenever you're running in unfamiliar territory you need to put your own safety first. Err on the side of caution and tell people—a friend, your hotel's staff, your Facebook community —where you're going and how long you expect to be gone.
Before heading out, carry some cash, your ID, your cell phone, and your hotel's business card in case you got lost. I usually use a fanny bag like this one.
Once you're out, pay attention to your surroundings. Avoid running on busy roads, narrow streets, or in neighborhoods that seem less-than safe. Always trust your gut. If you feel something's off, simply turn around and run in the opposite direction.
Make sure to keep a low-profile. If your trip is taking you to a less-than-progressive place, then running shirtless may draw unwanted attention or anger. The same is true for women, who should avoid running in shorts, running bras, or even tanks tops. You don't want your dream trip to turn into a nightmare.
New to Running? Start Here…
If you're serious about running, getting fit, and staying injury free, then make sure to download my Runners Blueprint Guide!
Inside this guide, you'll learn how to start running and lose weight weight the easy and painless way. This is, in fact, your ultimate manifesto to becoming a faster and a stronger runner. And you want that, don't you?
 Click HERE to check out my Runners Blueprint System today!
Don't miss out! My awesome running plan is just one click away.
Conclusion
There you have it. The guidelines above should be the only measures you need to keep running and training throughout your vacations and trips.
Now it's your turn. Do you have any personal favorite tips to share with us?
I'd love to hear from you in the comments section.
In the meantime, thank you for dropping by.
Keep Running Strong.
David D